_Otabenga Jones & Associates, _OJBKFM,_ 2014, part_ Funk, God, Jazz, and Medicine: Black Radical Brooklyn. All photography by Jackson Brady, courtesy of Creative Time.
Tuning in isn't exactly a choice at the outdoor pop-up radio station OJBK FM Radio, organized by the artist collective Otabenga Jones & Associates for Creative Time and Weeksville Heritage Center's walkable art exhibit Funk, God, Jazz, and Medicine: Black Radical Brooklyn. If you are near their makeshift studio, a pink 1959 Cadillac Coupe de Ville, parked at Malcolm X Boulevard and Fulton Street on the plaza above the A/C Utica Avenue train station, the sounds blaring out of speakers in the trunk are unavoidable. A mix of rediscovered vinyl, socially conscious hip-hop, and experimental jazz fill the air. The message of the music is confrontational and politcally defiant. At one point, artist Rucyl Mills played Eugene McDaniels' "Jagger the Dagger," the infamous 1971 Mick Jagger dis track that portrays white people as devils who are the root of all evil. This kind of rhetoric is a well-known part of OJA's mission "to mess wit' whitey."
When I visited the radio station, a group of all-black-clad men and boys marched, waving the black, red, and green Pan-African flag, as local residents spoke on how to better Bed-Stuy's community. Circling the work, the all-male group chanted, "Rise Up! Stay in the streets! The police are killing you," as people left the train station. The group later appeared on OJBK FM Radio to express their concerns about the recent killings of unarmed black men in America—Ferguson, Missouri's Mike Brown, Sanford, Florida's Trayvon Martin, and New York City's own Eric Garner.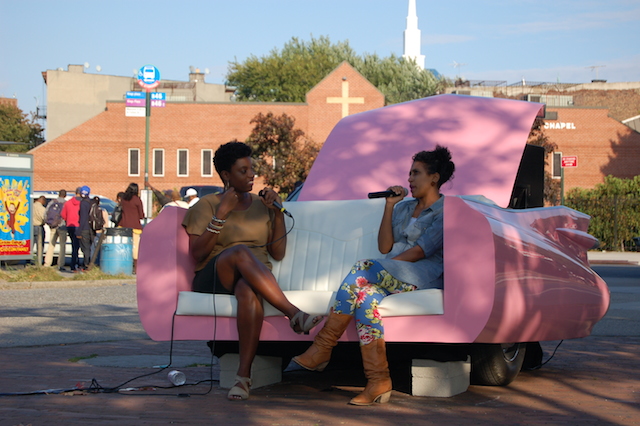 The protesters' appearance highlights that the point of OJBK FM Radio isn't solely musical. The artists behind the project— Dawolu Jabari Anderson, Jamal Cyrus, Kenya Evans, and Robert Pruitt—want to use their platform to honor and drum up interest in the neighborhood's black radical past.
As a site-specific work, OJA Radio is paying homage to the legendary central Brooklyn concert spot known simply as "The East." During the black power movement of the 70s and early 80s, the East served as a place for young black Brooklyn creative types to experiment with ideas and music. This is the Brooklyn that gave us MC Lyte, Big Daddy Kane, Jam Master Jay and Salt of Salt-N-Pepa. It's also the home of Biggie Smalls, Jay-Z, and Spike Lee's powerful classic Do the Right Thing.
The station's 15-song playlist for Funk, God, Jazz, and Medicine: Black Radical Brooklyn ranges from songs of 1950s African independence movements to jazz from Max Roach to Marvin Gaye's protest song "What's Going On" to contemporary hip-hop artists like Jay Electronica and Goodie Mob. The soundtrack links multiple generations of politically informed black music—the collective hopes the music inspires Bed-Stuy residents and helps them both reconnect with their heritage and develop a greater level of neighborhood resistance. That's a lofty goal in the face of the neighborhood's ongoing gentrification but OJA Radio is committed to elevating voices that often don't get in a say in deciding their community's future.
Funk, God, Jazz, and Medicine: Black Radical Brooklyn is open at the Weeksville Heritage Center for the next month and various sites around Bed-Stuy. You can stream OJBK FM radio live here on Fridays, Saturdays, and Sundays from 12-6 PM.
Antwaun Sargent is a writer living in New York. Follow him on Twitter and Instagram.