Oh, Aaron Carter, you sly cat. You Shaq-beater. You party-havin' Backstreet brother. You're a monster truck of a heartthrob by every account. Now you're all up on Twitter being cool as all hell basically 24 hours a day, getting flirty with fans and talking about your shows. The only question left unanswered is: What is your current horny level? On a scale of one to ten, with 10 being paralyzed by lust, where do you stand, pal? Let me step back a second and explain myself, my man. This isn't a question from out of the blue whatsoever, and I'm not just messing around for the heck of it. You might remember about a month ago you tweeted this bad boy, which, correct me wrong, sounds like a declaration of massive hornitude:
I'm extremely sexual right now.

— Aaron Carter (@AARONCARTER) January 1, 2013
This tweet suggested to me at least two things: 1) Homie is mega horny. 2) You want to use your sex penis real soon, and by that I mean you want to get that sucker all riled up and ready to go, then experience a sexual encounter, during which you will use that sex rod on your equally horny fellow sex participant. I think about your tweet a lot, and I'm not even into dudes. It's just a thing that took hold in my thoughts after reading it, a riddle almost. How horny is this guy Aaron, really?
I wanted data on your situation, so I asked politely.
@aaroncarter what is your current horny level #AaronCarterHornyLevel

— jon hendren (@fart) January 3, 2013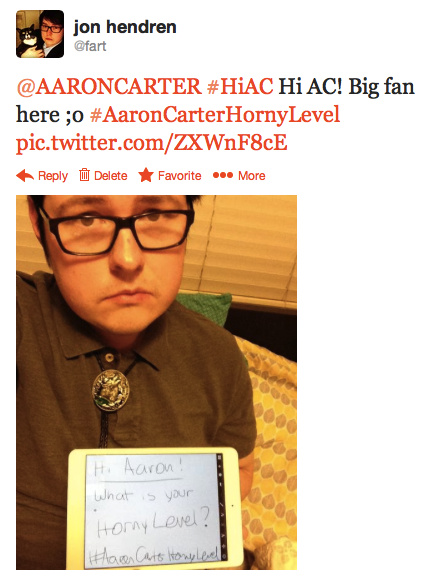 I tried and tried for weeks to get a response, and no dice. I waited sometimes for you to say something that would allow me to shoehorn in a sexy segue that wouldn't break your concentration. I flavored my replies to the moment and asked the question a few times in some pretty honorable ways, but without blowing up your whole timeline. I spaced them out, Aaron, so you wouldn't think it was a weird thing. Your horny level became my white whale. In all honesty, I had a dream or two around this time that you'd replied to me and that your horny level was actually a paltry two or three. I was disappointed by that. One evening I noticed a hashtag you were using, #HiAC, where babes were posting photos that you'd look at and respond to in titillating ways. Figuring this was my chance, I put on my best polo / bolo combo (unbeatable in my experience) and puppydog face. I really wanted to know the horny level. Nothing. Cold as ice. You know, It's not that weird of a request, Aaron. You've obviously got some sizzle in your jeans to be tweeting in the sexual manner you do, and don't get me wrong, I'm not knocking it! There's nothing wrong with feeling some tingle in your dingle. Heck, I've been known to be sex horny once or twice in a blue moon, and I'm sure lots of folks reading this have also felt that way. We are a whole bunch of sexual folks here, Aaron. Lots and lots of us. We understand, and thousands of us would like to know about your horny level. You mentioned that you'd fess up to this horny mumbo-jumbo if the topic started trending on twitter, Aaron. We did that. Millions of people saw. You said you'd do it. We just want to know your horny level, and then we'll leave you alone. Or heck, I'll do you one better and come to a show or buy a song or something. I'm a reasonable man, Aaron. I just want to know how horny you are on a scale from one to ten. No decimals. Come on pal, what's going on in that noggin of yours? Where is it? Where is the horny level? It's not here yet, we haven't seen it. Aaron Carter—we spit our last breath at thee—what is your horny level?
Jon Hendren will be haunted by the mystery of #AaronCarterHornyLevel until the day he dies. He tweets from the most glorious Twitter handle of all time - @fart