Photo courtesy of Bleed the Pigs
Head's up, grind freaks: this Tuesday, Nashville feedback-drenched power-grinders Bleed the Pigs are playing the Acheron with some of NYC's best extreme metal bands—Anicon, Skullshitter, and Belus. Check out the Facebook invite for more info, grab tickets here, and peep BTP's tour dates here.
Tickets are ten bucks, doors open at 8pm, and the whole night is going to fucking rule. Full disclosure: BTP vocalist Kayla Phillips is a friend of Noisey, having written an incendiery essay about being an "angry black woman" in hardcore/metal the wake of the Ferguson verdict, and I personally cover the band a lot, because they're awesome. I booked the show, too, so it's going to be a big fat Noisey lovefest.
Also, in a stroke of cosmic luck (or just in time for tour, if we're being pedantic), Bleed the Pigs have released a ripping new split with hometown hardcore maniacs Thetan. It's somehow even more intense than their earlier material, which is saying something. Listen to their side below (and stream Thetan's side here):
The rest of the lineup is sick, too, if I do say so myself, and is very much an NYC metal family affair.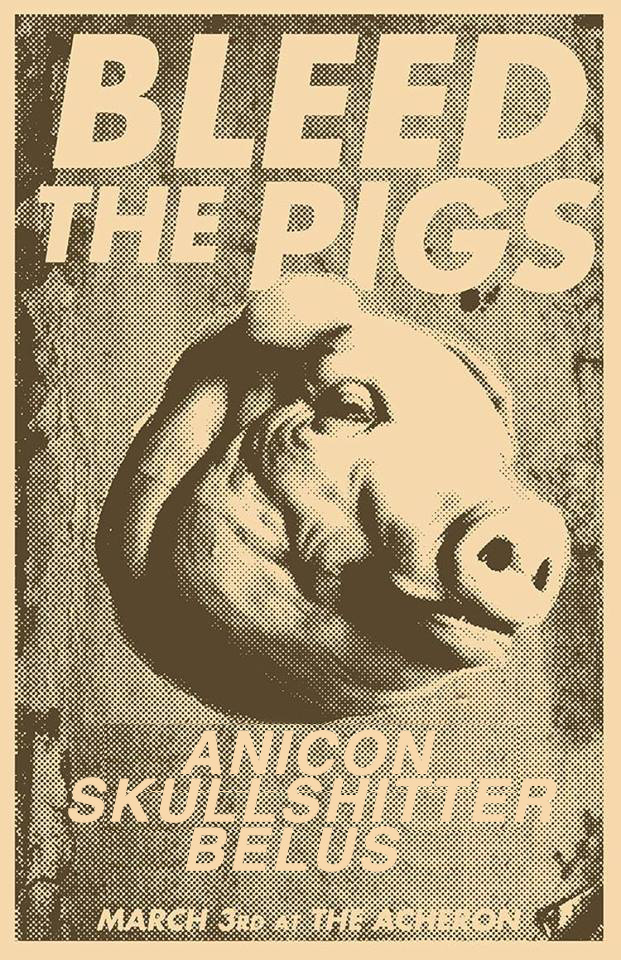 Black metal overlords Anicon are working on new material now, and their 2014 split with Belus is definitely worth a solid listen:
Skullshitter's unhinged deathgrind is a Brooklyn staple, and their live show is downright vicious. Check out their recent split with Anicon's brother band, Trenchgrinder:
Belus have just posted a killer new 2015 demo that spotlights the band's atmospheric, menacing blend of black metal AND doom. Get stuck in:
Kim Kelly is really stoked for this show—she's on Twitter, too: @grimkim