Extreme metal is a much bigger deal in Scandinavia than it is pretty much anywhere else, at least in terms of mainstream acceptance and support. Classic Swedish death metal and Norwegian black metal are two of the genre's most revered entities, and Scandinavia as a whole consistently produces some of the most challenging and intense metal bands in existence. Metal albums regularly land at the top of the sales charts, and the Norwegian foreign ministry famously started requiring its diplomats to bone up on black metal history. It's hard to think of a more metal-friendly place, and tonight's events just underlined that once again.
Execration, a death metal band we here at Noisey praised for crafting "thrashy, complex, impeccably executed death metal songs with more than a touch of atmospheric doom," just won a fucking Grammy—or, to be more specific, a Spellemanprisen (Spelleman Awards in English), Norway's most prestigious musical honor. Their record Morbid Dimensions (Duplicate Records/Hells Hadbangers) beat out new albums from 1349, Einherjer, and Vredehammer to ultimately nab the top prize. Past winners in the metal category include Kvelertak, Nekromantheon, Årabrot, Mayhem, Dimmu Borgir, and Enslaved (who've won multiple times). Clearly, whoever's heading up that voting committee has got a firm finger on the pulse of what's actually going on in their country's metal community.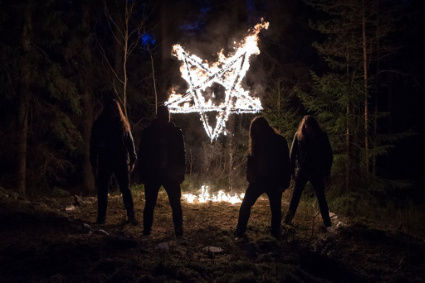 Now, just for funsies, let's compare that to a few of the most recent winners in the American Grammys' hard rock/metal category: Black Sabbath (2014), Iron Maiden (2011), Judas Priest (2010), Metallica (2009), Slayer (2008). Not that bad, really, unless of course we take under consideration the actual releases in question. While the Spellemanprisen has aimed to spotlight the best new, exciting, and groundbreaking works by native artists since its 1972 inception, the Grammys seem perfectly content to tread water and hand out stale kudos to a small, rotating list of established legends (and the occasional nu-metal band) who are clearly well past their prime, but are seen as a "safe" option.
Execration photo courtesy of Hells Headbangers
The 2015 nominees for the Best Metal Performance include Anthrax, Mastodon, Motorhead, Slipknot, and Tenacious D; again, not terrible, but not exactly inspiring, either. The Grammys are basically completely irrelevant when it comes to metal, anyway—we all remember the Jethro Tull affair–but wouldn't it be rad to see a band like YOB, Mutilation Rites, or Pig Destroyer nominated for our nation's highest musical honor? I guess a girl can dream.
Skål, Execration!
Morbid Dimensions is currently available from Duplicate Records in Europe and Hells Headbangers in North America.