Four out of five Internet rap contrarians agree: Future's Pluto pisses off just enough classic hip-hop heads to beat Kendrick Lamar's good kid m.A.A.d. city as the rap album of the year. In all seriousness, Pluto and GKMC are the two primary contenders coming into the end of 2012. Both artists began the year in relative obscurity, Kendrick with a well-received but relatively ignored album last year, with Future relegated to hook duty on YC's "Racks." Now it's the beginning of December, and they've both come to the edge of serious fame through radio singles and Internet attention. With his show Friday at New York's Highline Ballroom, Future proved that while he's a new-model album maker, his performance style is rooted in the willful populism and brand-growing of pretty much every single rap concert ever.
As a burgeoning Internet rap writing kid myself, I have to give my AOTY vote to Pluto. While Lamar's album is a healthy rejuvenation of everything heads have loved about hip-hop since 1992--harrowing yet positive themes, cold and complex lyricism, and album-oriented coherence--Pluto takes a more populist approach with an eye looking, quite literally, towards the future. Taking Drake's sad-emoji sing-rap, modern Atlanta's trap and strip-club monoliths, and the Dungeon Family's Sun Ra-and-Funkadelic-inspired Afro-Futurist space thematics, Future has managed to forge a rock-solid persona of his own, relying confidently on the power of sincere emotion represented within purposefully defuse vocals and highly creative, yet modest production. Now re-released with three new tracks as Pluto 3D, the album manifests multiple sides of this character through alternatively sensitive, sexy, menacing, and confident cuts that never fall to the empty egoism of some of their cousins in the pop-rap scene.
The thing about Future, however, is that he doesn't necessarily benefit all that much from the praise of lonely, overly-thoughtful critics like me, something that was evident from the second I rolled up to 16th street in front of the Highline Ballroom. The word "spectacle" comes to mind. A truck that had been made into a three sided TV played the "Tony Montana" video while multiple anonymous supporters held identical cutouts of the artist, seemingly waiting for him to arrive. It was hard to tell whether this was happening because of his star power or because the promoters wanted to give the impression that he already was a star. Either way, it was definitely something.
The underbill provided ample opportunity for the audience to build anticipation for the headliner. The opening set was from Chicago staple King Louie, and consisted mainly of him and his friends inflating each others Ego Balloons while the audience tried to ration their weed out to get them high enough to be not bored but also still have enough weed for Future. Next up was Cash Out, a rapper who kinda sounds like Future and named his biggest hit after himself. His set was a genuinely surprising one, as he performed alone--a rap game rarity, especially for an opener--and with loads of vigor. When his hit finally arrived at the end of the set, the house nearly fell to the ground. Ace Hood, always the bridesmaid, never the bride, came onstage to a DJ Khaled monologue about how 90% of the game had copped his flow. While his set was pretty hype, I must admit, its hard to get excited about someone who is DJ Khaled's best friend in a professional capacity.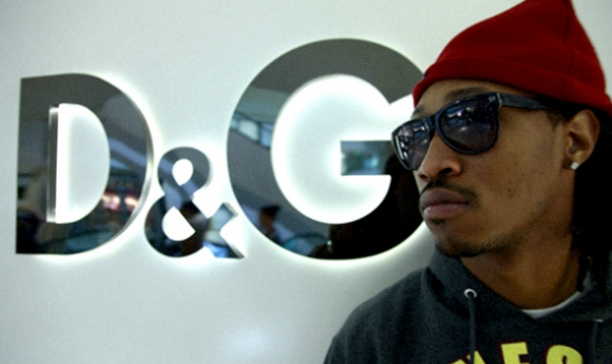 As contrast, Future's set was "less talk, more rock," almost too much so. It was all about the notable tracks you could want from the man, the ones that had gotten Future attention in the past. He went through his hits "Tony Montana" and "Same Damn Time," his coming-out party "Racks," his features on other mixtapes and albums like DJ X-Rated's "Double Cup & Molly," DJ Infamous' "Itchin'" and DJ Khaled's earth-shattering "Bitches And Bottles," as well as a couple history lessons from pre-Pluto mixtapes. He saved his new R&B mainstream shots, the recently-remixed "Neva End" and his new Rihanna collaboration "Loveeeeee Song," for the set's conclusion. Devoted rap listeners will probably recognize many of these songs, but only serious fans of the rapper would have gone out of their way to seek all of them out and memorize them.
And yet that's exactly what seems to have happened. At the very least, Future is a cult act in the making. Much of the show's intensity was based upon audience participation, the crowd providing singalongs to basically every song. It's strange, then, that insecurity in his star-power seems to have confined him to a majority of high-energy pounders like the T.I.-featuring "Magic" and the world-beating ode to simultaneous action "Same Damn Time." Sure, it might be harder to dance and sing along to Pluto album cuts like "Parachute" and "Truth Gonna Hurt You," but the crowd clearly would surely have followed along. Those hoping to ride the spaceship all the way to Pluto might have been a little disappointed. We got to Saturn. Maybe.
The man himself was a serious charmer on stage, energetically pacing from one side to another and thanking the audience profusely. If anything, his stage presence exuded a modesty, or possibly even an anxious lack of confidence, that coated his performance in a warmth that many rappers seem to avoid. He even went so far as to hint at upcoming songs in his banter like a corny dad ("Yo, we need to turn off the lights right now!"). One can only wonder what the performance would have been like if he had let his guard down enough to show his full range of artistic vision. The rare sensitivity of "Turn On The Lights" was clearly the moment of the night, mostly because it was almost entirely audience driven. The track slowly rose out of the chaos and every listeners lyrical memory until the beat drop in the second half of the first chorus slammed it to the floor. Its unfortunate that none of the performers that night seemed to realize that an audience can get rowdy to music that isn't.
Regardless, I left the show with a sense that I had seen a moment in time that would quickly fade. With longtime freshmen like King Louie and Ace Hood opening for him, it seems like Future is about ready to fully enter the limelight in 2013. It's hard to know how this will affect the unique empathy of his music or his loving attitude towards his audience. We can only hope that fame doesn't corrupt our beloved Future and turn him into a self-centered balloon-head like basically any of the other rappers in the game right now. Then again, he'll still be worth listening to anyway.