Nineties revival yadda yadda yadda. I know Sixpence None The Richer for the same reason as most women in their mid-20s: She's All That.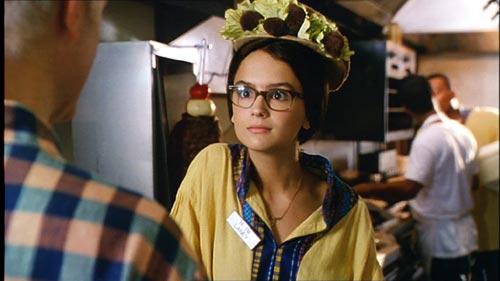 My mother took me to the theater with a friend to see it—a movie that would end up leaving probably more dents and textures in my impressionable brain than it should have. But. It was 1999. I was 10 or 11. The movie gave me a nice warped expectation for high school and high heels. It perhaps lent to my brief stint of dating girls in college (c'mon, Rachael Leigh Cook is A BABE) and corkscrewed its iconic soundtrack to my insta-nostalgia reflex. Although Afghan Whigs may have been the more important musical discovery amidst the babydoll dresses (I love you, Dulli), Sixpence clung tightly to my heartstrings, despite Leigh Nash's almost unforgivable hair.
Last night SPNTR ("Spinter," as I pronounce it in my head) played Mercury Lounge, so obviously, I took my roommate Lana, and we joined the packed house of suited-up business people and regular drunks alike. Many audience members were seated and I was jealous, leaning against a wall, sneering, and researching. For whatever reason, I always assumed Ireland raised, inspired, and spat out Spinter, but my last-minute phone research revealed Texas as the band's birthplace. This seemed like a significant discovery. Another came when I looked around and saw a good 80 percent of the crowd staring blankly, some open-mouthed, at his or her phones.
But then Spinter jumped the stage. The band had expanded in a couple of ways and Nash's hair had calmed some, remaining only slightly ridiculous. I also immediately earned a beer from Lana, winning the bet that Nash could seriously only wear a babydoll dress for the show. She chose a nondescript, strappy black one, thus funding my beer. Thanks, Leigh (Nash, not Cook…no thanks for that undying adoration of little red dresses)!
The set started with a downer. "She kinda sounds like Reba McEntire," Lana whisper-yelled to me. "I get this '90s country vibe…" It was Leonard Cohen's "Famous Blue Raincoat." This reminded me that, of the three Sixpence songs I explicitly remember from the radio—"Kiss Me," "Don't Dream It's Over," and "There She Goes"—two are covers. Crowded House released "Don't" in '86 as a single, and some British group called The La's dropped the heroine-hailing "There" in '88. So. I guess it makes sense they covered Cohen?
I cannot recall the last show during which the vocals were mixed about three times louder than the instruments. However, this was the case last night. Nash has a beautiful voice and it's clear that her warbling is the main dig of the band, but it was a bummer to see the musicians, especially the bassist, playing so fervently just to sound so quiet.
Two tracks later, the guitarist teases with the classic chords opening "Kiss Me," before launching right in. As expected, the Applebee's patrons erupt with glee, raised arms, and a little slow dancing. I say a small wish that all the dudes tricked into the night's show solely for that one song gets rewarded/laid for their bravery. The song sounds really good and clean and the band looks to be having a grand time. It's hard to hate on the four minutes.
I just wonder who the Zooey Deschanel look-a-like who just leapt up to sing back-up is. The following song starts and she stays, leading me to believe she's a late addition to Spinter. But no, Nash reveals in between songs and suffocating gratitude that Zooey is Ashley, the band's manager. And then my head exploded. Not a bad deal on Spinter's end, methinks. But kinda dumb hair.
The bulk of their new stuff plays out kinda boring. "Radio" is pretty enough live, but lacks a hook or engaging lyrics ("You were my anthem, you're my dream, you're all I ever need…Am I ever gonna make it through? Am I ever gonna be with you?"). As much as I resist, "Sooner Than Later," from the new album, has a charming, innocuous quality about it. The female harmonies remind me a little of First Aid Kit, a somewhat worrying epiphany because…shouldn't it be the other way around? Or something?
Someone brilliantly hollers, "SIXPENCE *ALL* THE RICHER!" And with that statement, the overall audience attitude could be summed up. It's impressive a band who's skimped on new full-lengths since 2004 has maintained such a strong fanbase. Nash apologizes for the flood of new songs, mostly from Lost In Transition (which dropped yesterday), and rewards the crowd with an overtly Jesus-y track for our patience.
As mentioned before, the crowd is definitely a weird one, full of suburbanites with expensive, ugly purses and huge personal space bubbles. I accidentally bump a woman when edging to the back, away from the overbearing vocals-centric soundsystem. She shoots butter knives from her eyes. At this point Lana and I have resorted to texting as communication.
Another cover surfaces. Apparently, it's an ode to Texas: Skeeter Davis' "The End Of The World." The result is really dreamy and with Nash's ringing pipes, they damn do it justice. I realize now how easy it must be to soak panties at a Sixpence show (take note, fellas). But then I hear dozens of dudes gushing, "OH MY GOD," making me question if that sentiment is true only for women.
They play a few more ditties while Lana and I talk about what a fight among the fans might look like. Then the show ends. "Thanks for hanging around. Thanks for being new. Thanks so much!" Nash hollers to the densely-packed room. I wish I had looked around before to take mental inventory of a Spinter fans' most popular drink of choice.
As the club drains, folks just get more stoked. "They were amazing!" a tie'd guy shouts to his Fantasy Football League mate. I heard a couple "They've still got it!"s, leading me to believe that some of the audience were not live Sixpence virgins. A load of people line up to inspect the merch, likely to shell out big bucks for a Spinter yoga mat or whatever.
Although sounding perhaps a little silly, I left Mercury Lounge really respecting Sixpence None The Richer. They gained popularity through the raging teenage hormones of the '90s (while I first recall "Kiss Me" from She's All That, it actually first caught attention via an episode of Dawson's Creek), basking in the radio love for only a short spell, only to fall to bittersweet nostalgia appeal for most. But that's just most. I saw about a hundred people gaze upon the band with mad anticipation and props decades after (I'm an old) all the initial excitement. And that's kinda cool. Plus, they are just a fun pop band.
So…does anyone know when the Corrs tour next?