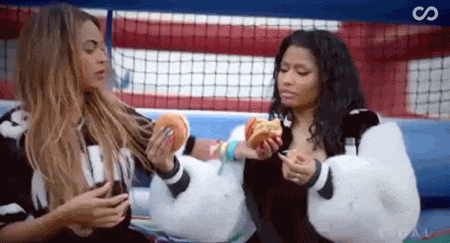 Picture this: October 2014. The smoky, narrow, dimly lit, 650-person capacity room at the Hoxton bar is over-packed with teenagers and grown-men alike. Charli XCX, after a considerably successful year, is performing an encore at her Toronto concert of the smash hit, "Fancy." What gets the crowd going—more than the irresistible hook of the chorus, more than the thought of a Clueless-themed music video—is a chant led by Charli. "Let's try something right now, you ready? It goes 'pussy, pussy, power, power!'" Everyone in the crowd recites the chant right back, screaming in perfect unison, dripping in sweat and excited by the prospect of this blunt cheer. A couple months later, on the cusp of 2015, Charli releases her second album, Sucker. Skip to track eight and you will hear "Body of my Own"—a sleek, slippery song playing out as an ode to masturbation. Charli sings with a snarl and a wink about getting high alone in the dark, admitting that "I can make it feel just like I'm hanging on / yeah I can do it better when I'm all alone." Pussy power, indeed.
Fast forward to almost exactly a year since Sucker, and there has been an extreme influx of self-love pop anthems released this year. Don't get it wrong, though; self-love by women is not by any means a new concept. There have been plenty of songs about self-pleasure and confidence over past years. The 1984 release of Cyndi Lauper's "She Bop" polarized between controversy and celebratory dancing, "Beautiful" by Christina Aguilera expressed a new kind of powerful vulnerability and prompted a memorable Mean Girls scene, while two releases by Britney Spears walked both paths: "Touch of my Hand" and "Stronger", the former being a sly self-pleasure tune, the latter a self-empowering anthem (featuring an astonishing music video, in which Britney does some tricks with a chair). Not to mention girl groups such as Destiny's Child, TLC, and the Spice Girls, whose hits of independence and girl power have inspired many.
However, 2015 is clearly the year of self-love for women. This year there have probably been enough think pieces deconstructing the true psychological meaning of selfies, and whether or not self-love is narcissistic to fill a futile self-help book. But the reality is, women are dominating the music scene with anthems of self-love and respect – and audiences are now receptive to it.
"Feeling Myself" – Beyonce and Nicki Minaj
Although this track is technically featured on Nicki Minaj's excellent LP,
The Pinkprint
, it serves as somewhat of an epilogue to Beyonce's colossus self-titled album, full of tracks about self-empowerment. Bey sings the "feeling myself" hook in between Nicki's classically clever and unapologetic verses, in which she alludes to her material pleasures (Chanel bags and Maybachs), self-pleasures ("feelin' myself / jack rabbit") and even guilty pleasures ("Lemme get a number two with some Mac sauce). Equally as important to the song is the exquisite music video, in which said hamburgers are shared between Bey and Nicki in the truest form of friendship and self-love possible. The closing lines are killer too: "We dope girls, we flawless, we the poster girls for all of this." No one really needs a reminder that Beyonce and Nicki are in the reign of pop music as we know it, but that's what makes their shameless self-empowerment so empowering for others.
"You Don't Know" - Junglepussy
Nothing screams self-love like Shayna McHale's, AKA Junglepussy's discography. The New York-based rapper's 2014 mixtape,
Satisfaction Guaranteed
and recent album,
Pregnant with Success
boast a variety of self-assured, confident hits. "Don't watch TV, watch JP. I'm better than porn / Above the clouds, you can't get to the level I'm on" she flaunts on single, "You Don't Know." McHale's irresistible bravado has put her on the map as a force to be reckoned with, all the while demonstrating the power of loving yourself.
"Happy" – Marina and the Diamonds
When Marina Diamandis is asked during
an interview
about which song off her recent album
Froot
stands out for her, she responds with "Happy." The song is as simple as the title suggests; the first track off of Marina Diamandis's album, "Happy" begins fragile, with quiet piano chords accompanying Marina's clear, yet uncertain voice. By the chorus she has her big "Aha" moment of self-discovery: "I've found what I've been looking for in myself," she declares, as the song builds up with layers of backing vocals, guitar and percussion additions—a perfect pop metaphor. "I think 'Happy' could still be relevant in 50 years, or 50 years ago. It's a universal topic," she says. Too true, Marina.
Never has a pop culture reference to Michelle Obama been so damn catchy. A hit single off of the X-Factor alumni's 2015 album,
Reflection
, Bo$$ has the five members of Fifth Harmony spitting lines about swiping cards with hard-earned money, being a Maybach as opposed to a Volvo, and spelling out "confident" for all of those who can't comprehend the concept of female self-empowerment, a la Gwen Stefani's Hollaback Girl. Their "I deserve better/'
Give it to me I'm worth it'
" attitude is part of the reason they are so appealing to many (the other factor being the compelling saxophone riff).
Monae is no stranger to self-empowerment in her songs. "
Q.U.E.E.N.
" from her 2013 album,
Electric Lady
and "Venus Fly", a song she features on by Grimes, both express self-assured, confident personalities that shine in her song "Yoga." The song lyrics contain clever yoga euphemisms along a smooth, bouncy beat, and Monae explains that she is her "own private dancer." Her unique take on the spiritual power of the body and mind translates to the themes of body-positivity and self-confidence.
"Love Myself" - Hailee Steinfeld
Hailee Steinfeld's "Love Myself" essentially encapsulates all the self-love and empowerment messages conveyed by female artists this year. The actress-turned-pop star tells it like it is: "(I love me) Gonna love myself, no I don't need anybody else." The pop banger has caused some people to read into the physical implications of Steinfeld's lyrics.
In an interview
earlier this year by Nick Levine, Hailee addressed the speculation about references to masturbation in the songs: "I think for me the song just has a really strong self-empowerment message, and whether you take that as something physical or not, it basically means the same thing." Hailee leaves it up to the listener's interpretation, but if you don't love yourself already, she will convince you.
----------
It's clear that self-love isn't necessarily a trend but a common feeling that is being exposed—and accepted—now more than ever. As 2015 comes to a close, while we are left with an incredible amount of self-empowering content made by women, Justin Bieber's "Love Yourself" is climbing the charts. Bieber says, "You should go and love yourself" as if it's a command or a snarky suggestion. The ladies are one step ahead of you, Justin.
Hannah Ziegler is a writer based in Toronto. Follow her on Twitter.