A true story by Jeff Ogiba, with names and details altered to protect the innocent. Illustrations by Travis Simon.
Swamp Thing stole my 13th Floor Elevators record. Well, he wasn't the real Swamp Thing and the record wasn't technically mine, but let me explain.
I met Alan "Swamp Thing" Kudjuski at a local dive in what was once my stomping grounds, New Brunswick, NJ. He was a proficient jump-roper and health nut. Before meeting Swamp Thing, I'd never seen anybody jump rope over a parked car, nor have I ever seen a human drink an entire blender's worth of juiced vegetables in one gulp. One afternoon, once becoming better acquainted with him, he called me to tell me that he'd inherited some records and wanted me to come by and potentially make him an offer. He read me a list of records that consisted of some moderately obscure albums, some still sealed. I agreed to stop by later that day.
I pulled up to Swamp Thing's house, lightly pushed the screen door open, and made my way up three flights of stairs to his attic bedroom. With each step, the scent of highly concentrated weed smoke increased. I reached the top step, turned the corner, and I could see a faint outline of Swamp Thing. I wafted my hands through the clouds, parting them to get a better look and say my hellos.
"Hey man, how you doin'? Where are these records?" I said.
"Right over here bro…" he responded, pointing to a box peeking out from under his bed. In an effort to spare my asthma and health any further inconveniences, I flipped manically through the records and quickly came up with a number I could offer him in cash: $600.
"You know what… I'm grateful for your appraisal but I'm definitely holding onto them for awhile," he grunted. This was one of the worst responses I could have expected. A classic line. I've now wasted my time and teased myself once again with records that I would not be making my own. I threw another offer at him, this time bumping it up to $650, but Swamp Thing wouldn't budge.
I asked him to call me if he was to change his mind and thanked him for having me over. I made my way for the stairs and that's when the whole situation got a whole lot better. Something caught my eye in a pile of garbage outside.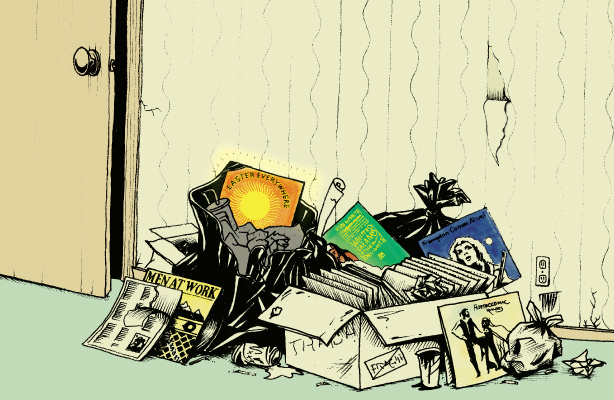 My knees buckled with a sudden weakness. I felt faint. There before my eyes was an original copy of Easter Everywhere by the 13th Floor Elevators… and it was about to go out with the trash. I began to glow with joy. Mostly because I had just found a record that had been at the top of my want list for almost 15 years, partly because I think I had just experienced the most powerful contact high of my life. Regardless, I was stoked, and Swamp Thing noticed this enthusiasm when he opened the door and looked down at me.
"Hey man, what are you doing with this pile of trash over here? You have a record in here that I've been after for awhile" I asked him.
He emerged from the fog and motioned for me to hand him the record. "Come back in a couple days. I'd like to spend some time with this one." He and the coveted record faded away through the smoke cloud.
I was furious. Swamp Thing had managed to stress me out yet another time before I could even get out the door of his house. I drove home with the car stereo turned off and the windows up. I needed the silence to calm myself down. I spent the next few days obsessing about the record and waiting for Swamp Thing to contact me. Finally, three days later at 4 pm on a Tuesday afternoon my phone rang. It was Swamp Thing.
"I think you need to come by… we have some unfinished business to conduct." He hung up abruptly.
I grabbed $250 cash out from a box I had on top of my record shelf and hit the road. My adrenaline was surging to the point where I couldn't even remember the ride over to his house. I found myself climbing those steps once again, trudging through thickening smoke like Jack climbing the beanstalk. I was already thinking about what type of cocktail I would make myself that night while kicking back and dropping the needle on my turntable. I broke into a misty sweat just thinking about it.
There he was, in all his glory, with the Easter Everywhere Lp propped up on his dresser. I could hear the whirling guitars and the angelic vocals of the godfather of psychedelic rock echoing through his attic bedroom. "Put your money away, man! I'm not selling it… I'm giving it to you!" he said. "This is great stuff! Thanks for rescuing this one for me, bro!"
I tried to play my cards right and remained silent while Swamp Thing turned his back to me and lifted the tone arm of his record player, just as the cover of "Baby Blue" came to a soft finish. He carefully put the record back into its sleeve and handed it to me.
"I want you to have this, dude. It's yours fair and square. But I will request visitation rights."
"Ok, well thanks. What do you mean by visitation rights?" I asked
"If I miss her someday, just respect my needs and give her back."
"Thanks dude. This means a lot to me," I said as I made for the door before any more manipulative bullshit could ensue.
The games continued. Swamp Thing just girlfriended me this record. Ugh. I thought it over for two seconds, then as I felt the record in my hands it spoke to me. "I'm yours and you're mine," it whispered.
I spent the next three days in Shangri-La. I bought a case of beer, called out of work and locked myself in my bedroom. I couldn't stop playing the record, and actually, it started to feel like the record was playing me. Things got bad.
Then my euphoria was shattered with a single text message. It was Swamp Thing: "Your record sorcery has no affect on the monster, SON! Better watch your back on that L Train, SON. The beast is due to feast!"
I was stunned to read what Swamp Thing had sent me, but somehow not surprised. I responded carefully: "Hey man, what's going on?" Within minutes I received the following:
"Little boys like you drown in the shallow end while monsters like me laugh from big kids pool! You're going down Ogiba!"
I left it at that and tried to wait it out a little bit before engaging in any form of communication with this lunatic. Only a couple of days would pass before increasingly threatening voicemails from him would fill my inbox. I had to do something about it: I' stopped enjoying the record and was getting a bit freaked out. Then things heated up a notch.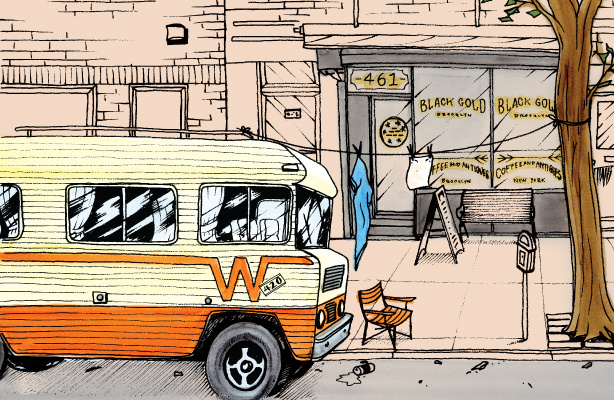 I came down to open my shop at 7am on the following Monday and noticed an RV parked out front. It looked like someone had set up a full on campsite (sans fire), but there wasn't anyone in sight, just an empty 80s lawn chair. I went about my business and tried to enjoy a normal work day when I noticed something that disturbed me. It was the smell of Swamp Thing's attic seeping into my store from under the door like a self-aware phantom mist. I looked at the driver's side window of the Winnebago and there he was. Smiling.
He never came in or said anything. The camper would move for a day or two and then return. One time it had a fresh deer carcass roped to the roof. That was the day that I decided to mail him his record. I packaged it up nicely and included a little note:
"Dearest Alan, Here is your record back. Please enjoy it and best of luck with everything. - Jeff"
I never saw him after that and the visits came to an end as well. A month later I received a message from him telling me he'd met up with a group of privately practicing Baptist ministers and that he was hired to write their sermons. "I am the hands that dip the Christened babies into the ocean water," he explained.
I never responded.
Previously - Was Guided By Voices the Hardest Working Indie Band of 2012?
If you live in New York, you can go bother Jeff at Black Gold Records in Carroll Gardens, Brooklyn. You can also follow his (mostly) music-related thoughts by following him on Twitter - @jeffogiba