Mike de Leon: Welcome to the second report from my month-long US tour with crazy, polka dot wearing, 7-inch vinyl fetishist Jonathan Toubin and his New York Night Train Soul Clap and Dance-Off party. We're now in Detroit for the second gig of the tour.Jonathan Toubin: Detroit is like your most memorable ex-girlfriends--sexy, smart, and soulful but conversely melancholy, violent, and loaded with spooky empty spaces where things used to be. Though you recognize the inherent disfunction, you want more - coming back over and over again and even dreaming of one day moving in. Plus, you see her trying, you root for her, and you never lose faith in her even when you see signs that its not gonna work out. I've always had a thing for the music, the people, and the general aesthetics and would rate it only behind New Orleans in terms of places I imagine I'd like to be at a given moment. While there are infinite differences, both burgs share a common mystery, a grandiosity, a decay, and… the distinction of being home to the best music and recordings ever produced.Mike: And stay tuned for our next blog when Jonathan compares and contrasts Iowa City with a vacuum cleaner… Jonathan: Be nice Mike - every good noir kicks off with a world-weary yet romantic intro…
A Michigan intersection with a certain ring to it…
Mike: Detroit is new to me. Cool, charmingly burnt, excitingly dangerous, cheap, and great. It's a Gotham exploding with cool old architecture and famous Detroit coneys (the local specialty chili dog, the Coney Island). Jonathan was itchy to lead us to Woodward Avenue's People's Records. A huge storefront loaded top-to-bottom with LPs and 45s.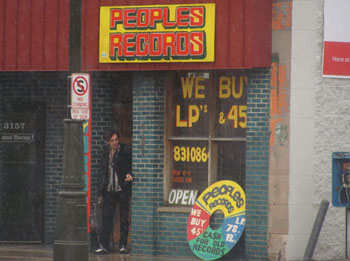 Jonathan in front of People's Records.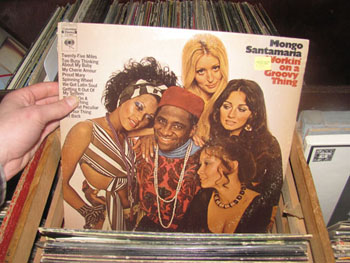 An album that caught photographer Mike's eye by Mongo Santamaria. Jonathan next explained to him Mongo's percussive greatness.
Jonathan: Peoples' Records is hands down my favorite fishing spot in the world - and I'm not only saying that because they were so generous as to plop down a $50 gift certificate to for 2nd place in last night's Dance-Off. I once spent two consecutive six-hour days at the store and felt like I had barley even scratched the surface. Brad and his staff are an easy- going bunch to spend the day with and their prices are beyond fair. Today I took around seventy records off of their hands - half of which I left Brad to price from a previous visit a month ago.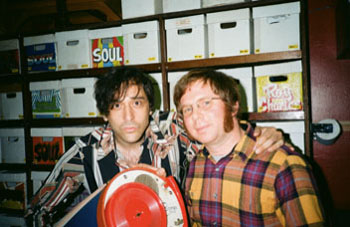 Jonathan Toubin and his dealer Peoples' owner Brad Hales with a record playing bongo
Mike: The owner Brad Hales, who moonlights on bass for the weird and wild rock and roll band Human Eye, was pricing Jonathan's records and came across one even he had never seen before. He looked it up in a book and on the internet and found nothing. A collector database called Popsike showed that only one copy on record had been publicly traded in recent years… and that was in 2008. Brad confidently stated, "You're never gonna come across this record again." The exorbitant price Jonathan paid for this one raised the hair on my head and I was shocked to learn later that Brad had cut him a serious deal… So that's where all the money goes? Jonathan explains that its uncouth to mention the price here. I'm learning that these record people have their own odd manners, customs, and language…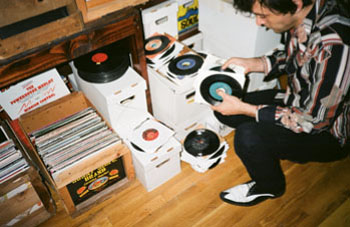 Panning for black gold
Jonathan: The artifact in question is "Bad Girl"/"Don't Mess With Cupid" by Connie Little with the B.G. Ramblers on Toledo's Rambo IV Records. Needless to say, I've never, ever heard of this thing. While "Bad Girl" is also a fine wild slice I'm gonna be turning, I plan on playing the flip more frequently - and that's what caught my eye in the stacks. I originally got hip to this song via Johnny Thunders and The Heartbreakers' Live at Max's Kansas City and only later in life learned that it was originally Otis Redding. While I like Otis' version I think the Steve Cropper intro is really cumbersome and, even when the record's sped up, its a challenge getting the dancers into the groove. This one has a tighter intro (which I'll probably more often than not chop off for the sake of flow), a more grab-able beat, and nice female vocals - plus dancers hip to Otis, the New York Dolls, and Johnny Thunders will prick up their ears and maybe even sing along. A real find!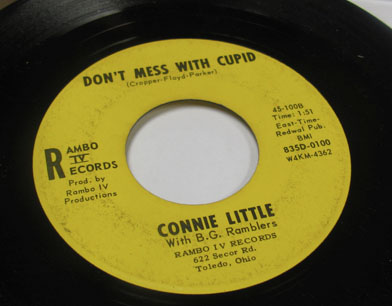 Cupid ain't stupid…
Mike: After Peoples we wove through Detroit's downtown to Michigan Avenue where we found PJ's Lager House - the site of tonight's Soul Clap and Dance-Off party.Jonathan: Located a stone's throw from the fading majesty of the gargantuan abandoned Michigan Central Station, the Lager House is a great American venue with quality homemade food and drink in the front and live performances by most of today's great underground bands in the back - plus a dance party like mine every now and then. I was particularly excited to see the judge panel because it included some of my favorite Motown denizens - Greg Baise, who promotes killer local events, Dave Buick whose prolific Italy Records label is best known for putting out the first White Stripes 45s and just released one by Mirror Twin, a duo featuring fellow-judge Loretta Lucas who, along with her twin, has the best laugh in Detroit, and Derek Stanton of Awesome Color (and now Turn to Crime) plus new friends Ash Nowak and John Dones of Haute to Death. Some folks throw a big party for their birthday, others go on exotic vacations, and others get an exotic massage - but my main man Derek Stanton is the kind of guy who spends his birthday supporting you when your dance party is in town - and doesn't even mention that its his special day. Infinite integrity. I was also stoked to see Detroit rock'n'roll legend Danny Kroha of the Gories who came over to turn a few platters with me! Despite all of these Detroit party animals, I was a little concerned about the turnout and dynamics of a Monday dance party in the Motor City…Mike: The Monday night Detroit dance party experiment appeared to be a failure at first. Jonathan DJ-ed exclusively for a lone dancer, albeit a very enthusiastic lone dancer, for the first thirty minutes. But after 11 the club started filling in and soon everyone was on the dancefloor. It was a diversely styled enthusiastic bunch and when it was time for the dance contest to go down, they gave it their all.Jonathan: The competition whittled down to a dance-off between local gal Amanda from Lost and Found Vintage and the lone dancer Mike spoke of from earlier - a Spanish/English translator in town on business from Philly. Danny played Elvis' "Rubbernecking." In a close decision, and to some local criticism, the judges selected the one dancer the entire night that wasn't from their town for the $100 cash prize. Later that night the dancer was looking to pay Danny for the record played during his victory. He wanted to show his father, who had won rock'n'roll dance contests in Argentina growing up, that he had won his first ever dance contest to an Elvis song. Ever the mensch Danny gave him the record for free…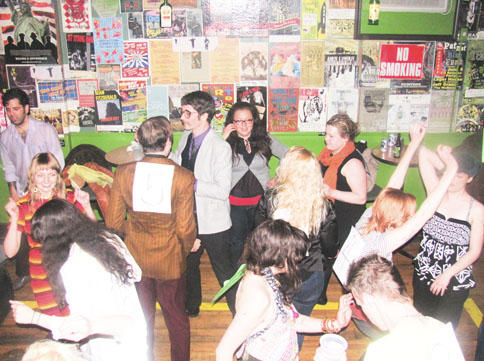 Dancing Detroit style…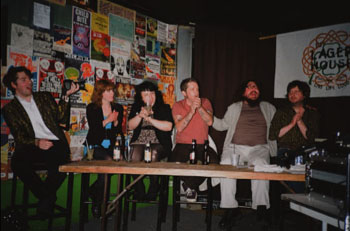 Half the judges.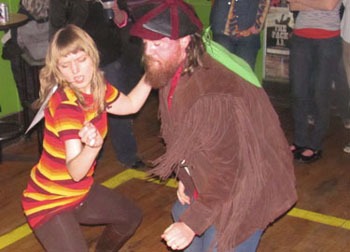 Semi-finalists dirty dancing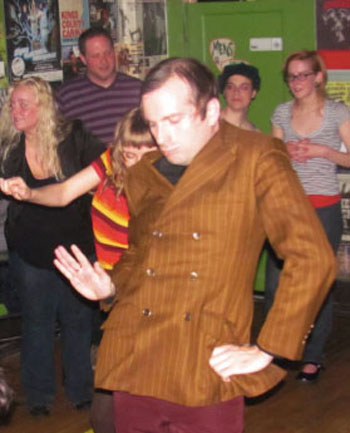 The mod robot?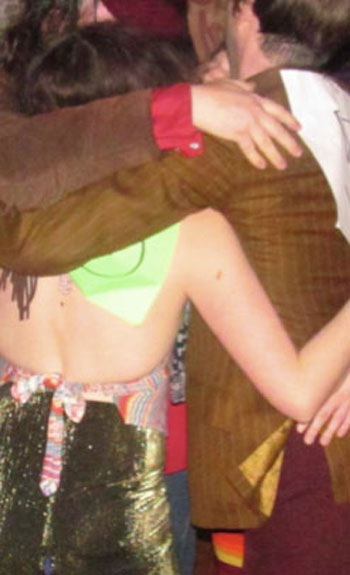 Warm fuzzy good sportsmanship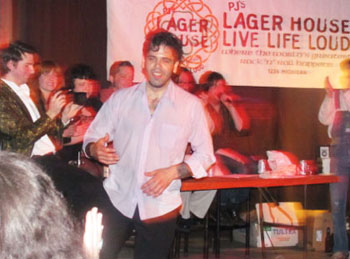 The $$$ dance contest winner.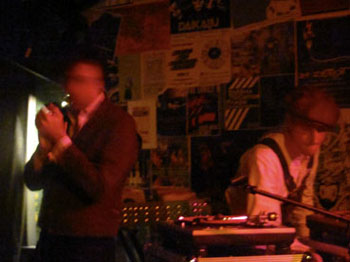 DJ Jonathan Toubin on the right, and DJ Danny Kroha on the left.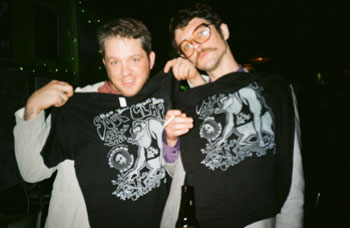 Dave Buick of Italy Records and Julien Spralden of Gardens shop for new fashions
Mike: Not only did Danny Kroha spin the songs for the Dance-Off portion of the party, but he told us what he played and why… RIP IT UP - LITTLE RICHARD: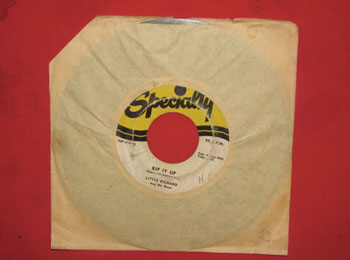 "It rocks really hard, not a rare record at all, but you can't go wrong with any Little Richard. On the record he sings, 'I'm a fool 'bout my money, I don't try to save, I'm gonna rock it up, I'm gonna ball tonight.' That's what it's all about."THE GORILLA -THE IDEALS: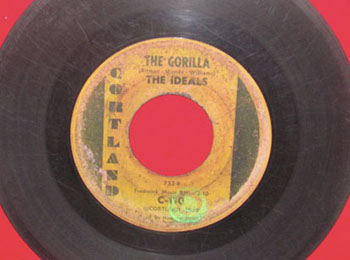 "It's some crazy dance - the Go Go Gorilla. And a great crazy dance record. This is the original R&B version, a bunch of garage bands did it. It's just a great classic; weird, silly, but a totally rockin' tune. Every copy I've seen's been beat to shit, which is a good sign. A copy in really good condition would be semi- rare - but this one still plays great."BILA -THE VERSATONES: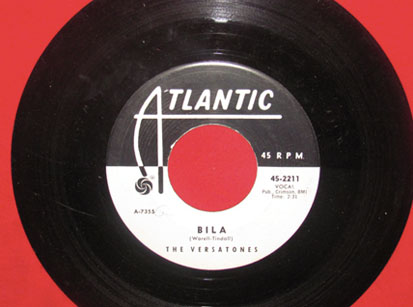 "It's built around this great really simple guitar riff. This is from around 1962, 1960 to 1965 are really great years for R&B. It's sort of a forgotten era as well. Lately it's come back into fashion, which is cool, 'cause there's such great dance records from then. The time was the cusp of rock and roll and what became soul music. It's kind of a hard record to find, but it's a white label promo, and it's in good shape, so that makes it rare. If it wasn't a promo the label would be red where it's white. The promo is what they would send out to radio stations for airplay."I HAD A DREAM -NATHANIEL MAYER: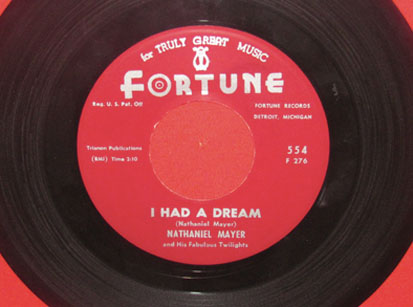 "Fortune is a legendary Detroit independent label, Nathaniel was from Detroit, the whole thing was Detroit production. This record is from probably '62 or '63. It's a guitar record, really hot guitar. The band backed Nathaniel, ended up being known as Black Merda. I had a friend by the name of Tony Fusco, he had a big collection of Fortune records, he turned me on to this. You can now get a Nathaniel Mayer compilation on CD that has this song, and a bunch of other great songs."STOP! - LONETTE:
"Another Detroit record, produced by Dennis Coffey. Bad ass funky country soul, with great guitar and awesome string arrangement. I found it at Peoples Record Store. In Detroit it's not very hard to find, but maybe any where else it would be. "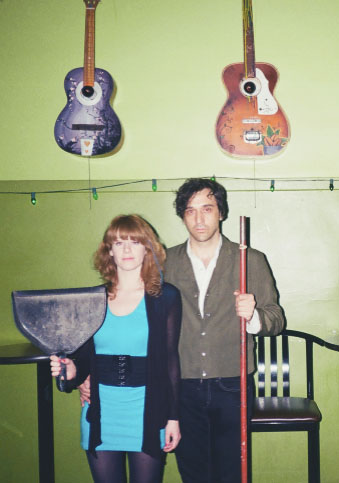 Motown gothic
Mike: After the Dance Off, we went with the winner and judge Loretta Lucas for a famous late-night Detroit coney at Lafayette Coney Island downtown. While the original American Coney Island next door is the oldest and most famous, both of our dining companions swear by Lafayette. I normally don't like hot dogs. In fact I resent them. But this one changed everything. I had to get another. Its hard to say why it was so good. The dog was snappy and flavorful, the onions were fresh…Jonathan: The success of a good Detroit coney such as this can be broken down into the four classic elements: fire - the hot dog; water - the mustard, chili, and cheese: earth - the onions; and air -the bun. Can I also say that I am impressed with any woman that can put away two chili cheese dogs and a plate of chili cheese fries at 3AM and does not weigh 300 pounds…
Mike: After waking up at Derek's girlfriend Nicole's apartment off of Woodward, we ate Dutch Babies at The Original Pancake House in Grosse Pointe, toured the world-famous Heidleberg Projects, checked out the impressive two-story house Derek bought for only five g's, and experienced the best pompadour ever (which happened to belong to Derek's Elvis-loving elderly neighbor). Then we hit the highway.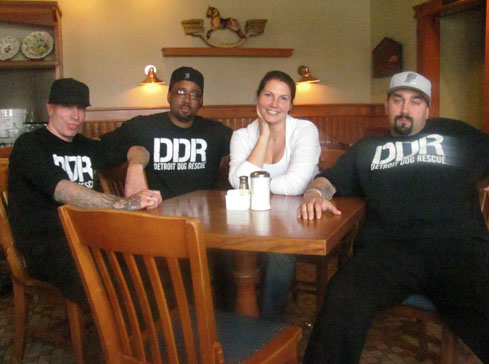 The Detroit Dog Rescue Squad at The Original Pancake House: very nice people.