The first time I went to Reading Festival someone pissed on my pillow. My friends and I had finished our GCSEs and that year's jamboree - which was headlined by Rage Against the Machine, Metallica, and The Killers - was the first time each of us attempted to survive for more than twenty-four hours without supervision from our parents. One of my friends tried ketamine. Another had his first experience with cocaine. Yet somehow my maturation test came to be sleeping in damp resting quarters and overcoming a fear of hepatitis rather than taking drugs.
Over the weekend I ate one Mr Whippy ice cream, a sweet and sour chicken, and a multi-pack of crisps. Two of our group's tents were trampled on, another was burned down. To a culinary-enthusiast, chin-stroking supplement reading festival-goer, these piss-soaked, malnourished, destructive details should be considered as negatives, but to a sixteen year old freed from the perceived trappings of the parental unit, Reading Festival ended up being the best weekend I had then known. So we returned year-after-year with bigger groups and better drugs.
Since then, the festival has changed. It's aggressively broadened its horizons to embrace EDM, rap, and indie on a huge scale, at the cost of the rock and metal that had previously shaped it. All in a bid to revamp it for the ever-mutating tastes of Britain's young revellers. The question is, is it working? Is Reading Festival still the ultimate playground of debauchery for the drunk and high generation, the one I fell in love with? Or, in a bid to please all, has it remodelled itself to death? I headed up this past weekend to find out.
When I rock-up, almost ten years since my debut, the campsites are filled with young boys and girls who've spent the Wednesday and Thursday before the music kicks off vacuuming budget vodka and sucking on moist roll-up cigarettes.
"How many times have you wanked over your Mum?", a young man slouched in a campsite chair, wearing a bucket hat emblazoned with marijuana leafs, asks. His friends smirk.
"Eight", one of them replies. The rest laugh.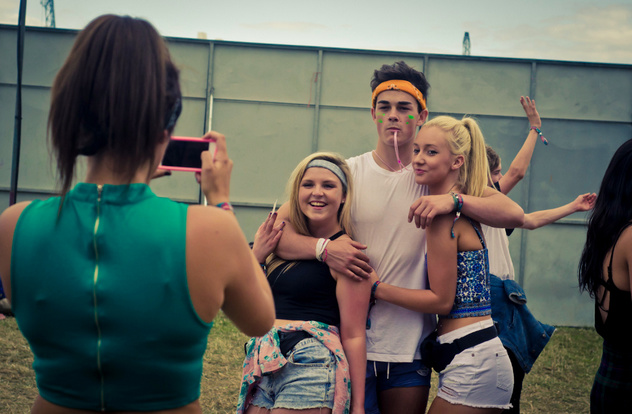 Over in the festival's purple coloured camping section, an accumulation of teen-somethings are preparing themselves for the day ahead. Two of them, called Stephen and Becky, are rolling different coloured day-glo paints across their bare skin. Stephen has just finished his A-Levels and Becky is taking time out from her apprenticeship to be a chef. When I ask if they want to talk to Noisey for a piece about Reading Festival, two things happen: Stephen holds his hand up for an obligatory, PLUR inspired festival high-five, and then one of his friends - a girl who can't be more than sixteen and is clearly already debilitated from early morning drinking - asks for the phone that's in my hand. She takes a picture and then skips away with two other girls, gleefully shouting back that she's heading into the arena to watch Swim Deep.
Stephen appears nonplussed. He validates the bro-wave haircut to rival Skrillex and huge plugs that are drilled into his ears and tells me he's here this weekend to see Bring Me the Horizon, Pierce the Veil and Neck Deep. But he also wants to watch Deadmau5. Last year he watched Andy C. By comparison his friend Becky is excited to watch Mumford and Sons.
Stephen and Becky's group are not unique in that each person they're camping with is at Reading Festival to watch a different set of musicians. When I ask a relatively quiet and subdued collection of teenagers who have just finished their GCSE's who they're here to see they pipe up and give an eclectic response:
"I want to see the Libertines"
"Royal Blood"
"Kendrick Lamar!"
"Alt-J"
"A$AP Ferg"
"Skinny Lister"
"Foals."
Like many teenagers on site, the group - who live twenty-minutes away in Reading - are here as a "celebratory thing". Or as one of them puts it, "to drown [their] sorrows". It's the first time they've been to a festival and they chose Reading because it's "a mixture of the music and social. [Their] friends are here. The music is a bonus." Their response is echoed by a group of A-Level students I speak to over in Green Camp who tell me they've come to Reading Festival because "it's class" and "it's something to do in the Summer".
When I first attended Reading Festival in the glorious piss-pillow year of 2008, the bands we went to see were predetermined by the group we were camping with. If you went with a metal crew, you saw Nine Inch Nails and Metallica. If you were with an indie crowd, then it was MGMT and Vampire Weekend. The two groups rarely mixed. And even then, as Noisey's Joe Zadeh tells me, "going to watch Justice was seen as a bit leftfield". That's changed now and the teenagers who attend Reading Festival seem free in choosing who they want to see.
On Saturday afternoon, I run into two forty year old brothers who have been attending the festival since the 80s. For them, it used to be a rock festival, now it's just a music festival. "I preferred it when it concentrated on the rock genre", Ian tells me. "There was always something you could see; if you didn't like the first band, you might like the second band. Today we got here for Babymetal, the first band, and the rest of the day has been like 'when's Metallica on?!"
Ian's brother Neil has a similar view. "Line-up wise, it's got a bit more indie", he tells me, explaining why he hasn't been to the festival since Metallica headlined back in 2008. Instead he goes to European festivals, Hell Fest, and Blood Stock. Tonight will be the 142nd time he's seen Metallica live.
Contrary to popular opinion, Neil and Ian aren't an anomaly at Reading Festival. There are a fuck-load of adults here. Bald headed adults; overweight adults; adults in wraparound reflective sunglasses with fleeces tied around their waist; adults in three quarter length shorts that stop just above the ankle; adults in old punk t-shirts. For them, the festival's decision to ditch Sunday's metal day and introduce a wider range of acts can be seen as a downside. Unlike the teenagers, they're more swayed by the line-up. It seems the new variation has hit the older folk a lot harder than the younguns.
Reading and Leeds have long been considered an indisputable festival for the youth. That's why the entire enrollment of my secondary school bought tickets between 2008 and 2010. Unlike your Glastonburys, your Latitudes, your Green Mans, there's no pandering to cerebral activities or goan fish curries. Everyone from Nirvana to The Police have headlined. Over time though, it can be argued that more than just the music has changed. The campsites have grown tamer and fires are no longer allowed past 8pm on the Sunday night. Everyone who attends is clean, hairsprayed, and has an iPhone in their hand. To the adults who can barely remember a time when their only responsibility was getting on the bus to school each morning, the festival has become an emblem of ennui.
For the teenagers who it caters toward though, that simply isn't true. The festival may act primarily as a playground for bratty teenagers to live through their worst nightmares before completing their A-Levels or BTECs, but it's also succeeded in beating the festival crash by booking big name acts across all the genres and appealing to a wider audience than ever before. This year saw sets from some of hip-hop and grime's most exciting talents: Young Thug, Ratking, Vince Staples, Stormzy, Boy Better Know and Fekky. There were sets from rock's next hopefuls PVRIS, H09909, and FIDLAR. Alexisonfire played a comeback show. Charli XCX was there. Jamie xx, Hudson Mohawke, Tourist, and (before he was locked in a cage) Evian Christ were all holding it down for the electronic side of things. And Foals and Bring Me the Horizon proved themselves as future headliners.
On all accounts, Reading and Leeds Festival provided one of the best bookings for new music, across genres, out of all the festivals that took place this summer. It can be easy to look down on the event, to see it as something that will never be as good as it was when you were sixteen, but the festival is built for the teenagers, it's built for who you once were, and for that reason it's great. As one attendee told me on Friday morning: Reading Festival is their once yearly three-day-long blow-out, because when it comes to this time of the year, they just "want to get straight into the magma."
You can find Ryan Bassil on Twitter: @RyanBassil