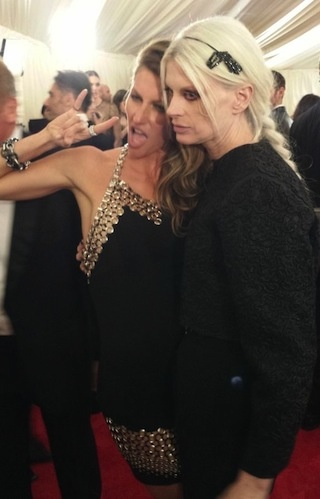 Sarah Jessica Parker; Gisele throwing up some devil horns. For a couple of years, when I wasn't writing about music, I was working the red carpets in London, AKA, I was squished into a pen with a bunch other reporters poking my microphone under the nose of very famous actors to get a soundbite. I once painted my face green to get the attention of Justin Timberlake at the Shrek The Third premiere, so for me, red carpets are as much about a ridiculous spectacle as they are about fabulous frocks and that moment when Johnny Depp squeezes your arm and says, "Thank you." (Yeah, that happened and no, I haven't washed my left forearm since.) The closest I've ever come to true pandemonium was at the Twilight premieres. For one thing, the people who organized it had hired a bunch of topless men to run around doing parkour, which was supposed to be a vague nod to Taylor Lautner and his werewolf people (I think), but also the screams from all the hormonal teenagers left me with a case of tinnitus worse than that Slipknot concert I accidentally attended in 2002.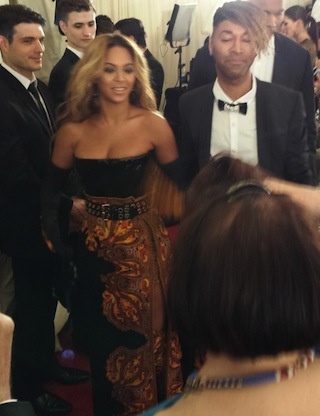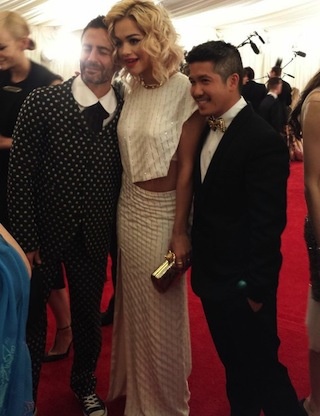 Beyoncé. Marc Jacobs and British singer Rita Ora.
Those kids, however, had nothing on the baying snappers and the shrieking crowds assembled at this year's Met Gala. That was next level nutballs. Known as the "Oscars of the East Coast," Vogue Editor Anna Wintour's annual fundraiser for the Metropolitan Museum of Art, has become a catwalk for the top tier players in fashion, film and music. Largely, it's about looking svelte and fancy. For some it's about dressing in a golden spider web (M.I.A.), or wearing petticoats on your arms (Florence Welch), or LED lights and bunched up tissue paper (Katy Perry).
But this year everyone was befuddled. It wasn't just about having a silk charmeuse train the length of Park Avenue. There was a theme and it was in keeping with the launch of the Met's upcoming exhibition, Punk: Chaos to Couture (May 9-Aug 14). What, exactly, is haute couture about a DIY movement born out of anti-establishment fury and outsider rage? That's pretty much the antithesis of dresses that cost the same as a down payment on an apartment. As is inevitable with so many underground movements, it wasn't long before punk surged overground, evolving into more than just music and getting annihilated and spat on in the front row at gigs. Its visual aesthetic has been appropriated time and again since the 70s. Today the hallmarks of punk are everywhere, in the studded, safety pin embellished work by Balmain, or the inky, rubberized garments of Gareth Pugh, not to mention punk's grand dame, Vivienne Westwood, who's moved on from deconstructed t-shirts to red-carpet ready gowns with exaggerated hourglass silhouettes.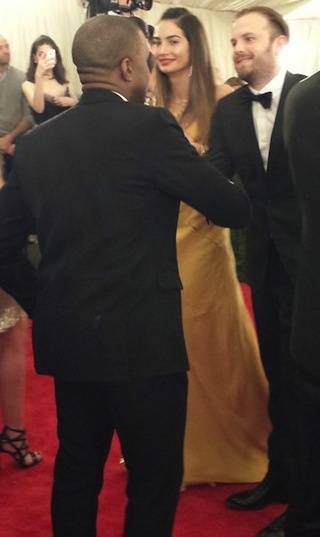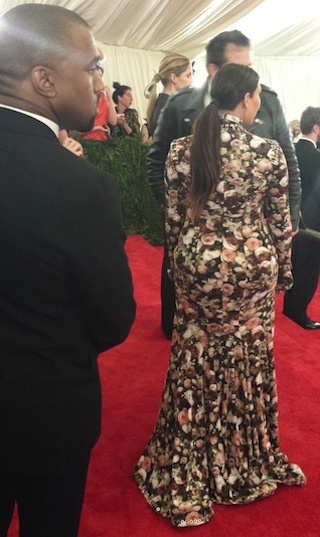 Kings of Leon's Caleb Followill and his wife Lily Aldridge greeting Kanye West. Kanye West and his woman, Kim. Floral upholstery, eh?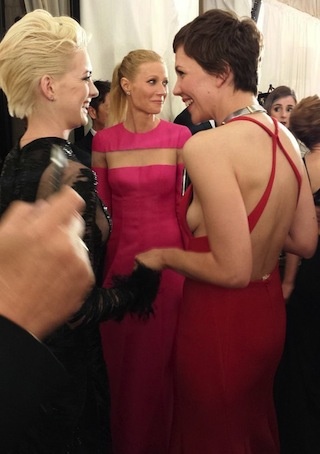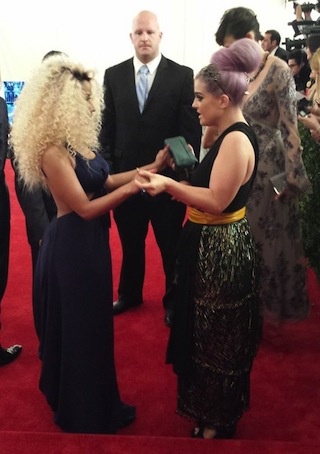 Anne Hathaway, Gwyneth Paltrow and Maggie Gyllenhaal; Nicki Minaj touching Kelly Osbourne. Or were they getting married on the red carpet by a bodyguard? Who can say.
In any case, I'm not one to over-intellectualize fashion or to bemoan what was niché going mainstream. It happens. If you gain access to the Met Gala's red carpet to witness the hoopla and glamour, what else can you view it as other than a crazy score, a treat, a dream come true. It was hyper-strange. Waves upon waves of famous folk making their way up the staircase, and when they got to top of it, I was there snapping them. There was Kanye West embracing Caleb from the Kings of Leon, Nicki Minaj catching up with Kelly Osbourne, Debbie Harry with a black skull perched precariously to the right of her head. Also, Anne Hathaway catching up with Gwyneth Paltrow and Maggie Gyllenhaal.
Siouxsie Sioux, actresses Jessica Paré ('Mad Men'), Ginnifer Goodwin ('Big Love'), January Jones ('Mad Men').
The "punk" element at the Met largely consisted of studs, spikes, safety pins, plaid, and leather, leather, leather everywhere. The eye make-up was dark and heavily exaggerated—totally channeling Siouxsie Sioux— and the hair was quiffed up, teased out and dipped in color. Or if you were Sarah Jessica Parker, you just got Philip Treacy mohawk hat.
After a good hour and a half of this glittering onslaught, the red carpet fell into a hush and before exploding with screams and flashbulbs and general chaos as Queen Beyoncé descended among us. Once she was ushered inside, the paps and press started packing up. Too soon, people, too soon. Bey was upstaged at the last possible moment. By Madonna.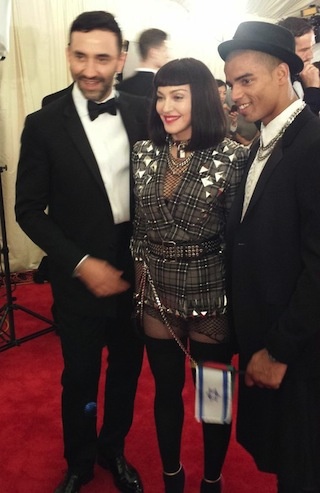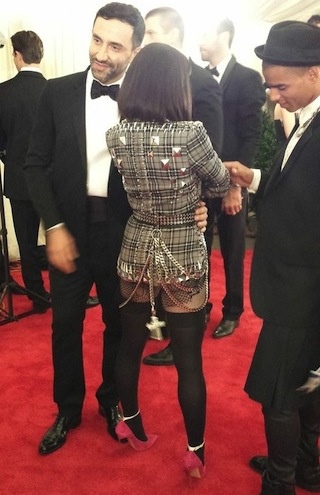 Unlike Beyoncé, whose riveted black leather belt was the only nod to punk on her Givenchy gown, Madonna went all out in tartan, chains, over-sized studs, slashed fishnets and a sharp-edged, Cleopatra black bob. Whatever you think about Madonna, showing up at the very last moment was a power play move. Nice work, Madge, nice work.
Hey! it's Dame Vivienne W! With actress/ model/ Cambridge graduate Lily Cole. She was wearing a rubber gown and piece-y, seapunk hair.
Cameron Diaz in Stella McCartney and a lethal looking belt, Nicole Richie went white & Solange is wearing Kenzo. She doesn't look even remotely punk, but that 'fro… she can wear anything as long as that 'fro is present and accounted for.
Michael Kors, J-Lo, and her man; Kristen Stewart looking disgruntled. Special props to this lady who came in a black rubber bra and a neon studded mermaid gown. The likelihood of her being able to sit down or go to the bathroom seems unlikely. She is 100% committed.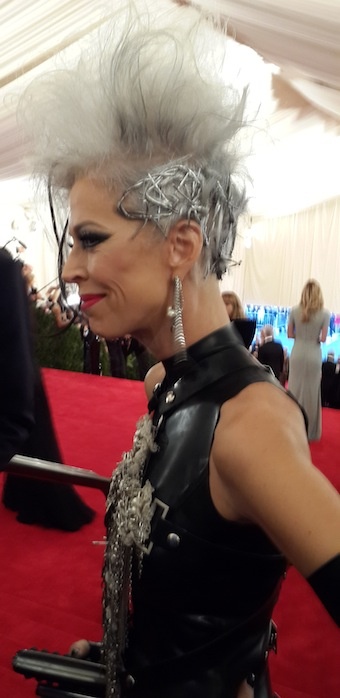 I don't know who these women are, but I want the one on the left to adopt me.
Update: Thanks to a helpful Facebooker, I now know that the lady who will be adopting me is Rossella Jardini, the creative director of Moschino. So, yeah, let's push those papers through. Meanwhile, the lady on the right is Linda Fargo, the Fashion Director at Bergdorf Goodman. Thanks helpful reader! And the internet!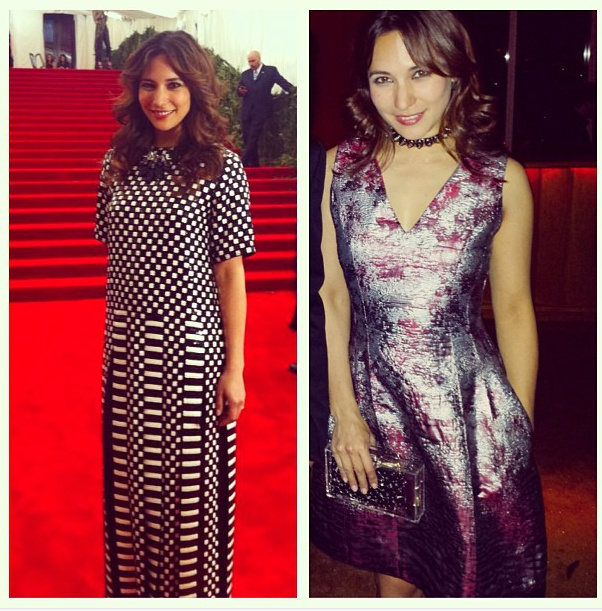 Here's what I wore: Marc Jacobs to the Gala and Prabal Gurung to the after party (Thanks Moda Operandi!) Green faces on the red carpet are so 2007.
Kim danced with Anne Hathaway to Gwen Stefani. That s**t is bananas. B-A-N-A-N-A-S. She's on Twitter - @theKTB.
Style Stage is an ongoing partnership between Noisey & Garnier Fructis celebrating music, hair, and style.