The Russia investigation just produced its next round of indictments.
On Friday, special counsel Robert Mueller and his team indicted 13 Russian nationals and three Russian entities for interfering in the 2016 presidential election. The eight counts of the indictment include charges of conspiracy to defraud the United States, conspiracy to commit wire fraud and bank fraud, and six counts of "aggravated identity theft."
Deputy Attorney General Rod Rosenstein announced the indictments Friday afternoon, saying that the defendants had conducted an operation of "information warfare" against the United States. The indictment lays out a comprehensive campaign called "Project Lakhta" conducted on the web and in person by the defendants to in an effort to "sow discord in the U.S. political system."
That campaign began as early as 2014 and sought to undermine American politicians in both parties. By early 2016, when the presidential primaries were beginning, the indictment alleges that the Russians "primarily intended" to attack Hillary Clinton, Sen. Ted Cruz, and Sen. Marco Rubio, while supporting Bernie Sanders and Donald Trump. By mid-2016, after those primary battles were mostly settled, the Russians turned their focus to "supporting the presidential campaign of then-candidate Donald J. Trump ("Trump Campaign") and disparaging Hillary Clinton."
The Russians also posed as Americans and "communicated with unwitting individuals associated with the Trump Campaign and with other political activists to seek to coordinate political activities," the indictment says. Rosenstein emphasized later there are no criminal allegations against any Americans in this indictment.
The defendants stand accused of creating social media accounts posing as Americans, in some instances using stolen identities, to reach "significant numbers of Americans" in order to disrupt the 2016 election. Some defendants even "traveled to the United States under false pretenses" and purchased "computer infrastructure" to obfuscate their Russian origin.
One of the Russian-operated accounts named in the indictment was the Twitter profile @TEN_GOP, or "Tennessee GOP," whose foreign origins were first revealed by a Russian news outlet in October. The account was active from November 2015 through last August, and was retweeted by Trumpworld officials — including Donald Trump Jr., Sebastian Gorka, and Kellyanne Conway — in the days leading up to the 2016 election.
The false personas operated by the Russians were used to purchase Facebook ads, according to the indictment, which mentions thirteen specific ads that ran between April 2016 and October 2016. The last of those ads, purchased around October 29 just before Election Day, appears to be part of the trove given by Facebook to Congressional investigators last year and released publicly this past November. It called Hillary Clinton a "satan" and that Trump is "an honest man and he cares deeply for this country."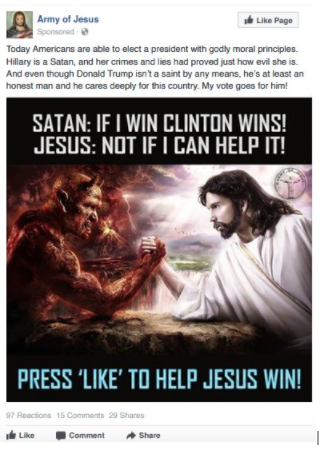 Full indictment embedded below.
Developing story …