"She's here, she's actually here, oh my God I can't believe she's here!"
Three young girls are chasing after makeup vlogger Olivia Grace. The 16-year-old social media influencer might look like she's still at school, but YouTube videos where she reveals the contents of her handbag or what she got for Christmas regularly receive tens of thousands of views. At Beautycon—the annual beauty convention beloved by YouTubers and teenage girls—screaming kids, selfies, and expensive luxury highlighter are the norm.
Thousands of mostly teenage, female makeup addicts have travelled from all over the UK—and even further afield (I meet one person from LA)—to the Olympia Trade Centre in west London. Most have paid $40 for entry-level access to the convention, but others have shelled out $160 for premium packages, including "access to all brands, main stage panels, and activations," extra makeup shopping opportunities, and the opportunity to take selfies with their favorite influencers. They're here to meet YouTubers, Instagram makeup icons, and reality TV stars—as well as to spend their pocket money at one of the dozens of teen-favored brands that have retail stands at the event.
Unsurprisingly, for an event where teenagers have come to buy makeup,
talk about makeup, and take selfies with people who make a living creating content about makeup, the clientele of mostly teen girls are heavily made-up. So what can I learn about the future of beauty from this army of heavily contoured teens?
On arrival I meet Jordi Dreher, a Canadian vlogger known as It's Likely Makeup. She has 267,000 Instagram followers and over 25 million page views on her YouTube channel. Even though Dreher and her friend are jetlagged from their flight, they look flawless, like their faces are being airbrushed in real time by a Snapchat filter.
I ask Dreher about her favourite makeup trend. "I love lollipop lips, where lipstick is smudged beyond the lip line so it's totally blurry and it looks like you've just snogged someone," she says. I comment on the freckles dotted over Dreher's nose. They're fake, she explains.
"It's pointless having real ones," she says. "They'd get covered up with makeup and I'd only have to draw them on again!"
Makeup here is not about appearing pretty or enhancing how you look. Gone are the days of buffing in pink blusher to create a natural flush. These girls and women want to look hyper-real—so perfect they resemble alien princesses.
At the stand for the glitter makeup brand Sparkles London, I meet three 15 year-olds who look like lost members of Little Mix. Natalia has eyebrows so angular that I wouldn't be surprised if she drew them with a compass. (We have withheld the surnames of all the girls interviewed due to their age.) "Today I spent an hour on them," she says, although normally she only spends around 15 minutes on her brows. "I brush pomade underneath, then I line on top and blend out, and I put concealer around to sharpen everything up and highlight."
Most girls at the event have the same eyebrow style: their natural shape is massively overdrawn, with sharply defined dark outer edges. Growing up, the thought of putting makeup on your eyebrows would have been ludicrous. Now they're a focal point for the face—and something to embellish with jewels or crystals. Search #christmasbrows on Instagram and you'll find hundreds of examples of glittered, feathered, jewelled, and festively painted eyebrows.
Natalia's friend Emer prefers plaited eyebrows. "You can plait eyebrows?" I ask.
"No," she responds. "You Photoshop a braid onto your eyebrow using Instagram to make your selfie look cool."
Eyebrow braiding isn't the only makeup trend inspired by technology: eyeshadow memes, featuring micro portraits of meme classics like Salt Bae or crying Kim Kardashian painted on the eyelids, were one unlikely makeup trend for 2017. At the less extreme end of the spectrum, brands have started creating and marketing products for a generation raised on social media, with The Body Shop's Instablur Eye and Huda Beauty's Faux-Filter Foundation promising effects akin to Instagram's flattering filters.
For Emer, makeup is no longer about covering up flaws, but showcasing skill. "I used to say Natalia looked fit," she explains, "but now I'm like, 'Your eyebrows are on fleek.'"
As I drift around the stands, Rihanna's "Work" comes on and everyone starts swaying as they browse pots of glitter or try out different shades of near-identical nude lipstick. Almost all the teenagers I speak to want to master the cut crease, a makeup trend that defines the eyelid crease by slicing across it with a contrasting colour and little-to-no blending.
Eighteen-year-old Megan from Surrey has been queuing for a pair of free fake eyelashes from a brand stall for nearly 20 minutes. I ask her how to do the famed cut crease. "You have to smother your eyelid with eyelash glue and then pat eyeshadow on top to create a really defined line," she explains.
At 15, I was still smearing concealer over my lips and clumping my eyelashes together with my one, dried-out mascara. But the internet has changed everything for today's teenage girls, Megan's friend Kate explains.
"If you want to learn how to do glitter lips or ombre eyebrows, on YouTube there'll be 20 different tutorials on the same thing," she says. Rather than relying on friends and siblings to teach you about makeup—or figuring it out yourself through trial and error—nowadays everyone has a cyber big sister to watch, rewind, and replay when needed.
While it's impressive that girls are becoming more dexterous with their eyeliner brushes, it is impossible to ignore that beauty vlogging is a culture defined by consumption. And YouTubers—for all their big sisterly advice—are the new frontline for cosmetics brands looking to market their products to a young and impressionable audience.
It's something 15 year-old Emer acknowledged to me while chatting earlier. "I don't look in magazines or advertising for makeup," she says. "I buy things that vloggers post online."
---
Watch: The Australian Model Calling Out Fashion's Size Hierarchy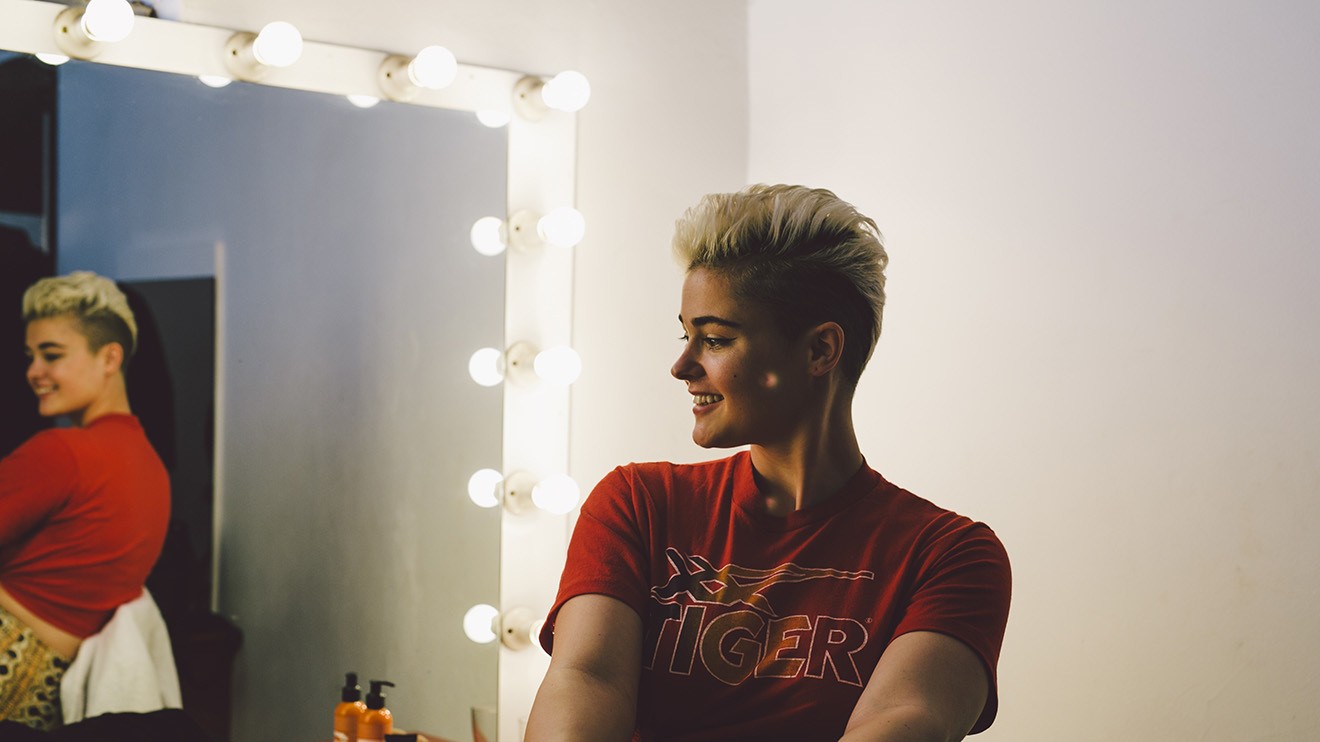 ---
These influencers yield impressive commercial returns on behalf of their favored brands. At home, after Beautycon ends, I go on YouTube and watch video after video of attendees running through their purchases in haul videos. I'm not surprised to learn, therefore, that the average British teenager's makeup bag is worth £425 ($567)—nearly double the £180 ($240) that mothers aged 35 and over spend.
Unsurprisingly, given the exorbitant costs involved, Beautycon is full of bored adults. They sit in corners streaming chat shows on their iPads, dutifully handing over their credit cards with no real idea what they're paying for. Wandering around the event, there's something deeply weird about seeing 14 year olds so heavily made-up that they appear many years older. I talk to the mother of one 12-year-old girl who tells me that her bus driver nearly didn't accept her daughter's young person's travelcard, because he thought she was over 18.
"It's all the makeup," she says, bemused.
And I can't help but wonder whether the impossibly high beauty standards today's teen girls set themselves has a damaging effect on their self-esteem. According to data from Britain's National Health Service, there's been a 42 percent increase in under-18s reporting symptoms of anxiety in the last year. Mental health charity Young Minds partly attributed the increase to the pressure that comes with social media to look perfect.
But the teen girls I meet at Beautycon don't consider themselves to be exploited consumers or anxiety-ridden selfie addicts. They see themselves as part of a community of makeup devotees; a subculture of teenage girls who can discuss the precise fineness of milled eyeshadows with the specialist expertise of an industrial engineer.
"At parties, if someone's makeup is really good you're just like, 'oh my God it's beautiful!' and instantly you make friends," explains Abbie, a 17-year-old from London.
I speak to Michelle Onyach, a smiley 18 year-old student originally from Kenya. She's vlogging Beautycon today for the Snapchat account MUAtakeover254 for women of color she runs with her best friend, Beverley Onyango. I ask if she's bought anything. "No," she responds, "because on Black Friday I spent £400 [$537] on makeup and Beverley spent £200 [$269]. I now have nine eyeshadow palettes!"
It might seem like an astonishing amount to spend on eyeshadow, but women like Onyach view such outlays as an investment, enabling her to build up her social media presence—and consequent appeal to marketers and brands—by showing the latest products to her followers.
"My parents don't mind [that I spent so much money]," she explains. "They know it's important for my work."
Onyach has her ambitions set high—and the influencers and content creators in attendance at Beautycon prove that vlogging can be a lucrative career. Many are managed by talent agencies whose other clients include pop stars, sporting figures, and famous actors. While it's impossible to say how much the average top-tier vlogger earns, British YouTube star Zoella—who produces mostly lifestyle and beauty videos—hit the headlines in 2016 after filing accounts showing she was making $67,000 profit a month.
Onyach isn't the only person filming today. Alongside a wall of iPhone screens—their sheer mass is overwhelming—many have brought professional-grade DSLR cameras and tripods. This is a generation of girls running small scale production companies from their teenage bedrooms.
As part of Onyach's premium ticket package, she has access to a celebrity meet-and-greet in a private convention lounge. I follow her there and watch as she speaks with vlogger Kaiser Coby, a British vlogger with 250,000 YouTube followers. I ask how it went. "She was like, black girl magic," Onyach gushes, "and then she told me I was beautiful."
Suddenly, everyone in the meet-and-greet room is screaming: The cause of the hysteria is Quisha Rose, a 15 year-old influencer with 127,000 Youtube subscribers and her own merchandise line of branded phone cases and pink hoodies. "I'm shaking," says Diamond, a 13-year-old fan who manages to get a selfie with Rose. "I love her, she's so caring and she is an animal activist, and a vegan. She's one of the main reasons we came here."
Looking around me, the hysteria I'm witnessing confounds me. Why do these teen girls feel such a connection with social media influencers they've never met?
"Our fans see us as friends," explains 17-year-old Lewys Ball a.k.a. Looking for Lewys, a 17-year-old makeup vlogger who currently stars in a campaign for cosmetics brand Rimmel London. He's all eyerolls and shrugs—as fun and outré as a Paris Hilton GIF—as he explains why young people relate to YouTubers so much.
"We talk in a normal way, whereas on TV, actors are performing," he says. "We interact with fans, we ask for feedback, we reply to comments, and for most famous people that's not an option.".
As I'm leaving, I bump into the trio of teenage girls I first saw chasing after Grace. It turns out that they're vloggers, too.
"Boys are mean," says 12-year-old Lucy. "They make fun of us, like, 'oh yeah, are you going to vlog this?' But girls think it's cool." She hands me a Microsoft Word-designed business card featuring photographs of the girls lying in a park, and a link to their YouTube channel, which has exactly 1,600 subscribers.
For now, they're starstruck pre-pubescent girls chasing after their favorite YouTube superstars—but I wouldn't be surprised if soon they'll be the ones getting followed by gangs of glitter-covered teenagers.