This article is part of our series 'Nice Song, What's It About?,' where we revisit old greats and go deep to get the stories behind them. To see the column's archive, click here.
Bill Callahan's wry and sardonic writing style, lo-fi approach and commanding baritone have made him one of the most evocative and compelling songwriters and lyricists of the last two decades. There's no better example of this is as when he sings "When I take the prisoners swimming, they have the time of their lives," on the opening line of "River Guard", from his - then working under the name Smog - 1999 album Knock Knock.
Over a sparse guitar line and gentle piano, Callahan sings of a prison guard wrestling his own existential battle as he watches over prisoners swimming in a river. Later he sings, "We are constantly on trial, It's a way to be free" and the song becomes as deep as the river the prisoners are floating in.
The 50-year-old Callahan was born in the suburbs of Maryland, outside of Washington DC, as the son of language analysts for the National Security Agency and Callahan has proven to be a master of language, words and lyrics throughout his career.
Knock, Knock, Callahan's seventh album, and the fourth he had collaborated with producer and musician Jim O'Rourke, features a string quartet and a small children's choir. The album's best known track "Cold Blooded Old Times", appeared on the High Fidelity soundtrack but it's "River Guard with sparse arrangement and Callahan's commanding vocals that make it the most poignant and powerful track.
Noisey: Where is the song set? In my mind I'm thinking somewhere in the Carolinas during the 50s.
Bill Callahan: I'd never thought of a location but your impression sounds good! Some movie with Robert Mitchum.
Where were you and how old were you when you wrote the song?
It was '98. I was either in South Carolina or in transit between there and Chicago. I was 32. Which doesn't fit my memory because I thought I turned 30 in Chicago, where I lived after South Carolina. And if I hadn't looked it up on the internet I would have told you it was closer to '95 and I was 28. I think there may be three of me living my life at staggered ages. A trinity. I promise to do the rest of the interview without using the internet so I have a chance of being human. I wrote pretty much all of that album on the drive from South Carolina to Chicago.
A lot of your songs have emotional intimacy but this one in particular about a screw, experiencing some deep existential anxiety goes deep. Power, trust, and yearning. It's a strong song. What do you think of it looking back 18 years later?
I think it is great! I remember I came up with the title first and that just sat around. Then I made a story to match the title. I remember an interviewer from somewhere in Belgium, said he had to call me Mr. Callahan after hearing that song. It was no more "Bill."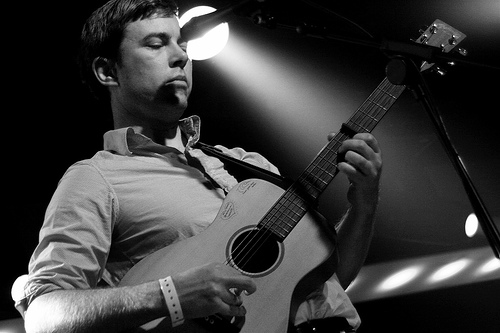 I don't want to analyse each line but, "I sit in the tall grass and look the other way". Is it to give the prisoners some privacy or a metaphor of moving away?
It is more just giving yourself and others that freedom of doing what they're supposed to be doing instead of being locked up. There was a little girl who used to write me, she must've been about four-years-old. She liked the album a lot and would dictate letters for her parents to write. She would always ask me about the tall grass.
Later the line, "Watching the wind rip the leaves off the trees" hints at potential violence. Relationships between guards and prisoners are often romanticised in popular culture but the reality can be violent and abusive. Have you ever visited a prison? The US prison system is pretty brutal.
I haven't visited. But prison feels inches away here. There's so many people behind bars. You hear kids talking about a parent or sibling in the slammer. It's no foundation for growth. I think we put the people away like we put things in our unconscious. A lot of the people who commit crimes have probably suppressed things in their unconscious and when they act them out we put them in the jails. The jails are a big unconscious — things we don't want to deal with but that still have a life, despite being denied.
Other tracks on the album like "Let's Move to the Country" and "I Could Drive Forever" reference escape. What were you like at the time? In a relationship or coming out of a relationship? Were you dating Chan [Cat Power] around that time?
I was kind of a little putz. Inchoate. Wandering. I didn't know how to be honest with myself and others, for the most part. Or at least there were certain personalities I couldn't deal with in a healthy, self-preserving way. You can slip through the cracks and have a lot of adventures for a long time and when you get older you wonder if that was good for you, necessary, or a waste. I had an extended youth where I was waiting for someone to tell me what was up. I had to figure it out myself after many self-inflicted blows to the head. My relationship with Chan had recently ended.
It's one of your more popular songs. Do you still play it in the live set?
I didn't for a long time, but have recently started again.
It would take a brave person to try and cover it. Have you heard any interpretations?
I haven't!
In an older interview you mention that you'd been reading James Salter who you described as "the master of the American sentence". But your songs would always have amazing lines or phrases. In "River Guard" there are many but in particular "We are constantly on trial, It's a way to be free". Was this in reference to being a musician and writing and recording new music?
It's not limited to musicians. I would say, in the broadest sense, it's the inconclusive nature of being human. But there's more to it than that, for people to discover if they wish.
You recorded Knock Knock with a band but it sounds like it's just you on guitar and piano?
I'm pretty sure Jim [O'Rourke, producer] played piano on it. If it sounds good it's not me! And I think there's drums, isn't there? Coming in halfway through? I haven't listened to the album version for over a decade. I remember Jim and Liam both wanted to play guitar at the end, the solo. So they both did it, duelling solos. I think it was based on something I whistled or sang. But then they harmonized with each other which was nice. I played acoustic guitar -- the only track on album that had acoustic -- Jim said it would break the album up a bit.
On You Tube I noticed a few comments that said 'Milla Jovovich brought me here' and I discovered that she had referenced the song in an interview. What do you think of the idea of Milla sitting in her apartment drinking shiraz and listening to Knock Knock?
I remember at the time she was saying in interviews that she would watch the end of that Contact movie with the sound off and "River Guard" on. The scene where Jodi floats into outer space. A year or so ago I was watching the last episode of season two of Orange is the New Black where the prisoners escape and go frolicking in the lake. I wanted someone to do an edit of the scene in slo-mo with "River Guard" beneath it. I'm still waiting.
Bill Callahan Australia tour 2017:
May 29 - Melbourne at Howler
May 30 - Melbourne at Howler
May 31 - Melbourne at Howler
June 2 - Sydney at Sydney Opera House
June 3 - Sydney at Sydney Opera House
Image: Ben Thomson