Two blunders involving guns in schools on Tuesday — one in California, the other in Virginia — are vindicating those who say putting more guns in schools won't make them more safe.
In Seaside, California, not far from Monterey, a math and "administration of justice" teacher who also serves as a reserve police officer accidentally fired a gun inside a classroom while teaching a course on public safety, injuring three students (none seriously). Dennis Alexander discharged his weapon while it was pointed at the ceiling. Fragments of bullet and pieces of ceiling went flying across the classroom. One 17-year-old boy got fragments of the bullet lodged in his neck. Alexander has been placed on administrative leave pending an investigation.
Meanwhile, in Alexandria, Virginia, on Tuesday morning, a school resource officer accidentally discharged his firearm while sitting down in his office. The interim superintendent of the school district said the incident further affirmed her opposition to the idea of arming teachers. "We had this happen with someone who's a highly trained officer," Lois Berlin told NBC Washington. "I think that speaks for itself."
Read: Here's all the states where teachers already carry guns in classrooms
Typically, such incidents might not have made national headlines. But in the highly charged and intensely partisan conversation around student safety following the mass school shooting in Parkland, Florida, people are seizing on whatever examples they can to make their case for and against arming teachers or putting more guns in schools.
Here are a few other recent incidents where teachers or officers fired their weapons inappropriately:
Two days after the Valentine's Day massacre at Marjory Stoneman Douglas High School, a sheriff's deputy shot himself in the leg by accident shot himself in the leg while responding to inaccurate report of shots fired at a nearby private school.
About a week after the Parkland shooting, a high school teacher in Dalton, north Georgia, barricaded himself in a classroom and fired a single shot from his handgun out of the window, prompting an evacuation of the immediate area. The teacher has since been arrested and is facing a litany of charges, including for aggravated assault and reckless conduct.
On Feb. 5 in Maplewood, Minnesota, about ten minutes from St. Paul, a school liaison officer was talking to a group of young kids about building trust with cops, when a third-grader got hold of his holstered gun and pulled the trigger, firing a shot. Nobody was hurt.
In November, 2016, in Bay County, Michigan, a school resource officer was convicted of having "negligently discharged" a gun in a school building. The bullet traveled through at least one wall, into a classroom full of children, and struck a teacher in the neck. The bullet did not break skin, police later said, and the teacher wasn't injured. The deputy was a 20-year veteran of the Auburn Police Department and a former "officer of the year." He was sentenced to a month in jail.
In September, 2014, at an elementary school in Utah (where teachers are permitted to carry concealed weapons), a teacher accidentally discharged her gun in a school bathroom. The bullet hit her in the leg and broke a toilet. She was later charged with a misdemeanor.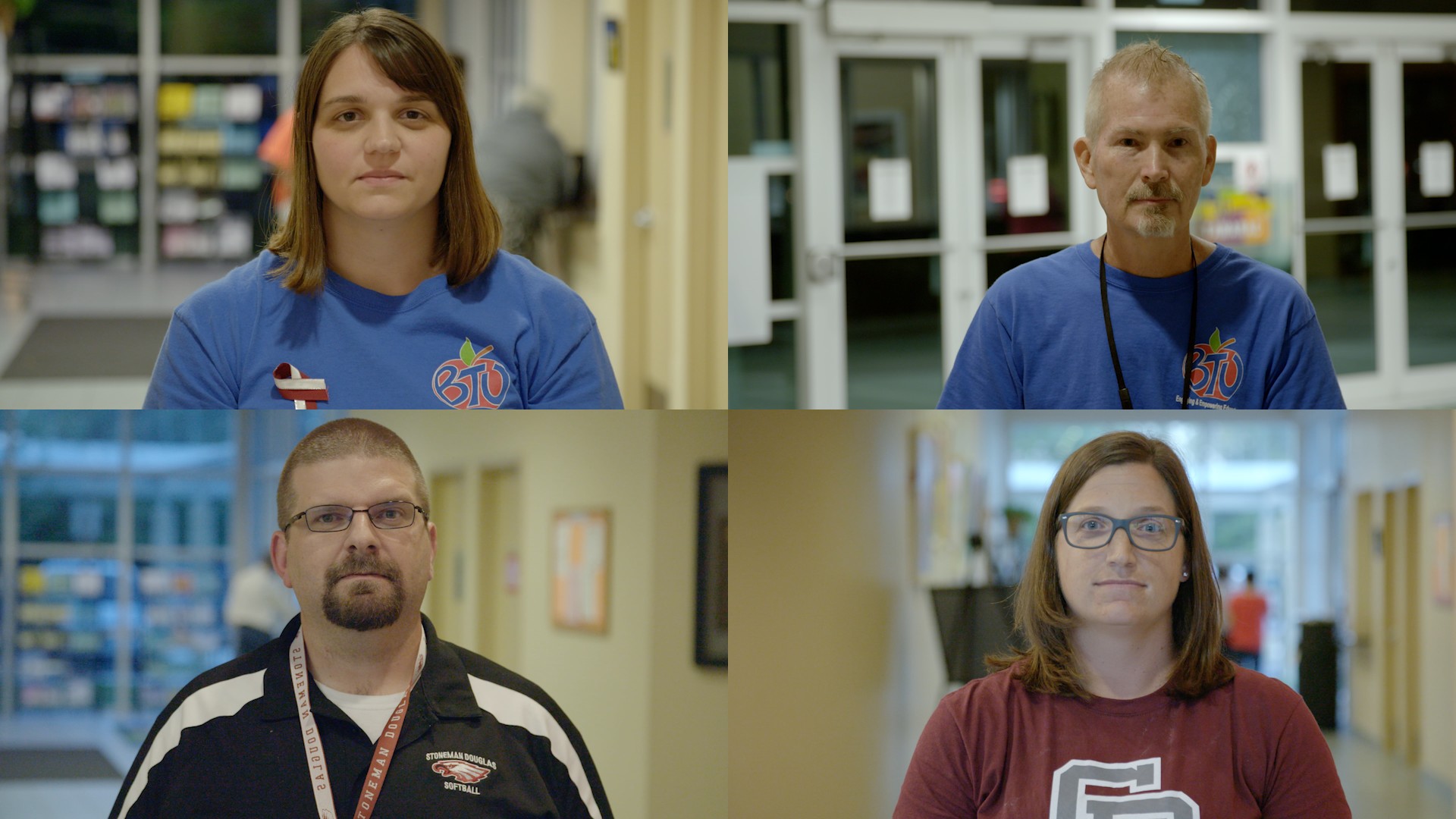 Cover image: Items left at Marjory Stoneman Douglas High School on March 7, 2018. (Photo: Kathleen Caulderwood/VICE News)