If you typed "video of…" into Facebook's search bar tonight, you might have seen some disturbing results. The social media platform briefly autocompleted strange phrases for many of its users, such as "video of girl sucking dick under water" and "video of little girl giving oral."
The issue appears to have been fixed within the last hour, however, and these results are no longer appearing.
Dozens of people have shared screenshots of these results on Twitter. When I attempted to test this on my own Facebook account, I was served the first phrase, but not the latter one.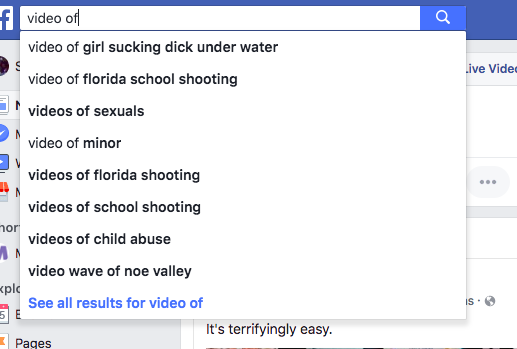 Motherboard Managing Editor Emanuel Maiberg, did not see any of the two results, but did see results unrelated to his Facebook or internet activity.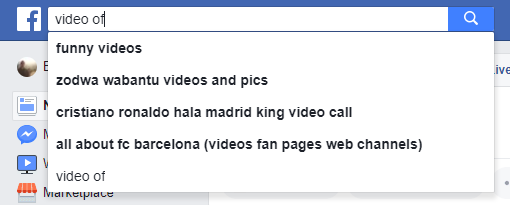 It's unclear why Facebook is autocompleting these phrases. And it's even more confusing, since neither of the autocompleted phrases return any hits—there are no videos, to my knowledge, on Facebook that are even remotely associated with these two topics.
Facebook did not immediately respond to Motherboard's request for comment, but we will update our story should the company respond. We do not know how something like this might happen, and Facebook isn't very transparent about the mechanisms behind its search algorithms.
In the past, Facebook has claimed that results are influenced by a user's search history and Facebook activity. But for many of us who have never searched these terms, on Facebook or elsewhere, this explanation makes little sense.
"Both your search history and your activity on Facebook contribute to search suggestions, so deleting your search history may not remove certain suggestions from appearing," a Facebook Help Team representative wrote in 2013.
The social media giant has long struggled to moderate content on its platform. Earlier this month, Facebook published a survey asking users how they would "handle the following: a private message in which an adult man asks a 14-year-old girl for sexual pictures." None of the answers to the poll included reporting it to authorities, but "This content should be allowed on Facebook, and I would not mind seeing it" was one potential choice. The company later admitted the survey was a mistake, and has since taken it down.