Did I expect to be confronted with a poorly shot phone video of Alex Turner of Arctic Monkeys tumbling his way through a karaoke rendition of "Smooth" by Carlos Santana featuring Rob Thomas of Matchbox 20, wearing a pair of ill-fitting ripped jeans and a denim jacket today, looking and sounding like your dad on his first night out in a full calendar year? I did not. Am I going to write at frankly unnecessary length about my new theory, born literally minutes ago, that Alex Turner, in said video, turns into your drunk dad before our very eyes? You bet I am baby!
Let me break it down for you:
Exhibit A - the video in question:
Heck the fuck yea.
Exhibit B: the song choice
"Smooth" is an interesting choice especially within the paradigms of what it is to be a dad, which are the paradigms I believe Alex Turner is operating within here. There are two reasons as to why one would choose to sing "Smooth" by Carlos Santana featuring Rob Thomas of Matchbox 20 on karaoke. The first is because it is an enormously memed song and there is a hilarious™ irony factor to making this your karaoke choice. The second is because you legitimately think that it is an amazing song that you adore to rock out to. Which is Alex Turner's reason? It is hard to say—perhaps it is both—but know this: the path to becoming a true dad* is soundtracked by Rob Thomas' voice purring "Man, it's a hot one…", and in opting to sing this track, Alex Turner has taken his first step on it.
*I will add here that you don't have to actually be a dad (i.e. be the father of human children) to Be a Dad, do you know what I mean? Dad is a state of mind: it's terrible jokes, it is being really sincere about liking Bono, it is getting buckwild after four beers, it is having questionable opinions, it is wearing ripped jeans in a last clasp at youth. It's singing "Smooth" on karaoke and then falling over onto a sofa, basically. Alex Turner is embodying Dad.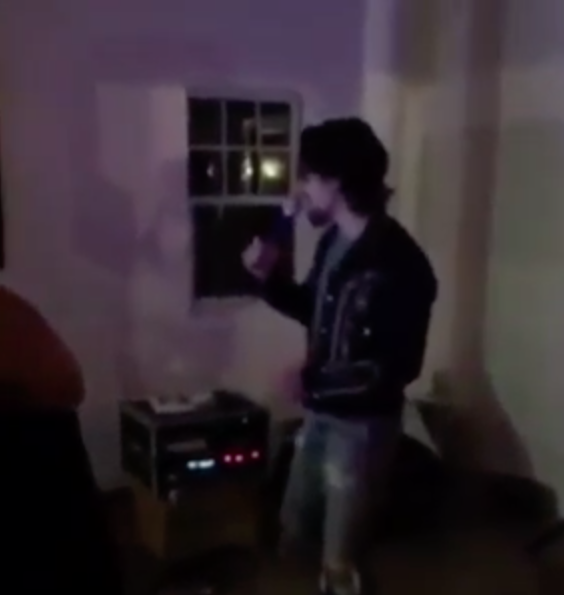 This is a blurry video, yes, but as soon as Alex Turner opens his mouth to sing, any plausible deniability RE: whether this is actually him sails out of the window. So yeah, this is The Alex Turner—one-time boyfriend of fashion maven Alexa Chung, don't forget—wearing a leather jacket and deliberately ripped jeans. These are clothes of the sort that your dad's new girlfriend Shelley (his first after the divorce, damn) might buy for him to try to get him to "loosen up a little!" It is a strange sight to see them hanging off Turner's frame, but surely a sign of his transformation to Full Dad.
Literally watch the weird stepping he does between 0:07 and 0:09 and tell me that this is not exactly how dads dance at every wedding.
Exhibit E: the weird sofa falling
Your dad has drank some beers and he is feeling ALIVE, my god, he feels incredible! Maybe he'll even sign up to karaoke? It's been a while but he's still got it! Usually he does "Summer of '69" or "Livin' on a Prayer" but tonight he wants to go with something different, a little more sensual, a little fruitier. And so he lands on "Smooth," and soon enough he's up, and he's got the mic and he hasn't felt this level of prowess—of command—in so long, and he even managed to hit the high note in the chorus, goddamn! But as the song goes on, the beers catch up to him; as he lurches through the final third of the song his feet go from underneath him thanks to the joint he took a single hit on half an hour ago. He finds his way towards the sofa. He finishes up the song, someone shoving an iPhone camera in his face (will his kids see this?), and as someone pulls the mic away, he falls asleep, only to wake up two hours later, having to call your mother to bring him home.
And doesn't Alex Turner, curled up on a sofa, wailing the final chorus of "Smooth" embody that very Dad-ness?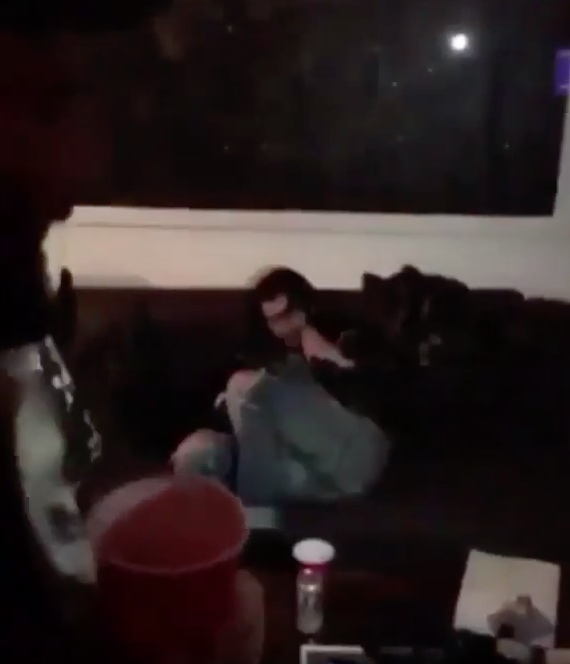 Told you. Dadness comes earlier for some than others—the signs were showing for Turner for some time (he has, after all, had a greaser/cowboy phase)—but eventually it'll get you.
Follow Lauren on Twitter.