12:13pm, August 22: This post has been updated with comment from Levant
In the span of just a week, the far-right Rebel Media has gone from a vanguard of the alt-right media to a public pariah, facing public condemnation and an internal mutiny.
The website and online commentary show has found one of its star hosts rubbing elbows with neo-Nazis, had its founder surreptitiously recorded promising "hush money," and has faced condemnation from across the political spectrum in Canada.
But while the site has pit itself squarely in the middle of a culture war, a half dozen former staff, associates, and contributors with The Rebel paint a picture of an organization more concerned with building its email list and attracting donors than with accuracy.
Most previous employees of The Rebel spoke to VICE News on the condition of anonymity, given that Levant requires Rebel employees to sign strict non-disclosure agreements and has a history of being litigious.
Ex-staffers say the operation is fixated on building its email list and subscriber base through increasingly combative and invective campaigns. But also that The Rebel lives on "mega-donors" who underwrite the operation.
And, despite the trials and tribulations of the last week, The Rebel still sits on a healthy donor base, supporters, subscribers, and staff.
Ezra Levant, the man at the centre of it all and the founder of Rebel Media — who did not initially respond to multiple requests for comment and an interview request — does not seem ready to back down.
The views and the money
The site's history is short, going back to only 2015, not long after Levant's previous employer, the 24-hour right-wing Sun News Network, went off the air. (Full disclosure: I was a paid Sun News contributor until 2015, and frequently worked with Levant during that time.)
The Rebel now appears to make just peanuts from the video site.
Since The Rebel rose from those ashes, it has already amassed a dedicated following and a massive amount of scorn.
The site's YouTube channel, one of its largest platforms, boasts more than 850,000 subscribers — although that number has declined slightly with the events of the last week — and some 260 million views. It boasts another 140,000 Facebook likes and 110,000 Twitter followers.
It was just as their YouTube subscriber base began to shrink last week — albeit only slightly — that Levant published an open letter admonishing the alt-right and, days later, fired controversial host Faith Goldy after she appeared on an openly neo-Nazi podcast while attending the protests in Charlottesville, Virginia.
While The Rebel's impressive YouTube viewership would have raked in a significant amount of money at one point, changes to YouTube's advertising policy have slashed income for a variety of accounts. The Rebel now appears to make just peanuts from the video site.
To counter that, Levant has launched a $300,000 crowdfunding effort to build and implement their own video app. The site claims to have raised over $180,000 to that end already.
The site's web advertising has also taken a hit.
Sleeping Giants, an anonymous online organization that was originally founded to pressure advertisers for Breitbart to drop their patronage of the right-wing site, set its sights on The Rebel earlier in 2017.
The Canadian chapter of the online group told VICE News that 305 companies have withdrawn their ads from The Rebel since their campaign began.
While digital advertising revenue is hardly a cash cow for any media outlet, the pulled ads have gotten Levant's attention. Levant moved a boycott campaign against Whistler Blackcomb ski resort after they pulled ads from the site, then went after Sleeping Giants, implying they were anti-semitic, funded by "dark money," and suggesting it may be run by either billionaire George Soros or "the Saudis."
The site pulls in $1 million per year from subscriptions alone, which works out to more than 10,000 subscribers.
Funding comes in to The Rebel through many channels. You can opt to donate directly to the site, contribute to a crowd-funding effort for one of their various trips or initiatives, or register for their $8-a-month premium membership.
While it's virtually impossible to get a sense of The Rebel's financials, details from two former staffers confirmed roughly the same figure: That the site pulls in $1 million per year from subscriptions alone, which works out to more than 10,000 subscribers. But that isn't nearly enough to finance the entire operation, which rents office space in downtown Toronto, has staff worldwide, and uses top-of-the-line video recording equipment.
That's why The Rebel's e-mail list is the crown jewel of the operation.
Levant sends out just a few emails to supporters every month, using them to encourage supporters to join him and his hosts on a paid cruise of the Caribbean, which has since been cancelled by the Norwegian cruise operator; asking them to watch subscriber-only content; and making direct requests for money ("I need your help," reads one subject line).
To build up that email list, Levant has, according to a domain registry search, set up a plethora of microsites — websites with unique URLs like thetruthaboutrefugees.com or stopantifa.com — that issue-specific calls to action on a particular issue. Through signing a petition, joining the email list, or making a donation, Levant grows his supporter base well beyond just fans of The Rebel.
Levant has registered more than 200 of these sites since launching The Rebel in early 2015.
"As long as they're willing to say things about Muslims, he'll put money into it."
These campaigns, shared aggressively on social media and sent out to their email list, issued calls to action like: "Demand that Trudeau put a pause on his dangerous refugee plan;" or, for a series on Syrian refugees "wreaking havoc" in Canadian schools, ask supporters to donate to help cover the cost of filing freedom of information requests.
A since-deleted post written by the Torch Agency, which runs digital strategy for The Rebel, claims their email list contains "hundreds of thousands of supporters."
The blog post, published by NationBuilder (The Rebel's main website platform), also reports that "The Rebel makes extensive use of NationBuilder's petition and donation pages to foster activism as well. All interactions are recorded in the database and used to provide custom content to visitors.
"For example, a supporter could have access to exclusive content depending on their donation amount or membership level."
Levant, in an email sent after this story was published, told VICE News "we have had no donor who has given more than 2% of our revenues," but wouldn't elaborate.
Some campaigns have very specific goals. In one case, it ranged from from buying new camera equipment to sending a woman and her family on vacation, after she alleged she was sexually assaulted "by a Muslim rape gang."
But as the site's own donation policy points out, if the fundraiser exceeds its goal, the site can keep the money.
"Surplus funds raised for specific initiatives will be used for other costs associated with that particular project, such as website development, website hosting, mail, and other such expenses. Additional funds will be used towards other similar initiatives in the future," reads the policy, present on only one section of the site, and not on individual fundraising campaigns.
"Islamophobia is justified"
Immigration and Islam make up a bedrock of The Rebel's content.
Goldy herself recorded a video at the end of May entitled: "White genocide in Canada?" In the video, Goldy laments that the white population of the country is being "replaced" by immigrants. Levant retweeted the video a day later.
Laura Loomer, a newer host with the network, also caught flack by tweeting "Here's to 2,000 more" in response to a new story regarding the 2,000 migrants who have died crossing the Mediterranean this year alone.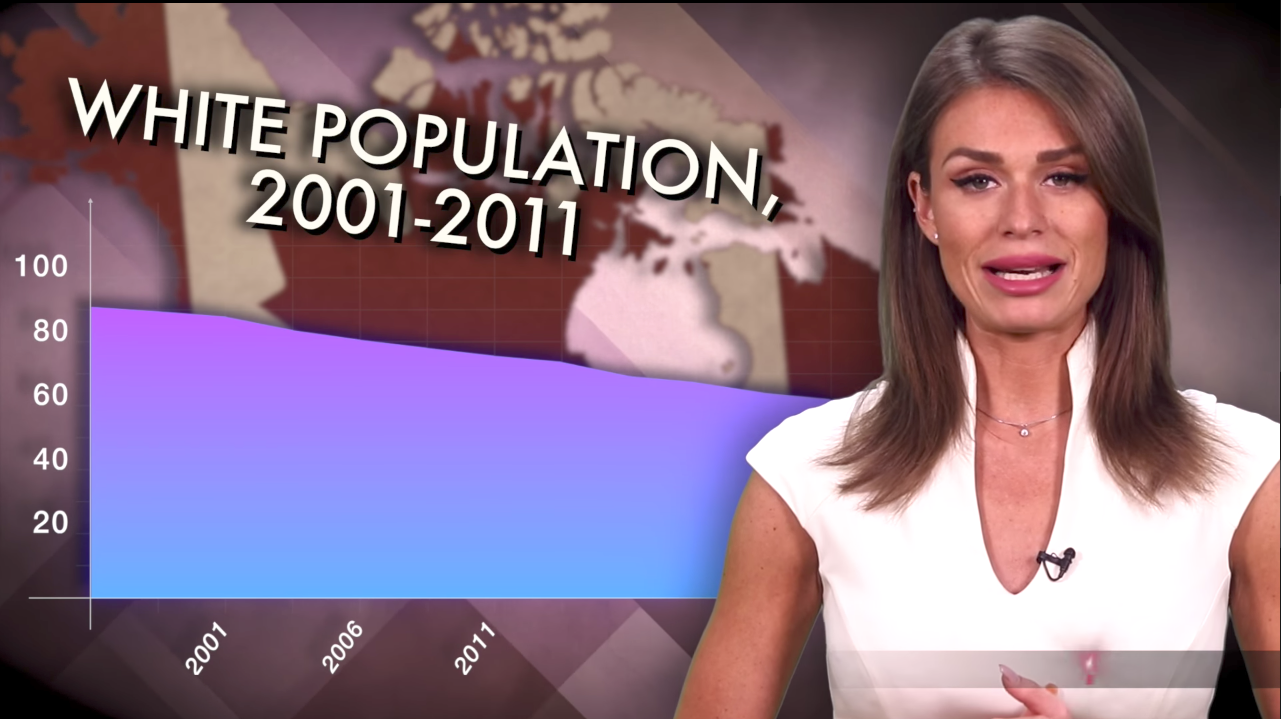 "Dear Liberals: Islamophobia is justified," one correspondent writes to Prime Minister Justin Trudeau on the site.
One former Rebel contributor said the willingness to cover issues around Muslims was pathological. If facts got in the way? "Facts were ignored," they said.
"As long as they're willing to say things about Muslims, he'll put money into it," one former staffer said.
Exhibit A: Goldy started work on a segment focusing on a special exemption in Canadian gun laws which allows applicants to forgo having their license photo taken if they have a valid religious belief forbidding it.
Goldy assumed it was religious accommodation for women who wear the Niqab. But, as a co-worker pointed out to her: It was, in fact, a religious accommodation dating back decades, made for the Hutterites, a Christian sect, similar to the Amish.
Goldy published the story, undeterred, with the title: "Special gun rights for Muslims?!"
It's perhaps unsurprising that Goldy's unofficial catchphrase was "deus vult," a former rallying cry of the 11th century crusaders.
"True grassroots supporters"
"There's a market for this stuff," said one former associate of The Rebel, with knowledge of the business side of the site.
They told VICE News that it is larger-scale donations from deep-pocket financiers that has put wind in the site's sails.
"There are wealthy benefactors of conservative causes"
"There are wealthy benefactors of conservative causes," they told VICE News. They went on to say that the bigger-ticket donors aren't exactly public figures — they're "less obvious."
Not all of their wealthy benefactors are secret.
Laura Loomer and U.K. host Tommy Robinson are listed on the website as "Shillman Fellows." That fellowship, run by tech billionaire Robert Shillman, has put money towards media personalities who tout an anti-Islam line.
The fellowship is run through the David Horowitz Freedom Centre, named for a man the Southern Poverty Law Centre calls "the godfather of the modern anti-Muslim movement."
VICE News spoke with Horowitz, who knew nothing of Loomer or Robinson's fellowships, and Shillman himself, who declined to comment except to say that Levant is "fighting the good fight."
Levant contended to VICE News that the Shillman Fellowships were "simple and publicly disclosed," but would not provide detail about the amount of funding that comes with the fellowship or the focus of the fellows' work.
"It is support for those two journalists' salaries," Levant confirmed, adding: "There is no editorial restriction or obligation."
Last week, left-wing site Press Progress reported that the Middle East Forum — which works with the Shillman Fellowship — donated to Levant himself from a $2 million education fund. It's unclear how much of that money, if any, has gone to The Rebel.
It's a bit of irony for a site that has often railed against progressive groups who accept American funding for their lobbying efforts. Just this month, the site's B.C. bureau chief wrote that The Dogwood Initiative, a left-wing environmental group, was "posing as a grassroots group opposed to big money while accepting huge sums from U.S.-based foundations" while, in the same article, asking for more money from The Rebel's "true grassroots supporters."
The Rebels
While Levant has done a masterful job of building up his subscriber base, The Rebel has been beset by some personnel problems.
"Not a lot of people will probably want to work with you after being involved with us"
Over the past week, The Rebel has lost almost its entire roster of front-bench talent. Goldy, for one; Brian Lilley, its Ottawa correspondent, who posted a carefully-worded statement distancing himself from the site; and Gavin McInnes, one of its most recognizable and controversial hosts, who is slated to leave the site at the end of the month. (McInnes was a co-founder of VICE. He and the company severed ties in 2008.)
The Rebel also lost Kory Teneycke, a director of communications under former Conservative Prime Minister Stephen Harper who also previously ran the Sun News Network. He had originally been brought on to get The Rebel's U.K. operation back on track but dropped Levant as a client in recent weeks.
VICE News asked Levant for comment on the departures, but did not receive a reply.
For a network of just over two years, the staffing turnaround has been quite high. One former employee, who has left recently, sighed that they were "relieved" to be done with the network. There appears to be a mix of reasons why: Some left, uncomfortable with The Rebel's increasingly hard-right turn; others used it as a springboard to greater infamy in the alt-right media sphere; while other situations were a bit more murky.
Holly Henderson, a U.K.-based writer and commentator, appeared alongside Levant just outside the Parliament buildings in London to announce the launch of Rebel U.K. Levant had sought her out specifically, after getting a recommendation from Rebel U.K. correspondent Tommy Robinson. None of her content has shown up on the site, however.
Henderson says she had shot and reshot a number of videos for the site, which mostly focused on the supposed threat of Islam to the U.K. Levant approved the scripts, but disliked the format. While Levant had promised her a steady amount of work (she is a single mother) it never came to fruition. "In the end, nothing happened, I never got paid," she says.
Levant accused them of blackmail and squandering money.
"Not a lot of people will probably want to work with you after being involved with us," Henderson recalls Levant saying.
Then there's Caolan Robertson, a correspondent for the site's London office who hosted his own videos and helped produce Tommy Robinson, the site's main English host, along with his partner.
Robertson and his partner were turfed from The Rebel in late July, in what later became a very public spat.
He first made the allegations that The Rebel was pocketing some of the money from its fundraising campaigns. Levant says those ex-employees "never had any access to any financial or accounting information at all," and called the allegations "gossip and speculation."
But in recordings uploaded to YouTube and sent to VICE News, Levant can be heard delivering an expletive-laced rant at Robertson and his partner — and nevertheless offering the pair £6,000 in, what Levant called, "hush money." The voice in question is undoubtedly Levant's, and he himself hasn't doubted the conversation took place.
The two ex-employees had wanted to be bought out of their contract, which was cancelled after just two months. Levant accused them of blackmail and squandering money.
"Jesus Christ, if someone takes a run at Tommy [Robinson] and embarrasses him, I would hate to be that person," Levant told Robertson.. "Not that Tommy would do anything, but Tommy's got a lot of friends."
Robinson is the former head of the English Defence League, an anti-Islamic street protest movement that has been known to engage in violent altercations with police and other demonstrators. Robinson left the league in 2013, disavowing far-right extremism, but the organization lives on.
Levant, in the recording, also lets slip that he's sunk more than $15,000 into litigation against a Twitter user who suggested The Rebel's fundraising was nefarious.
In a response to Robertson's video, Levant accused him of trying to shake down the company and of pocketing money from the company. (PayPal records shown to VICE News by Robertson show that, apart from the £6,000 severance, the couple had been paid roughly £2,500, each, per month.)
"It's just business."
One of the individuals who worked with Levant and spoke with VICE News said the meltdown at The Rebel was a bit of a "tragic tale."
"He's such a free speech extremist that he doesn't believe in being an editor"
Many who have known the TV host for years — myself included — have been surprised at his perilous shift to the extreme right. Some of it, according to a former associate, is "chasing clicks." To some degree, he's a victim of his own freedom.
"He's such a free speech extremist that he doesn't believe in being an editor," they said.
Last week, politicians tripped over themselves to cut ties to Levant's organization.
At the end of the day, he may simply not care.
"I don't think it's this big mission," said one former associate. "It's just business."