Zara Larsson is a very good pop star. "Lush Life" still bangs almost a year later and she's got a good shot of scoring a UK number one this weekend alongside eternally dry classical/pop-house hybrid act Clean Bandit. She's sexy-cute in a Britney type of way, and she's great at engaging with her fans in that elusive #real way on social media. Here she is, for example, making a weed joke (teens love weed) based on one of her hit songs:
This is genuinely the sort of social media presence that brands pay to have and Zara is doling it out for free. See? Proper pop star.
In her latest venture, Zara has linked up with H&M to create a fashion line aimed at her young fanbase, following in the footsteps of other stars like Beyoncé, who launched her Ivy Park line in the UK in Topshop stores last year, Rihanna—who's collaborated with everyone from River Island in the UK to Puma worldwide as well as working on her own line—and the queen mother of all musician clothing lines, Gwen Stefani's LAMB brand. Of the collection, Zara says: "I am really excited to finally share my collection with H&M. I have had so much fun working with them to design pieces and create a campaign that reflects my personality. I can't wait to see how girls everywhere wear the pieces to add to their own personal style."
And in general, Zara's collection is super cute: there are jackets and sweaters with the slogan "CATS AGAINST CATCALLING" (for the record, this is great and I think it is very cool that Zara is sending what is a really important message to her young female fans about something as pervasive and horrific as street harassment); there are sweatpants and sports gear printed with the phrase "Lush Life" in that millennial pink, pastel color palette that the youth loves so much.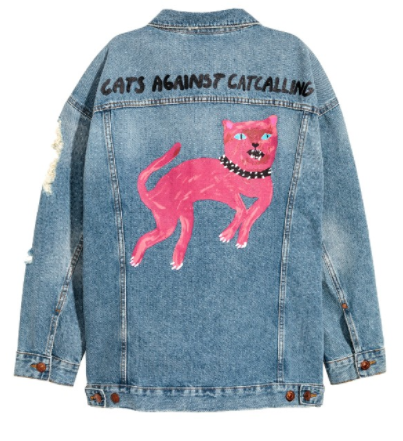 But there's no getting away from the fact that we're operating within capitalism, and clothes are commodities. That's why even the "CATS AGAINST CATCALLING" items feel slightly off—the feminism that runs through that phrase feels a little compromised when teens are being asked to hand over their pocket money to own something emblazoned with it to a company of H&M's size. And though H&M have attempted to improve recently with regards to the way they pay and treat their staff, there's still the looming worry that the women making these clothes are not nearly as empowered as those buying them.
Obviously this isn't just a problem with Zara Larsson (pop, after all, is a money making game) or H&M: it's widespread—even Beyoncé came under fire when it was suggested that the women making Ivy Park garments worked in poor conditions. But when lines like these spin an "empowering" campaign, or, in the case of Zara's line, co-opt the language of feminism, or body-positivity, there's a worry that the right people aren't being serviced by them, and that the movements they ally with may suffer because of that allyship. Case in point: some of the designs read: "THICK THIGHS SAVE LIVES," which again feel extremely well-intentioned but because H&M is a mainstream high street clothing brand, it's possible that not all plus-size customers could even wear them.
Basically, this is a wider, niggling issue that extends far beyond Zara and her objectively adorable line. But when we're starting to see the return of second-wave feminist ideas to talk of empowering women today—namely, that you immediately suck the radical nature out of a fight for equal rights for all genders when you put those ideas in a market and sell them off—then it becomes harder for artists like Zara to try and express their ideas in a way that could reach as many people as possible. Alternate theory: either queue up at H&M for the clothes, or don't worry about them in any depth. It's up to you, really.
Follow Lauren on Twitter.
(Images via PR)