Earlier this week I wrapped production on my first feature film, Jinn. The film began as a collection of images that came to me during a summer living in Washington, DC. It was 2015. I kept envisioning a black girl riding a hot pink bike down a street in South LA. A master of performance, she would stop for a churro, then for extensions at the beauty supply store. I also kept seeing a black woman, her mother, seeking clarity and peace through Islam. I saw her sharing religious interest with her daughter, who was herself immersed in a new world she was trying to understand while simultaneously resisting it.
This story was not new to me—in many ways I'd been living and crafting this narrative, which deals with African American Muslim identity, for many years. My father converted to Islam in the 1970s, and my mother converted when she married him. Growing up, I heard stories about him selling crates of fish and bean pies on Oakland street corners as a member of the Nation of Islam; later he sold scarves and halal hot links as an Orthodox Sunni Muslim at the masjid with me by his side. I remember being surrounded by African American Muslim musicians, lawyers, rappers, chefs. I witnessed Muslim black girls get their hair pressed, Muslims flirt, and Muslims love. I was scolded for wearing shorts and told that I would need an adult chaperone if I wanted to date. I prayed side by side with Muslim sisters, and loved when my feet touched theirs. I saw people fall asleep during the Imam's Khutbah, then jolt awake to nod, somewhat guiltily, in prayer. Our masjid was large, pink, and intricate, with many rooms and mysteries.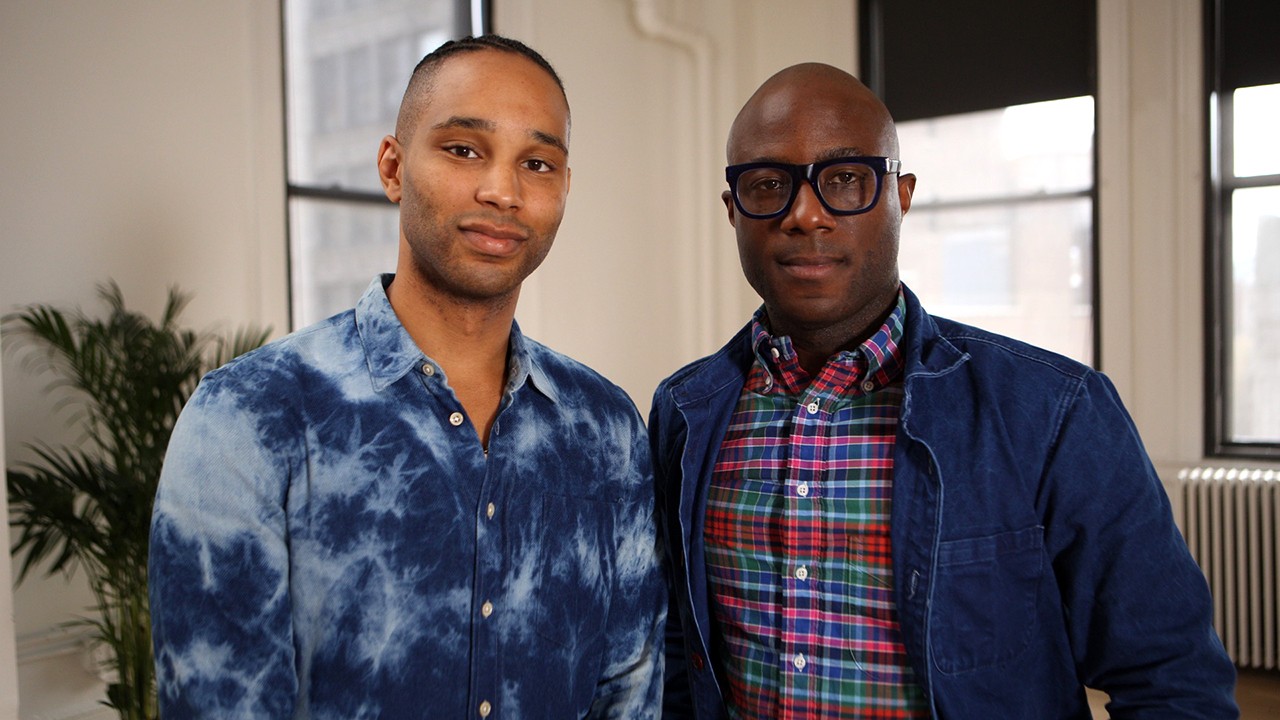 I'm fascinated by these moments but I also recall the moments of disconnection: When I learned that being a Muslim wasn't the norm, when I was told I was going to hell by a friend, when my teenage sexuality trumped Islamic teachings that Muslim women should wait until marriage to be with a man. I wanted to explore that sense of wonder and conflict through two characters who navigate a society that is neither tolerant nor understanding of their transformation.
After completing the first draft of the script, I circulated it to close film colleagues who were drawn to the story. They were also drawn to my main character, Summer, a composite of myself and so many black girls I'd taught and interacted with as a teaching artist over the years. Summer is a shape-shifter, the embodiment of black-girl magic, but with hints of pain that she masks on her popular social-media profiles. While the character of Summer and the world she inhabited seemed to jump off the page, my main challenge during revisions of the script was to make her mother's conversion to Islam believable and tangible. During this time, I enlisted the help of Avril Speaks, a fellow director/colleague with whom I worked on a previous short film, to be a producer. We had no idea how challenging this journey would be.
Upon learning of our low budget, one white male producer asked if we'd be shooting the film on iPhones, and laughed.
After a successful Kickstarter campaign in which we raised over $25,000 and received contributions and endorsements from the likes of Ava DuVernay and Issa Rae, Avril and I began to actively pitch our film to get more financing in order to go into production. During a financing intensive, where indie filmmakers are invited to pitch their films to investors and producers and learn more about film financing, we were met with disinterest and condescension when talking about the film's subject matter. Upon learning of our low budget, one white male producer asked if we'd be shooting the film on iPhones, and laughed. That experience set us up for what was to come—the rhetoric of diversity and inclusion in filmmaking versus a reality that was significantly less rosy. Many filmmakers of color and women just don't have the money to make films, despite a very public push for inclusion and diversity. Systemic barriers to funding, resources, and directing opportunities underscore this reality. We went on to pitch and present our film to over 60 executives, financiers, and production companies at Film Independent's Fast Track film market. One of them would later become a key investor.
I knew that in order to make this film, I would need to dedicate my life to it. So I moved from New York City, left three jobs (much to my mother's dismay), and moved back home to Oakland, where I slept on my father's couch for six months while I planned and strategized, at times certain that it wasn't going to happen. There is nothing glamorous about this part of independent filmmaking—the months of uncertainty and doubt leading up to it, where you're not sure if you'll have enough money to shoot for 18 days, when you're desperately awaiting an email confirmation that a contract was signed, that an investor has indeed deposited funds. All we could do was wait, and have faith that it would happen.
By making a film where a black girl dances, kisses, and reads the Qur'an, I am resisting.
A year and a half after writing the first draft of Jinn, I was in Los Angeles preparing to shoot the film. I was online reading about Trump's Muslim travel ban as I reviewed shot lists for some of the first days of shooting, which began earlier this month. I felt angry, defeated—and alive. I was ready to make something that I had never seen before: a story about my father and my community, about my students and about myself as an insider and outsider to Islam. In one scene, a character, Jade, reads a dua, or invocation, alone in her room at night. It is a dua that Muslims read when they are uncertain or don't know what to do. My father read me the dua years ago when I was conflicted and I added it to the film in one of my later revisions. As the actress read, tears flowed from her eyes and from mine. The conviction and feeling that I associated with that reading was captured in the performance, and it was one of the most transcendent moments I've ever had in a film set—a moment where a director's vision aligns so perfectly to what is being performed and shot. I will always remember that.
Moments like that have kept me grounded when outside pressures and constraints dealing with time and money inevitably present themselves. Jinn is a micro-budget film, but it could easily be a big-budget film due to the amount of scenes, locations, and cast. (The definition of micro-budget isn't set in stone, but film professionals tend to see it as less than $396,000.) Because of this, I worked with my director of photography, Bruce Cole, to find ways to shoot large page counts in the span of days and hours in ways that still evoked the emotion and life of the story and characters. The collaboration between Bruce and I proved integral to the success of the production. On films where money is not an issue, it's normal to shoot two pages a day. On our film, this was not a reality. Most of our locations weren't available to us for more than two days, making it impossible to work a slower pace than what was given. I had to make decisions quickly, and live with whatever came from them. Bruce was passionate about staging, about mise-en-scene and creating impeccable framing. Each time I look at the footage, I am assured that no matter how challenging the production has been, the results are beautiful.
Each day, driving to set, I've thought about what has led me to this film: the warring sides of my identity, the complexity of the Muslim people I know, the destruction that Trump and his regime are waging. While my film is not a direct statement on present politics, its existence is one of resistance. By making a film where a black girl dances, kisses, and reads the Qur'an, I am resisting. Characters like mine don't even exist in the minds of the people who are currently running this country. This I've kept in mind when the stresses of the film seem unbearable, whenever I'm feeling sick or my feet are aching from standing up for 14 hours. Filmmaking is a privilege.
In the spirit of preservation, I've also chosen to shoot in neighborhoods in Los Angeles where some of the last pockets of black community and homeownership still exist in a time of rampant gentrification. My vision has been to capture things and people that are in danger of being erased: black Muslims, black community, a black girl's pure desire. As a director, it's been important for me to allow my black female characters spaces to inhabit the otherworldly and majestic. A scene of Jade, a meteorologist, studying the sky and letting the air dance against her skin, and another of Summer skateboarding and staring into sunset need no dialogue or explanation. They are about existence and being.
I write this having just completed one more of the seemingly innumerable steps to making a feature film. I'm exhausted, broke, and feel like I've been through a war—maybe the best kind you can go through.
Follow Nijla Mu'min on Twitter.