During his presidential campaign, Donald Trump promised to rebuild an America that had allegedly atrophied under a disastrous Obama administration. Trump was a political neophyte but could make big, vague, shiny promises like an old pro: The border wall would be built, and Mexico would pay for it. America would be great again. The military would win again. On Thursday, in his administration's budget proposal, Trump showed the country what all of that might look like, and it isn't pretty—making America great apparently involves massive cuts to the arts and sciences, the State Department, the Environmental Protection Agency (EPA), and other popular programs. In exchange, Trump is proposing a whopping $54 billion increase in defense funding, $4.4 billion more for the Department of Veterans Affairs, and $2.8 billion more for the Department of Homeland Security (DHS), $2.6 billion of which goes toward funding that southern border wall.
So, turns out that if it ever actually gets built—which remains unlikely—America will pay for that wall after all.
This proposal only covers discretionary spending, which is 27 percent of the overall federal budget (mandatory spending includes money that goes toward entitlement programs like Medicare and Social Security). It also doesn't include promised tax reforms or an infrastructure rebuilding plan that Trump has talked about for months. Additionally, any budget proposed by Trump must be approved by Congress—and even Republican politicians object to parts of it. The battle over the budget will likely be long and bitter and might lead to a "continuing resolution," a way to keep the government funded without passing an official budget, which is what Congress has been doing pretty often in recent years.
Still, the budget document reveals Trump's priorities in a way that his stump speeches and interviews don't. It's clear what he doesn't value: scientific research, diplomacy, economic development programs that help specific areas, the arts, foreign aid, education, and other non-military functions of the federal government. The idea is that state and local governments (and in some cases the private sector) should take on more responsibility; in other cases, the Trump administration claims that there's no proof programs are working. But the administration isn't offering any road map to provide these services some other way—they're simply getting eliminated.
Below is a list of some of the most drastic cuts:
Possibly the biggest target of the budget proposal is scientific research and agencies that do anything related to combatting climate change, which makes sense given Trump is on record saying it's a hoax orchestrated by the Chinese.
The EPA is facing the harshest cut by percentage, at 31 percent. Its climate change–related programs would be gutted along with green energy initiatives and programs that benefit specific regions (states apparently have to pick up the slack). More than 3,000 of the agency's 15,000 employees would be laid off. Among the many, many initiatives on the chopping block is Energy Star, an incredibly popular energy-saving program that saves money, reduces emissions, and costs only $57 million.
The National Oceanic and Atmospheric Administration, part of the Department of Commerce, would get stripped of over $250 million in funding. This money helps coastal areas fight off storms.
The National Institutes of Health would lose $5.8 billion. The Department of Energy's Office of Science would get $900 million taken away. Together, these cuts represent a massive divestment from research that has been traditionally funded by the federal government. The scientists whose work relies on grants from these agencies would have to… figure something out, presumably.
Though NASA is not targeted for deep cuts, it would lose funding for programs that are related to climate change.
The Chemical Safety Board,an agency that investigates chemical-related accidents, wold be eliminated entirely.
Foreign Aid and Diplomacy
So far, Trump seems to want to conduct foreign relations through White House officials like Jared Kushner rather than the diplomatic corps. He also has promised to crack down on foreign aid, which many Republicans view as a waste of money (though it's only a tiny part of the federal budget). Combine these two impulses and you get a budget that's extremely hostile to diplomatic institutions.
The State Department, US Agency for International Development (USAID) and Treasury International are facing a 29 percent budget cut. That includes a complete elimination of funding provided to climate change–related programs, and also a directive for these agencies to "pursue greater efficiencies through reorganization and consolidation in order to enable effective diplomacy and development." State was already demoralized and marginalized under the Trump administration, and this just confirms that the new president doesn't value the department. Notably, though Trump is promising to slash international aid, he wants to continue sending $3.1 billion annually to Israel.
The United States Institute of Peace exists to try to tamp down conflict in places like Iraq and Afghanistan; Trump, who clearly sees this sort of diplomacy as a waste of time, wants to get rid of it.
The Woodrow Wilson International Center for Scholars is a think tank that gets some of its budget from the federal government. Trump wants to pull federal funding from it, which the Wilson Center has apparently been preparing for for years.
The African Development Foundation, a relatively small agency (it requested just $28 million in funding for 2017) that provides grants to poverty-fighting efforts in Africa, would be wiped out. It's the sort of foreign aid that Trump's "America first" orientation is obviously against, but the agency argues on its website that more stability in Africa is good for US security as well.
The Inter-American Foundation provides similar aid to Latin America and gets just above $20 million from the federal government; Trump wants to end this program too.
Trump wants to spend $1.4 billion more on "public and private school choice," in other words government-funded charter schools and vouchers for private schools, initiatives that compete with traditional public schools. Meanwhile, public schools themselves are getting hammered under his proposal.
The Department of Education would lose $9.2 billion, mainly through cuts to teacher training, before- and after-school programs, and grants that help low-income students go to college.
How an 80s Arnold Schwarzenegger film predicted the future: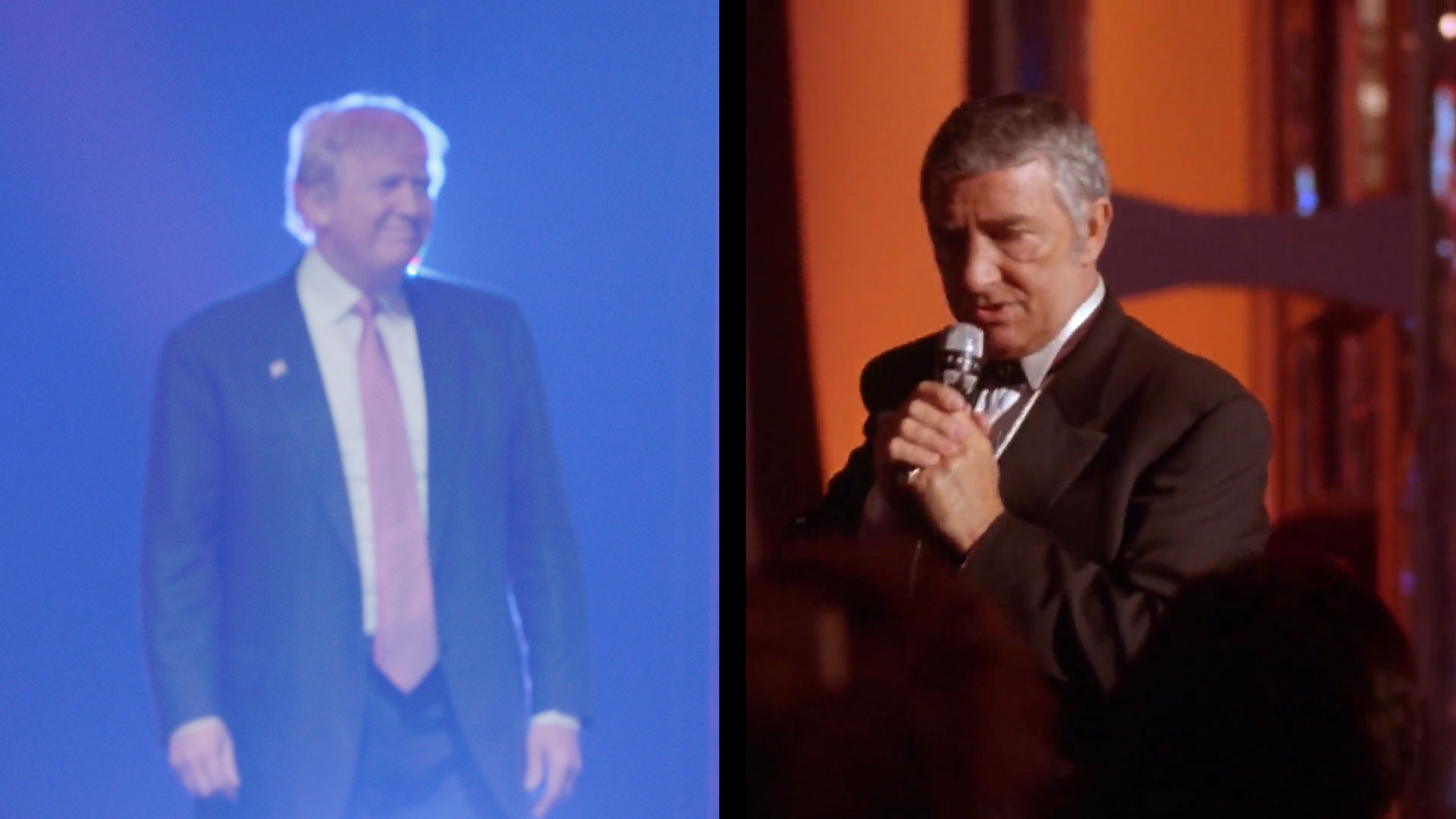 Infrastructure and Development
Trump has still not submitted a specific plan for how he wants to rebuild the country's infrastructure. But in his budget proposal, he wants to slash many agencies and programs that are basically working toward that goal right now.
The Appalachian Regional Commission, a federal-state partnership that works to improve the struggling economy of Appalachia, would be eliminated. This is a striking one because many voters in Appalachia cast ballots for Trump, and the ARC works to help them.
The Delta Regional Authority is similar to the ARC but for the South's Delta region, is also slated for defunding—another head-scratcher given Trump's support there.
The Denali Commission,which exists to improve Alaska's infrastructure, would also be lost under Trump's proposal.
The Northern Border Regional Commission does the same for distressed areas near the Canadian border in the Northeast. Trump wants to wipe this out of existence, naturally.
Trump has also talked about helping people in "inner cities," but his budget would eliminate initiatives that provide assistance to those very people.
The Department of Housing and Urban Development would get a 13 percent haircut. Slated for elimination is the $3 billion Community Block Grant Program, which helps builds affordable housing, and programs that help encourage homeownership in low-income areas. The proposal calls on states and private companies to step in to fill these holes, but it's not clear how that will happen.
The Corporation for National and Community Service, best known for Americorps, the organization that sends Americans to help communities out in all sorts of ways, would be wiped out. It has a larger budget than some other agencies, asking for just over $1 billion for 2017, but it is broadly popular.
The Low Income Home Energy Assistance Program and the Community Services Block Grant, which help poor people with their energy bills and other needs, would be wiped out, a savings of about $4.2 billion.
The Legal Services Corporation, which requested $502 million in funding for 2017, helps provide low-income people with legal counsel. Trump wants to kill it.
The Neighborhood Reinvestment Corporation, also known as Neighborworks America, uses its budget of around $140 million to fund a variety of community-based programs, like affordable housing and assisting homeless veterans. Trump would end all that.
The United States Interagency Council on Homelessness coordinates efforts on homelessness, of course, and costs the government just $3.5 million. That's too much money for the Trump administration.
Relative to its other priorities, the federal government doesn't spend a lot on these programs, but Trump wants to eliminate even these smaller budget items.
The Corporation for Public Broadcasting would be wiped out entirely, meaning no more federal money for NPR, or PBS—including the latter's beloved children's programming. (They would have to rely on other funding sources.) Maybe more importantly, the CPB literally keeps the lights on at local public broadcasting stations.
The National Endowment for the Arts and the National Endowment for the Humanities are both on the chopping block, each of them small programs that are nonetheless vital to lots of arts organizations all across the country.
The Institute of Museum and Library Services does exactly what it sounds like: support museums and libraries. If Trump's proposal became reality, it would lose its entire $230 million budget.
The Department of Justice is not targeted for many cuts—Trump actually wants to boost funding on some things like the FBI, as part of his tough-on-crime approach—but here's one strange one:
The State Criminal Alien Assistance Program, which gets $210 million that is mainly used to reimburse states for detaining undocumented immigrants, would be wiped out. This is an odd request given that Trump seems dead set on detaining more undocumented immigrants.
Trump has bemoaned America's trade deficit, but is set to eliminate two agencies that help companies export goods:
The US Trade and Development Agency exists to help American companies export their goods to foreign markets—exactly the sort of thing Trump wants. It asked for just $80 million in 2017 and claims that for every dollar spent it generates $74 in exports. Still, Trump thinks it should die.
Similarly, the Overseas Private Investment Corporation, which helps companies find opportunities in emerging markets, would be struck down.
Last, but not least:
Trump's proposed cuts to the Department of the Interior would mainly harm the National Parks, which are already struggling with the limited funds they get now.
Follow Harry Cheadle on Twitter.