This article was published in partnership with
The Marshall Project
, a nonprofit news organization covering the U.S. criminal justice system. Sign up for their
newsletter
, or follow The Marshall Project on
Facebook
or
Twitter
.
Workers at the federal prison in Pollock, Louisiana, a tiny town smack in the center of the state, had been bracing for the coronavirus for months. They knew how ugly an outbreak could get because they'd seen it happen just 60 miles away in Oakdale, where 16 prisoners died and hundreds were infected. But the staff at Pollock had been vigilant, or maybe just lucky. They had no infected prisoners until late July — when COVID-19 was delivered to their doorstep.
One Pollock employee, who requested anonymity for fear of losing his job, recalled greeting a van driven by two deputy U.S. Marshals with a dozen prisoners in the back. No one in the van was wearing a mask or other protective gear. The prisoners had been tested for tuberculosis — but not coronavirus.
The prisoners came from a county jail in Oklahoma with a documented COVID outbreak, but the Pollock staffer said the Marshals told him they only gave the men temperature scans before moving them. When the staff at Pollock ran rapid tests for the coronavirus, four came back positive. A week later, another load of prisoners arrived from the same Oklahoma jail; two tested positive, Pollock employees said.
The U.S. Marshals Service is responsible for moving people into, out of, and among far-flung federal prisons, handling most long-distance transfers and newly sentenced prisoners. It doesn't put people in quarantine or give them virus tests before transporting them around the country. As a result, federal prisoners in Marshals custody are being shipped around the U.S. by plane, van, and bus with no way to know if they are carrying the virus, exposing other prisoners, staff, and possibly the public along the way.
According to whistleblower complaints obtained by VICE News and The Marshall Project, federal prisoners infected with the coronavirus have been shipped as far as Puerto Rico in recent weeks, and to federal lock-ups in Alabama and Florida. Bureau of Prisons employees say prisoners have also tested positive after being shuffled around to facilities in Colorado, Illinois, Texas, Oklahoma, Pennsylvania, and Louisiana.
"It's putting the community at risk. We're talking about lives here. This is an extremely dangerous situation."
"It's horrible," said Anthony Koeppel, a local official with the staff union at Pollock. "It's putting staff at risk, it's putting inmates at risk, and it's putting the community at risk. We're talking about lives here. This is an extremely dangerous situation."
The Marshals say they aren't required to do any testing because "an agreement was made" that the Bureau of Prisons would handle tests and quarantines once prisoners are transferred into its lock-ups. The BOP did not respond to requests for comment. A spokesperson for the Justice Department, which oversees both agencies, said they "have taken, and will continue to take, aggressive steps to protect the safety and security of all staff, inmates, visitors, and members of the public."
Transferring prisoners who turn out to be sick has been a problem at prisons across the country. In California, the San Quentin State Prison went from zero coronavirus infections in late May to more than 2,200 confirmed cases and 26 deaths in early August after prisoners were moved in from a known hotspot without being tested.
Staff and prisoners have blamed transfers for helping the coronavirus wreak havoc across the Bureau of Prisons, killing 111 prisoners and at least one staff member, and infecting over 10,000 prisoners and 1,200 workers in America's largest network of prisons and jails. The agency officially halted most movement of prisoners in March in an effort to limit the spread of the virus; when it does transfer prisoners itself, it requires them to undergo coronavirus testing and a 14-day quarantine before and after being moved.
But the Marshals don't abide by those rules — and they keep moving people. While transfers have slowed — down 76% from April to July compared to the same period last year, according to the Marshals — they never truly stopped. That's partly due to federal courts and law enforcement agencies pumping thousands of new people into the system.
All of those prisoners have to be housed somewhere. With bed space in short supply, they often spill over into some of the 750 local and private jails paid by the Marshals to warehouse federal prisoners indefinitely. Across this patchwork network of lock-ups, both staff and prisoners say masks and testing are inconsistent at best.
Lynzey Donahue, a spokesperson for the Marshals, said the agency isn't moving prisoners with coronavirus symptoms. As of early August, nearly 3,500 people in Marshals custody had tested positive for COVID-19, and 13 had died.
Donahue also said the Marshals are aware that some contract jails aren't testing prisoners who are scheduled to be moved. The agency, she wrote in an email, is following CDC guidance, which states: "If a transfer is absolutely necessary, perform verbal screening and a temperature check… before the individual leaves the facility."
Multiple BOP employees said the Marshals largely control the transfer process, deciding when and where to move prisoners based on the capacity of the local contract jails and other factors. Prison staff usually receive no more than a week's notice, and they cannot turn away prisoners. They're stuck with whoever the Marshals bring them — even if the arrivals carry coronavirus.
Even in normal times, being moved through the Justice Prisoner and Alien Transportation System operated by the U.S. Marshals could be a grueling experience. Prisoners have dubbed the lengthy, fume-filled bus and van rides "Diesel Therapy," and they tell of "Con Air" trips where they are shackled to each other and chained to their seats. Over the course of January and February, at least 10,000 prisoners were moved around the country this way.
The BOP maintains its own fleet of buses and vans to transport prisoners between federal facilities in the same region; it requires two weeks of quarantine and a negative test for coronavirus before moving someone. Once they arrive at a new location, they must undergo a second quarantine and produce another negative test before being housed alongside other prisoners.
The Marshals, meanwhile, follow protocols that they say "are determined by state health departments and guidance from the CDC." That means the agency relies on local jails, where resources can be scarce and policies on masks and coronavirus testing vary widely.
The Grady County Jail, in Chickasha, Oklahoma, first drew national headlines for a coronavirus outbreak that prompted the transfer of "Tiger King" star Joe Exotic to a federal medical center in Fort Worth, which later became the site of a severe outbreak with 12 prisoner deaths and nearly 600 infections. Since the pandemic began, Grady prisoners have described having no hot water, no access to the outdoors or sunlight for weeks, and no way to distance from one another in packed dorms. At least one Grady prisoner has died from COVID-19.
Jeremy Hammond, a federal prisoner who spent several months housed at Grady earlier this year, described the transfer process out of the jail as a messy, weekslong affair — sometimes without masks and never with adequate distancing between prisoners. He received only a temperature check before leaving in Marshals' custody.
"The plane was also shoulder to shoulder filling every seat in the row even though there were plenty of extra rows in front of us," Hammond said. "The only difference I've noticed from previous flights was that they hit us one time with hand sanitizer when we got on the plane and that they didn't feed us."
After a monthlong stopover at a privately run jail in Mississippi, he faced cramped bus and van rides surrounded by many prisoners without masks, until he reached a minimum-security federal prison in Memphis, where he was finally tested for coronavirus. The results were negative.
"I can't overstate how bad Grady County was," Hammond said. "They were clearly incapable of protecting us."
Jail officials did not respond to requests for comment.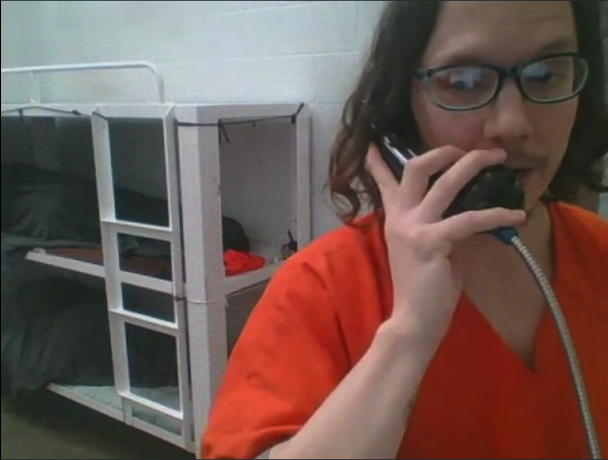 Joshua Lepird, a BOP staff union official at a transfer center in Oklahoma City, said prisoners sent there from Grady have tested positive on multiple occasions. Lepird said he visited the jail to see the situation there for himself and observed virtually no prisoners wearing masks.
"It's just crazy," Lepird said. "They don't have a lot of precautions there. They're not held to the same standards as federal facilities. They're just not."
'The sickest of the sick'
The continued transfers of infected prisoners have led lawmakers and BOP staff to beg Attorney General William Barr for Justice Department-wide standards. Others have also written to Barr to vent frustration over sick prisoners being moved against the wishes of local officials.
Puerto Rico's nonvoting member of Congress, Jenniffer González-Colón, wrote a letter to Barr and other top federal officials on July 18 questioning a decision to fly 54 federal prisoners from the mainland to a federal jail in the city of Guaynabo. According to González-Colón, at least seven "immediately tested positive" for COVID-19 upon arrival on the island. The chief federal judge and prosecutor for Puerto Rico were not consulted before the transfer, she said.
González-Colón told Barr that the top U.S. Marshal in the territory opposed the move for health and safety reasons, but "nevertheless the decision was made at a high level within the U.S. Marshal Service in the mainland to bring this large group of inmates to Puerto Rico." Expressing concern that the Guaynabo jail would be used as a clearinghouse for prisoners from the mainland, she asked Barr to halt all inmate movement to the island "until it is medically safe to do so." She did not respond to requests for comment.
On August 4, a union official at the federal prison in Aliceville, Alabama, sent a letter to Sens. Richard Shelby and Doug Jones asking for help convincing Barr to take action on the transfers. Terrence Windham, a corrections officer at the prison, wrote "inmates are NEVER tested for the coronavirus disease until they reach a BOP facility," and warned that infected staff risked spreading the virus to the community nearby.
"It's been ridiculous," Windham said in a phone interview. After weeks without any confirmed cases, the prison had received four people over the last three weeks who tested positive, he said. "We communicated with the warden. He pretty much blew it off and said it's not his call."
The Bureau of Prisons did not respond to questions about the situation.
On July 31, Kristan Morgan, a nurse practitioner who serves as the union president of the federal prison in Tallahassee, Florida, complained to the warden that the BOP was "negligently exposing staff members" to coronavirus because of the transfers. Three days earlier, the Marshals Service had delivered eight county jail prisoners to Tallahassee, Morgan said, and five tested positive. Morgan said that since she wrote the letter, the Marshals delivered two more loads of prisoners, including 14 who tested positive for COVID-19.
"We don't know who is positive until they drop them at our front door."
"We don't know who is positive until they drop them at our front door," Morgan said in a phone interview. "It's only a matter of time before the entire detention center is full of COVID."
Phillip Randle, president of the staff union at the federal jail in Houston, said all of the positives in his facility — five total, as of early August — came from a privately run jail called the Joe Corley Detention Facility, in neighboring Montgomery County.
Joe Corley is operated by The GEO Group and also houses detainees for Immigration and Customs Enforcement. Randle said the private jailer claims to conduct testing, but that hasn't stopped infected prisoners from being moved. "We don't trust that they're telling the truth, so we have to test them again," Randle said. "They'll send us the sickest of the sick."
A GEO Group spokesperson referred questions to the U.S. Marshals Service and ICE, saying decisions about transfers "are made exclusively by the federal government."
Several BOP workers warned that outbreaks would not be contained to prisons because those who are exposed may unknowingly bring the virus home to their families or spread it into their communities. While federal prisoners are supposed to be tested and quarantined before they're released, the BOP doesn't provide testing for staff, so any workers who fear exposure have to go through their insurance company, with the requisite copay, to get tested. And that irks prison employees.
"I feel less important than the inmates," one said. "They have more testing than we do."
Cover: Collage by Hunter French | Images via Shutterstock and Justice.gov