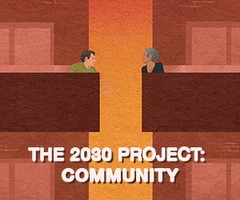 The pandemic has been isolating. How do we build community in a fractured world? VMG's 2030 Project residents interrogate how we can build a shared future, together.
"I feel like the future of mutual aid, for me, holds both promise and fear," Sarah Thankam Mathews told me over Google Hangouts one morning. In March 2020, after listening to the news of the COVID-19 virus ravaging Wuhan, China and Italy, she understood there were only a few days before the United States found itself under lockdown. And she was right. 
In an effort to control the drip of inevitable disarray from the pandemic, she posted fliers with an invitation for her Bed-Stuy neighbors to "stay connected and care for each other as a community" with a link to a Slack hub: "As things get hard, we show up for our neighbors. <3" The first day, the chat gained 60 members and by the next day there were 100; during their first virtual meeting, 65 participants joined to discuss how they would address and help fight against the economic, living, and food disparities the pandemic only made worse. This was the foundation of Bed-Stuy Strong, a mutual aid network that has supported 28,000 central Brooklynites with groceries and collected $1.2 million in crowdsourced funds to put back into the neighborhood in an attempt, as Mathews puts it, "to address some fraction of the skyrocketing community need around hunger." In the later half of the pandemic, the group also organized neighborhood clean-ups and a summer block party to provide some relief during a difficult time.
"Mutual aid is predicated on the idea that everybody can help and everybody has needs. And it's about our communities meeting our communities' needs," says Mathews. Despite the challenges, Matthews believes that mutual aid is the future.
Last year, as the entire world went into lockdown and movements to address and account for the racist, classist violence that the pandemic only made worse, there was a dramatic proliferation of mutual organizations like Bed Stuy Strong. Since March 2020 the Brooklyn-based organization has helped 28,000 Central Brooklynites with groceries and distributed $1.2 million worth of crowdsourced donations into the neighborhood. The New York Times cited at least 100 such networks across New York state and 800 nationwide according to data from Mutual Aid Hub.
But as more people in the United States have become vaccinated, lockdown measures are softening, and our push to go back to "normal" is happening, there's been a decrease in donations to to mutual aid organizations as some networks in Washington D.C. have had to cut down on the frequency of their cash and grocery deliveries and have struggled to retain volunteers. Now that things are going back to "normal," the support many people had for community solidarity could wane; as history shows, our debt to community suddenly becomes more attractive when our routines are disrupted.
Put simply—will mutual aid stick around in a "normal" world?
Though the pandemic helped make them a household term, mutual aid organizations are an American institution, the earliest of which dates back to American slavery. In Ariel Aberg-Riger's visual article 'Solidarity, Not Charity': A Visual History of Mutual Aid, they explain the mission of one of the first Black mutual aid societies, called The Free African Society. Created in Philadelphia in 1787 by two religious men, Richard Allen and Absalom Jones, The Free African Society was quite literally born to help freed slaves adjust to a life outside of slavery. In 1896, Callie House created the Ex-Slave Mutual Relief, Bounty, & Pension Association to give pensions to Black workers emancipated after the Civil War like herself. Throughout American history, mutual aid networks like Chinese Consolidated Benevolent Association, Landsman-Shaftn, Sociedades Mutualistas, and The Young Lords Garbage Offensive have filled a void where government support has failed to close financial disparities caused by racial discrimination, natural disasters, the "sleep when you're dead" mantra of capitalism. One shared characteristic between these support networks is that they pop up during periods of social upheaval, societal strife, and turmoil. Some are still around, while others like The Young Lords are not, but can look back on their legacy of community activism with admiration. The giving that came during the COVID-19 pandemic and racial justice protests that came after the police killing of George Floyd was history repeating itself as communities pressed together to stay alive. But if history is a pattern, we ought to be worried about whether the good work done last year will continue into the future.
"The teeth have been pulled, the flames [have] been taken away. Now it's just another 501c3," says former Black Panther Party organizer and co-founder of Common Ground Relief, Malik Rahim, about the mutual aid organization that he founded in September 2005. At its height, Common Ground was created to support neighbors in the Greater New Orleans area in the aftermath of Katrina. They've created free legal and health clinics, built affordable and energy efficient housing, and worked on soil restoration under Common Ground Relief Wetland Restoration. All of their initiatives, with the help of more than 20,000 volunteers over the years, were propelled by a desire to work outside of the government to take care of their own.
"No one in the history of this country can make this type of claim. And we did it in spite of the government, not with governmental support, but in spite of the government," he said.
Money makes the world go 'round and as we slowly inch toward some semblance of a post-pandemic life, mutual aid networks need monetary support to keep the lights on. If those in positions to donate financially turn their backs on these local systems, they won't be able to survive. Mathews worries about volunteers burning out and struggling to find people to commit hours and resources to the cause. "A lot of people who got the most active in mutual aid networks in the last year, from my perspective, across the country, tended to be people who wanted to help" and invest in the wellbeing of neighbors, she said. Community is nothing without an investment in upward mobility, reclamation of rights taken from BIPOC groups and other minority groups—without community, we're simply neighbors sharing space without an incentive to sustain our area.
"Now, the sad part about it is our government, our nation, [is] when we prepare families as individuals and not as a community and respond as a community...that's when you start really seeing how important working together is," Rahim told me. 
"So many people are hungry for community and deeper community too," Mathews said, speaking about the emotional connection that comes with building community solidarity. "A lot of things are being sold to us as connections that aren't really connections. They're commodified online networks that actually leave people feeling more lonely, and don't prevent alienation." Mutual aid networks gave those with money a way to feel less lonely and less alienated. Some gave to feel like they were doing something in what felt like a helpless situation. Others donated because it may have helped with their guilt. Whatever the reason, they could see where their donations ended up.
As restrictions on life are slowly pulled back, we're able to remember what a community feels like by visiting family members and spending time outside with friends. In the midst of re-experiencing in-person connections, it's easy to see a shift in focus away from mutual aid onto repairing the distance in personal relationships the pandemic caused.
When funds dry up, it's a domino effect that slows down and cuts corners around the very communal system fighting against that same inequity. If Common Ground Relief did not step in, there would be gaping holes where the government did not and if Bed-Stuy Strong was never created and funded, the Black, brown and other vulnerable groups in the area would have suffered through the pandemic even more—inevitably this kind of ripple effect would continue for other mutual aid organizations.
Mutual aid cannot survive without a group fighting for a common cause. Hurricane Katrina brought Common Ground to life just as COVID-19 brought Bed-Stuy Strong to Brooklyn. Investing in the shared spaces we live in creates community much like until you put your ingredients together and make them, only then do they come together to make a cake. Mutual aid can only thrive when we remember the feeling of accomplishment that comes from valuing our neighbors and fighting against the systems that harm so many.