Illustration by Callie Beusman
In December 2017, Dylan Farrow asked Hollywood a simple question: "Why has the #MeToo revolution spared Woody Allen?" In an op-ed for the Los Angeles Times, she reiterated her allegations that her estranged father had sexually assaulted her when she was a child—and called out actresses Kate Winslet, Blake Lively, and Greta Gerwig for working with the director.
The allegations against Allen first emerged in 1992, but Farrow only spoke publicly on the subject in 2014, after Allen accepted the Cecil B. DeMille Award at the Golden Globes. "When I was seven years old, Woody Allen took me by the hand and led me into a dim, closet-like attic on the second floor of our house," she wrote in an open letter published by the New York Times. "He told me to lay on my stomach and play with my brother's electric train set. Then he sexually assaulted me."
In her most recent LA Times piece, Farrow questioned why Allen was still working when Harvey Weinstein and other accused celebrities had been "cast out by Hollywood".
"It isn't just power that allows men accused of sexual abuse to keep their careers and their secrets," Farrow wrote in her LA Times piece. "It is also our collective choice to see simple situations as complicated and obvious conclusions as a matter of 'who can say?' The system worked for Harvey Weinstein for decades. It works for Woody Allen still."
---
Watch: Rose McGowan on Sexism in Hollywood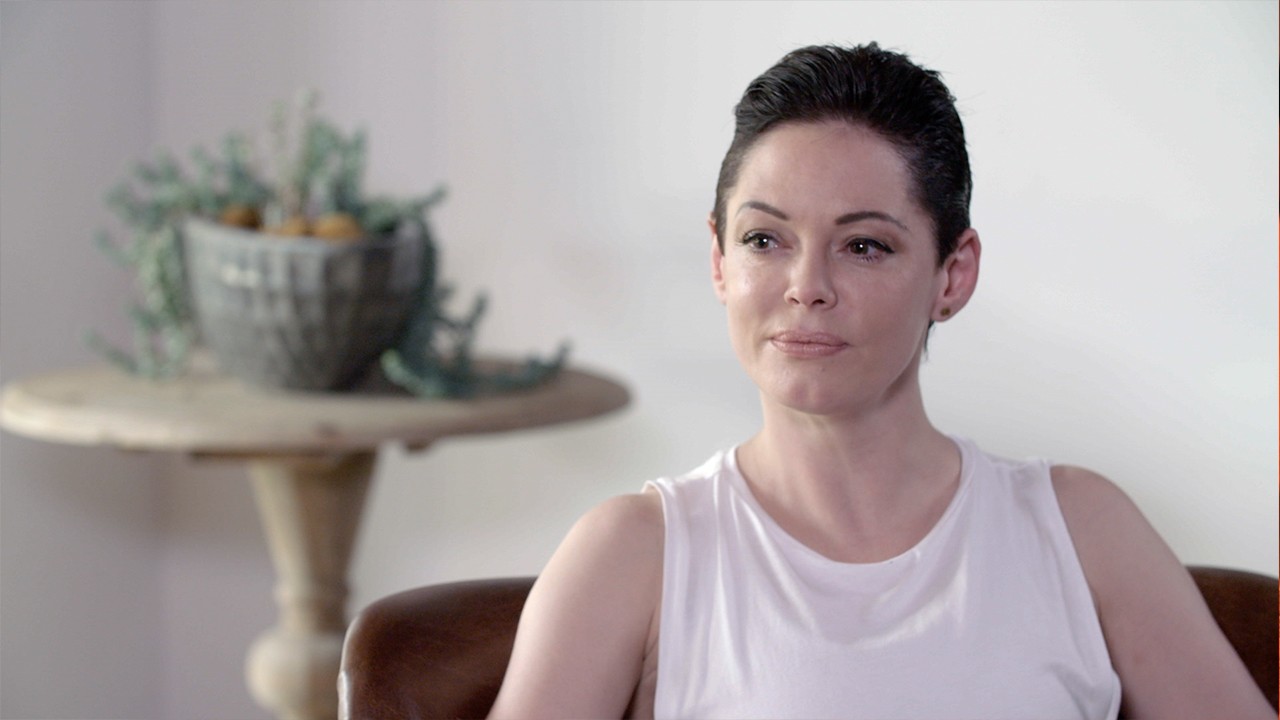 ---
Allen has always vehemently denied Farrow's claims, and declined to issue a comment to the LA Times about his adoptive daughter's column. Frank S. Maco, the state attorney on the criminal investigation at the time, declined to prosecute Allen as Dylan was deemed too "fragile" to testify in court.
However, the allegations against Allen have become so well-publicized that actors are now routinely asked to justify their continued involvement with the director—especially in the wake of the #MeToo and #TimesUp movement. Here's what 15 actors said about working with Allen.
Mira Sorvino (Mighty Aphrodite, 1995)
Romy & Michele's High School Reunion actress Mira Sorvino won an Oscar for her role in the Woody Allen comedy Mighty Aphrodite. When pressed by the Guardian on her feelings on the abuse allegations in 2014, she said: "I can't comment on it. All I can say is he is a wonderful man to work with." She said that she had been an "instant acolyte" of Allen since reading his book Without Feathers when she was twelve.
In an open letter to Dylan Farrow published on the Huffington Post on January 10, however, Sorvino admitted that she had been wrong. "I confess that at the time I worked for Woody Allen I was a naive young actress," she wrote. "I swallowed the media's portrayal of your abuse allegations against your father as an outgrowth of a twisted custody battle between Mia Farrow and him, and did not look further into the situation, for which I am terribly sorry. For this I also owe an apology to Mia."
In December, Sorvino shared her experience of being sexually harassed by Harvey Weinstein with Ronan Farrow, and said that it had prompted her to ask him for more information about the allegations against Allen. "He pointed me toward publicly available details of the case I had ruefully never known of, which made me begin to feel the evidence strongly supported your story," she told Dylan. "That you have been telling the truth all along."
"This kind of abuse cannot be allowed to continue," she added. "If this means tearing down all the old gods, so be it."
Greta Gerwig (To Rome With Love, 2012)
Greta Gerwig played an American exchange student in a love triangle for Allen's 2012 film To Rome With Love. At the Golden Globes on Sunday, the Lady Bird director dodged a question from one reporter about the allegations. "It's something that I've thought deeply about, and I care deeply about," Gerwig said. "I haven't had an opportunity to have an in-depth discussion where I come down on one side or another."
She had previously evaded a similar question from Terry Gross during an NPR interview, saying: "You know, it's all very difficult to talk about… I think I'm living in that space of fear of being worried about how I talk about it and what I say."
On Tuesday, however, Gerwig said in a New York Times film roundtable discussion that she would no longer work with Allen. "I can only speak for myself and what I've come to is this: if I had known then what I know now, I would not have acted in the film. I have not worked for him again, and I will not work for him again."
She referenced two articles that Dylan Farrow had written about the allegations – including one that called Gerwig out for her support of Allen – and credited them with changing her mind.
"Dylan Farrow's two different pieces made me realize that I had increased another woman's pain, and I was heartbroken by that realization," Gerwig said. "I grew up on his movies, and they have informed me as an artists, and I cannot change that fact now, but I can make different decisions moving forward."
Blake Lively (Cafe Society, 2016)
While promoting the Woody Allen film Cafe Society in 2016, Blake Lively said that she did not pay attention to any coverage of the allegations made against the director. "It's very dangerous to factor in things you don't know anything about," she told the LA Times. "I could [only] know my experience. And my experience with Woody is he's empowering to women."
At the Cannes Film Festival that year, Lively also spoke out when it was believed that French comedian and host Laurent Lafitte made a joke about the sexual assault allegations against Allen. "I think any jokes about rape, homophobia, or Hitler is not a joke," she told Variety.
Lafitte later clarified that the joke was aimed at Roman Polanski instead.
Alec Baldwin (To Rome With Love, 2012; Blue Jasmine, 2013)
Alec Baldwin has appeared in two Woody Allen films, including the Oscar-winning Blue Jasmine. When a Twitter user asked him if he owed an apology to Dylan Farrow after the New York Times published her letter detailing Allen's alleged abuse, he replied, "What the f--k is wrong w u that u think we all need to b commenting on this family's personal struggle?"
He told another user: "So you know who's guilty? Who's lying? You, personally, know that?", adding, "You are mistaken if you think there is a place for me, or any outsider, in this family's issue." (Baldwin appears to have deleted the tweets, but they were widely reported by news outlets at the time.)
Ellen Page (To Rome With Love, 2012)
Ellen Page starred alongside Baldwin and Gerwig in To Rome With Love, and has since said that she regrets taking the role. "I did a Woody Allen movie and it is the biggest regret of my career," Page said in a lengthy Facebook post that also discussed the allegations made against Roman Polanski, Bill Cosby, and Harvey Weinstein. "I am ashamed I did this. I had yet to find my voice and was not who I am now and felt pressured, because 'of course you have to say yes to this Woody Allen film.' Ultimately, however, it is my choice what films I decide to do and I made the wrong choice. I made an awful mistake.
"I want to see these men have to face what they have done," she added. "I want them to not have power anymore. I want them to sit and think about who they are without their lawyers, their millions, their fancy cars, houses upon houses, their 'playboy' status and swagger. What I want the most, is for this to result in healing for the victims. For Hollywood to wake up and start taking some responsibility for how we all have played a role in this."
Cate Blanchett (Blue Jasmine, 2013)
Cate Blanchett won the Oscar for Best Actress for her part as a neurotic socialite in Blue Jasmine. When asked by a reporter for her comment on Farrow's letter, she replied: "It's obviously been a long and painful situation for the family, and I hope they find some resolution and peace."
Kristen Stewart (Cafe Society, 2016)
Twilight actress Kristen Stewart starred alongside Jesse Eisenberg in Cafe Society, Allen's 2016 film. She told Variety that she was aware of the allegations made against Allen and had discussed them with Eisenberg before the shoot, but that both of them chose to go ahead and work with the director.
"I was like, 'What do you think? We don't know any of these people involved. I can personalize situations, which would be very wrong,'" Stewart said of her conversation with her co-star. "At the end of the day, Jesse and I talked about this. If we were persecuted for the amount of shit that's been said about us that's not true, our lives would be over. The experience of making the movie was so outside of that, it was fruitful for the two of us to go on with it."
Eisenberg told Variety that he did not remember this conversation.
Jesse Eisenberg (Cafe Society, 2016)
The Cafe Society actor told Huffington Post in 2016 that he was so "obsessed" with Allen that he wrote a script about Allen's life when he was 17. He said of the allegations made against his childhood idol: "It didn't factor into my opinion."
He added: "I don't think it's appropriate to try people in the press. I have been tried in the press for minor, minor things because I mis-spoke or had a sarcastic line or something, so I understand what that's like because I'm in the public eye, and it's very painful."
Kate Winslet (Wonder Wheel, 2017)
Titanic actress Kate Winslet stars in Wonder Wheel alongside Justin Timberlake. "I think on some level Woody is a woman," Winslet joked in November 2017 to the Sydney Morning Herald when asked about the women in his movies. "I just think he's very in touch with that side of himself. He understands the female characters he creates exceptionally well."
That September, the New York Times asked Winslet if the allegations against Allen gave her pause. "Of course one thinks about it," she replied. "But at the same time, I didn't know Woody and I don't know anything about that family. As the actor in the film, you just have to step away and say, I don't know anything, really, and whether any of it is true or false. Having thought it all through, you put it to one side and just work with the person. Woody Allen is an incredible director. So is Roman Polanski. I had an extraordinary working experience with both of those men, and that's the truth."
In December, she continued to celebrate Allen on a roundtable with stony-faced actresses Margot Robbie, Saoirse Ronan, and Jessica Chastain. (In October, Chastain tweeted that she had never worked with Allen, and tweeted in January of a Washington Post story titled "I read decades of Woody Allen's private notes. He's obsessed with teenage girls": "Ugh. Crime disguised as art.")
"Woody Allen is an extraordinary writer," Winslet said at the roundtable. "He's obviously known for having created extraordinary roles, very very powerful and complicated roles for women, for many many years."
---
Watch: Amy Ziering on Campus Rape and Why No One Believes Women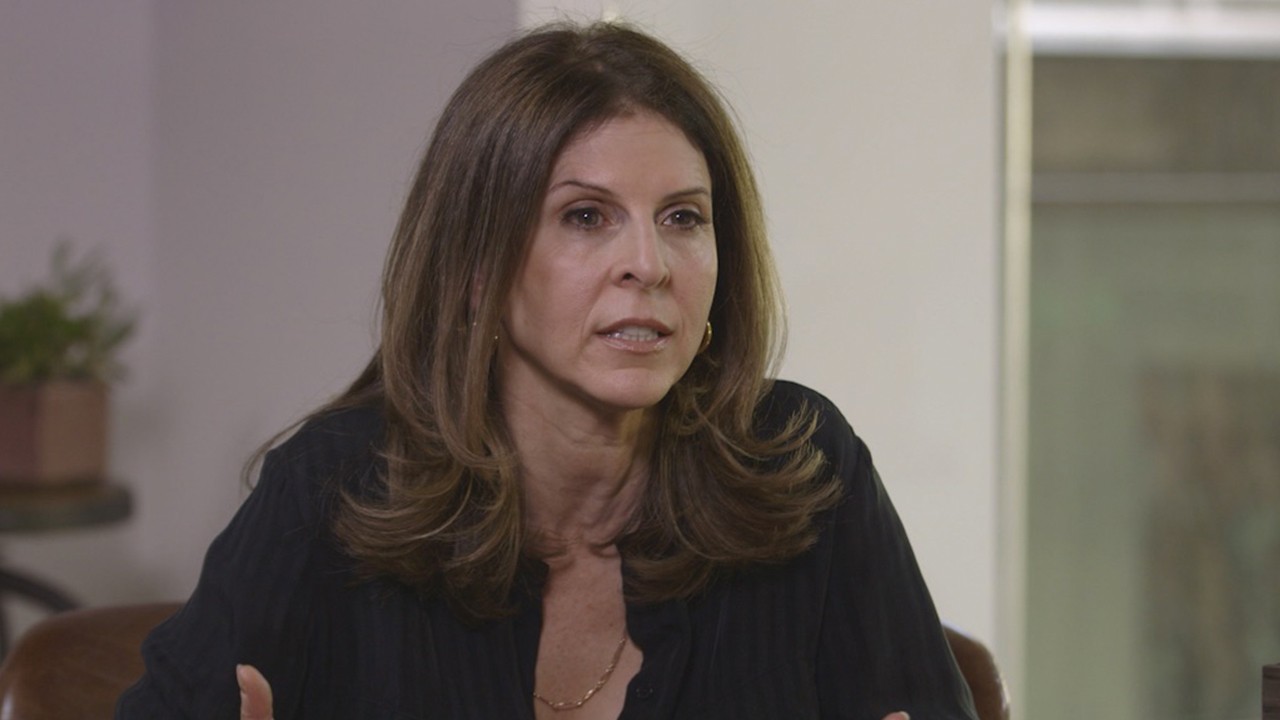 ---
David Krumholtz (Wonder Wheel, 2017)
The actor from The Deuce and The Good Wife said that he "deeply regretted" working with Woody Allen on Wonder Wheel. "It's one of my most heartbreaking mistakes," he said on Twitter. "We can no longer let these men represent us in entertainment, politics, or any other realm. They are beneath real men."
When Curb Your Enthusiasm executive producer Bob Weide tweeted at him to "relax," Krumholtz refused to back down. (Weide produced and directed the PBS special, Woody Allen: A Documentary, and has written in defence of Allen for the Daily Beast.)
In his reply to Weide, Krumholtz said of Allen: "He was a hero. So i was fascinated and i didn't want to believe it. I'm sorry, Bob. But I've chosen to prioritize Dylan's account over all others. Coupled with the @washingtonpost story and his eagerness to produce yet another tone deaf film."
Scarlett Johansson (Match Point, 2005; Scoop, 2006, and Vicky Cristina Barcelona, 2008)
Scarlett Johansson starred in three Woody Allen films and was called out by Dylan Farrow in the 2014 open letter for working with the director. When pressed on the issue by the Guardian, the actress replied that year: "I think it's irresponsible to take a bunch of actors that will have a Google alert on and to suddenly throw their name into a situation that none of us could possibly knowingly comment on. That just feels irresponsible to me."
"It's not like this is somebody that's been prosecuted and found guilty of something, and you can then go, 'I don't support this lifestyle or whatever,'" she added. "I mean, it's all guesswork."
When asked if it had affected the way she felt about the director, she said: "I don't know anything about it. It would be ridiculous for me to make any kind of assumption one way or the other. "
Griffin Newman (A Rainy Day in New York, 2018)
The Tick actor Griffin Newman is in Woody Allen's upcoming film A Rainy Day in New York with Selena Gomez and Call Me By Your Name star Timothée Chalamet. In October 2017, he expressed his regret over working with the director in a series of tweets. "I need to get this off my chest," he wrote. "I worked on Woody Allen's next movie. I believe he is guilty. I donated my entire salary to RAINN."
He added that it was a one-scene role and that he spent a month debating over whether to walk out on the project. "I deeply regret my final decision," he tweeted. "It was an educational experience for all the wrong reasons. I learned conclusively that I cannot put my career over my morals again."
"I've spent the last decade struggling as an actor, and learned to sideline my views because the thought of closing any doors was terrifying," he added. "I can't keep professionally operating from a place of fear. It's time to show a courage in my actions mirroring my words without concession." Newman also posted a donation link to RAINN.
Timothée Chalamet (A Rainy Day in New York, 2018)
In November 2017, the LA Times asked Timothée Chalamet how he felt about about working with Allen in light of the allegations of harassment and abuse in Hollywood. "I understand the question, certainly; it's going to be not only important but imperative to talk about," he said. "I'm hesitant to talk about it now because I'm here for Call Me by Your Name."
Chalamet has since donated his entire salary from A Rainy Day in New York to three organizations: Time's Up, RAINN, and the LGBT Center in New York. He said that contractual obligations prevented him from speaking directly on the question of working with Allen, but that he did not "want to profit from my work on the film."
"This year has changed the way I see and feel about so many things", he wrote on Instagram. "I am learning that a good role isn't the only criteria for accepting a job—that has become so much clearer to me in the past few months, having witnessed the birth of a powerful movement intent on ending injustice, inequality, and above all, silence."
Selena Gomez (A Rainy Day in New York, 2018)
Gomez, who stars alongside Chalamet and Newman in A Rainy Day in New York, told Billboard that she did not know how to answer criticism directed at her for starring in an Allen film. "To be honest, I'm not sure how to answer – not because I'm trying to back away from it. [The Harvey Weinstein allegations] actually happened right after I had started [on the movie]. They popped up in the midst of it," she said. "And that's something, yes, I had to face and discuss. I stepped back and thought, 'Wow, the universe works in interesting ways.'"
Update: This piece was updated on 16 January 2017 to reflect Timothée Chalamet's decision to donate his salary from a Woody Allen film to charity.