On New Year's Day in 2016, Lydia Grace woke up and went to her studio in Bristol, UK, to sew a pair of turquoise silk knickers. It was the first piece of a mammoth, top-to-bottom clothes rehaul she calls Made My Wardrobe.
Over the course of the last year, the 24-year-old seamstress and designer has thrown out all the items of clothing in her wardrobe and replaced them, piece by piece, with handmade garments. Grace calls this her attempt to create her "dream wardrobe." In total, she has spent over 1,000 hours creating more than 60 items, including sweaters made of plush velvet, an exquisite kimono print jacket, and a sunshine-yellow silk top.
But the piece that holds the most meaning for her is a woollen winter coat, with intricate embroidery and beading that crawls all the way up its back. At the very center of the embellishment is a large gold cross. It marks the spot where, five years ago, a gun was pressed into her back as she was sexually assaulted.
"It was an incredibly brutal physical and sexual attack," she says. "It was one of those moments where I knew my life would never be the same after it. This project was a way of me spending time processing what had happened because it felt like such an assault on my body."
Grace was traveling and living with a family overseas when a gang of robbers broke into the house. "They turned the house upside down," she says. "They took everything of any monetary value." Then they stripped her at gunpoint and assaulted her.
---
Watch: The Power Suit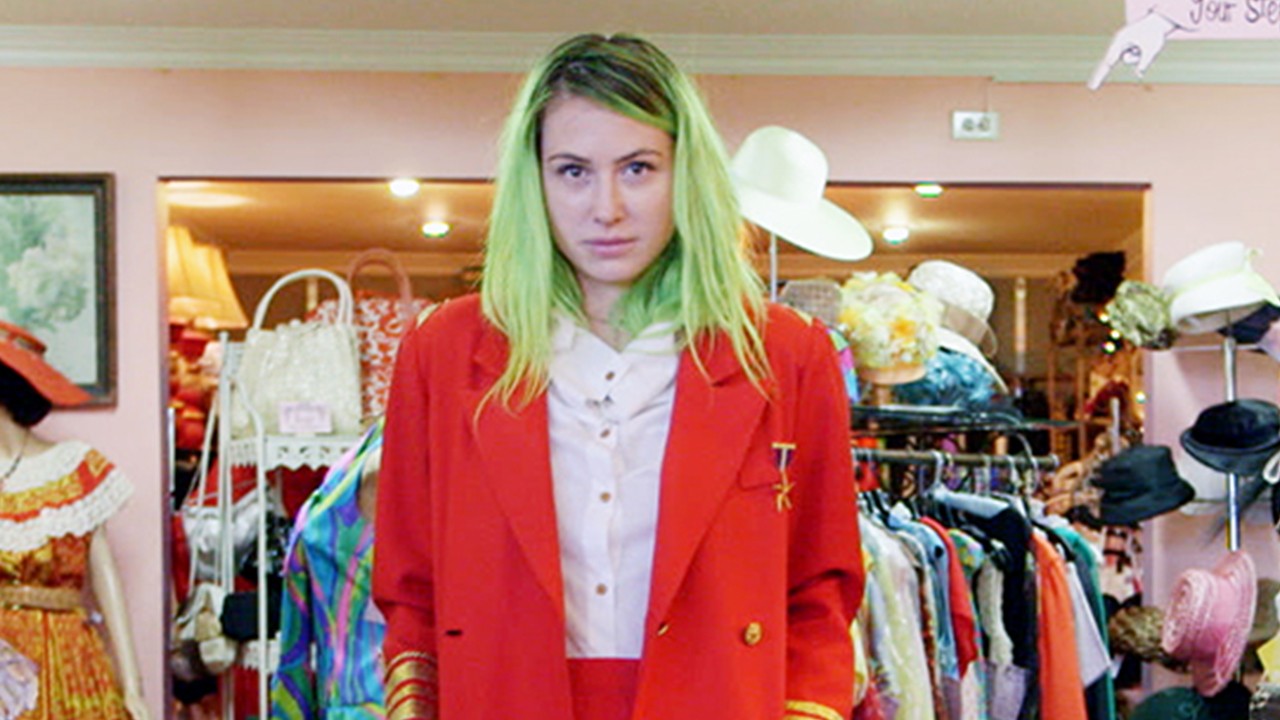 ---
"As I lay there face down, naked on the floor with the end of a gun pressed into my back, my mind completely disconnected from my physical form," Grace wrote on her blog.
She was 19 at the time. Two days later, she was on a plane back to the UK. But she developed post-traumatic stress disorder and anxiety as a result of the attack, and subsequently dropped out of her politics degree at SOAS in London.
Read more: Mark My Words: The Subversive History of Women Using Thread as Ink
"I just couldn't cope, basically," she says. "And that's when I moved back home and locked myself away in my mom's attic room and just started sewing. That was when it became my passion. I realized it was what I wanted to do every single day."
Her mother had taught her how to sew when she was younger. First, Grace threw herself into sewing lingerie ("I made so many mistakes, but I loved it") and then elaborate costumes. Eventually, she moved back to London, where she worked for a costumier making burlesque and theater outfits, and then to Bristol to set up as an independent seamstress and designer.
Grace had always loved clothes when she was younger, but the attack had left her with a profoundly altered relationship to fashion. "It's a decision we make every single morning—what to put on our bodies," she says. "I wanted that to be a conscious decision. I didn't want to just throw any old random clothes on my body. I want the clothes that I wear to matter to me and [to be] an expression of who I am."
Her career flourished in Bristol as she took gigs making costumes for well-known theaters like the Bristol Old Vic and the Tobacco Factory Theatre. But the moment of her assault kept replaying in her head. She knew she had to process the trauma on her terms—to find a way to take back the agency and control that had been so violently snatched from her.
"This project was almost a way of me re-stripping myself back, and allowing myself to rebuild my body," she says. "There's something really magical about sitting with a sewing machine or with a needle and thread in hand. The rhythm of it allows me to process so much of what's going on in my hand. It becomes really meditative."
Practically speaking, it also meant that she had to learn a variety of new skills—she had no idea how to make a pair of denim jeans, for instance. Fortunately, she shared her studio with eight other fashion and textile designers. "They're all women and they've been the most amazing support," she said. "Without them and without that studio, I definitely couldn't have done this project."
Even then, nobody knew the true motivation behind the project—that it all went back to that one nightmarish day, in a place far away from home. "I always knew that was why I was doing it, but I didn't tell anyone or share that," she says. "I still felt so vulnerable then. It wasn't till the end of the project that I felt strong enough to talk about it."
Two hundred meters of fabric and 12 broken sewing needles later, Grace was finally in a place where she could tell the world about her story. Though she had been blogging about her year-long mission to make her own clothes, she'd never felt ready to tell her readers about the attack that prompted it.
But she had a heartfelt belief in the importance of talking about sexual assault ("the more dialogue about it the better"), and so she sat down to write the most honest blog post in her life.
"I guess deep down I just knew this was really important to me," she wrote. "The thing that I have not been able to express until now, is that this project was never just about clothes. It was about reclaiming my body."
The reaction was instantaneous and positive. Friends, family, and blog readers reached out to offer messages of support. "I felt a little bit like I was free-falling, you know?" Grace says of her post. "Like when you make a really big leap, and I just felt like so many people caught me in that moment."
Grace says that her project is "definitely not over," and that she still plans to create new garments if inspiration strikes or if a special occasion calls for it. For now, the 60 or so pieces in her dream wardrobe is tiding her over just fine—in fact, she hasn't stepped into a high street clothes shop in two years.
In fact, now she can't imagine wearing clothes that she hasn't made herself.
"I always say that wearing the clothes that I made is my most honest way of being in the world," she says. "It's helped me work out the woman that I am and the woman that I want to be.
"They are just clothes; they're just fabric cut up into shapes and sewn together, but what matters is that they were made with my own two hands. I put so much love and time and energy into them. And that gives them magic."