Getty Images
President Nicolás Maduro warned Donald Trump Sunday that his presidency would be "stained in blood" if Washington took military action against Venezuela — and said the crisis in his country could lead to civil war.
Speaking to Spanish channel LaSexta, Maduro laid out his message to Trump, who said Sunday that military force remained "an option" to dislodge Maduro from power and replace him with opposition leader Juan Guaidó.
"Stop. Stop, Trump! Hold it right there! You are making mistakes that will leave your hands covered in blood and you will leave the presidency stained with blood," Maduro warned.
"Let's respect each other, or is it that you are going to repeat a Vietnam in Latin America?"
Asked if the political crisis wracking the country could result in civil war, Maduro said it was impossible to answer.
"Everything depends on the level of madness and aggression of the [American] empire and its Western allies," he said.
Maduro also rejected an ultimatum from European nations to call fresh, free elections by Sunday — or they would join Washington in recognizing Guaidó as the country's interim president.
"We don't accept ultimatums from anyone," said Maduro. "It's as if I went to the EU and said, 'I give you seven days to recognize the republic of Catalonia, or if not, we will take measures.' No, no. International politics cannot base itself on ultimatums. That is the epoch of imperialism or colonies."
On Monday, a raft of European nations — including the United Kingdom, Spain, France, Germany, Denmark, Sweden, the Netherlands, Lithuania, and Austria — followed through on the threat, announcing that they now recognize Guaidó as interim president.
READ: Venezuela's opposition leader tells us there will be "consequences" after Maduro's threats
British Foreign Minister Jeremy Hunt tweeted that due to Maduro's failure to call elections, the U.K. and its European allies recognize Guaidó as "interim constitutional president until credible elections can be held."
"Let's hope this takes us closer to ending humanitarian crisis," he added.
Hunt's French counterpart, Jean-Yves Le Drian, told France Inter radio Monday that their approach did not amount to "foreign meddling" but was a push to restore democracy to the crisis-stressed country.
"This is not foreign meddling insofar as there is a crisis and a call from President Guaidó to support him in re-establishing democracy. We believe there must be elections to validate the choice of Venezuelans," he said.
Tens of thousands of Venezuelans took to the streets of Caracas Saturday for rival rallies in support of Maduro and Guaidó. Addressing his supporters, Maduro called on the country's armed militias and young people to join the army for military exercises, as his government braced itself for a possible confrontation.
"We are preparing to defend the sacred motherland, in case they one day dare to mess with our beloved Venezuela," he said.
The same day, a senior member of the Venezuelan Air Force high command, Gen. Esteban Yanez Rodriguez, announced he was backing Guaidó. Rodriguez, head of strategic planning for the service, claimed that "90 percent of the armed forces" were opposed to Maduro — but so far the majority of the military, critical power brokers in Venezuela's power struggle, have remained loyal to the government.
Guaidó outlined his vision Sunday for a plan to safeguard the country's assets and distribute humanitarian aid to Venezuelans who have been left impoverished and facing acute shortages of essential supplies by the government's economic mismanagement. He called for the international community to send aid to collection points in Colombia and Brazil — both run by administrations critical of Maduro — and for the military to allow the aid to enter the country.
Speaking to CBS Sunday, Trump did nothing to downplay the prospect of American military intervention in Venezuela, and ruled out the notion of talks with Maduro.
Asked if military action was an option, he said: "Well, I don't want to say that, but certainly it's something that's on the — it's an option." Last week his national security adviser John Bolton was photographed holding a notepad that read "5000 troops to Colombia," fueling speculation that the administration was seriously considering an intervention.
The U.S. has also slapped sanctions on Venezuela targeting the country's critical oil sector. European and Latin American countries are due to meet in Montevideo, Uruguay, on Thursday as part of an "international contact group" to address the crisis.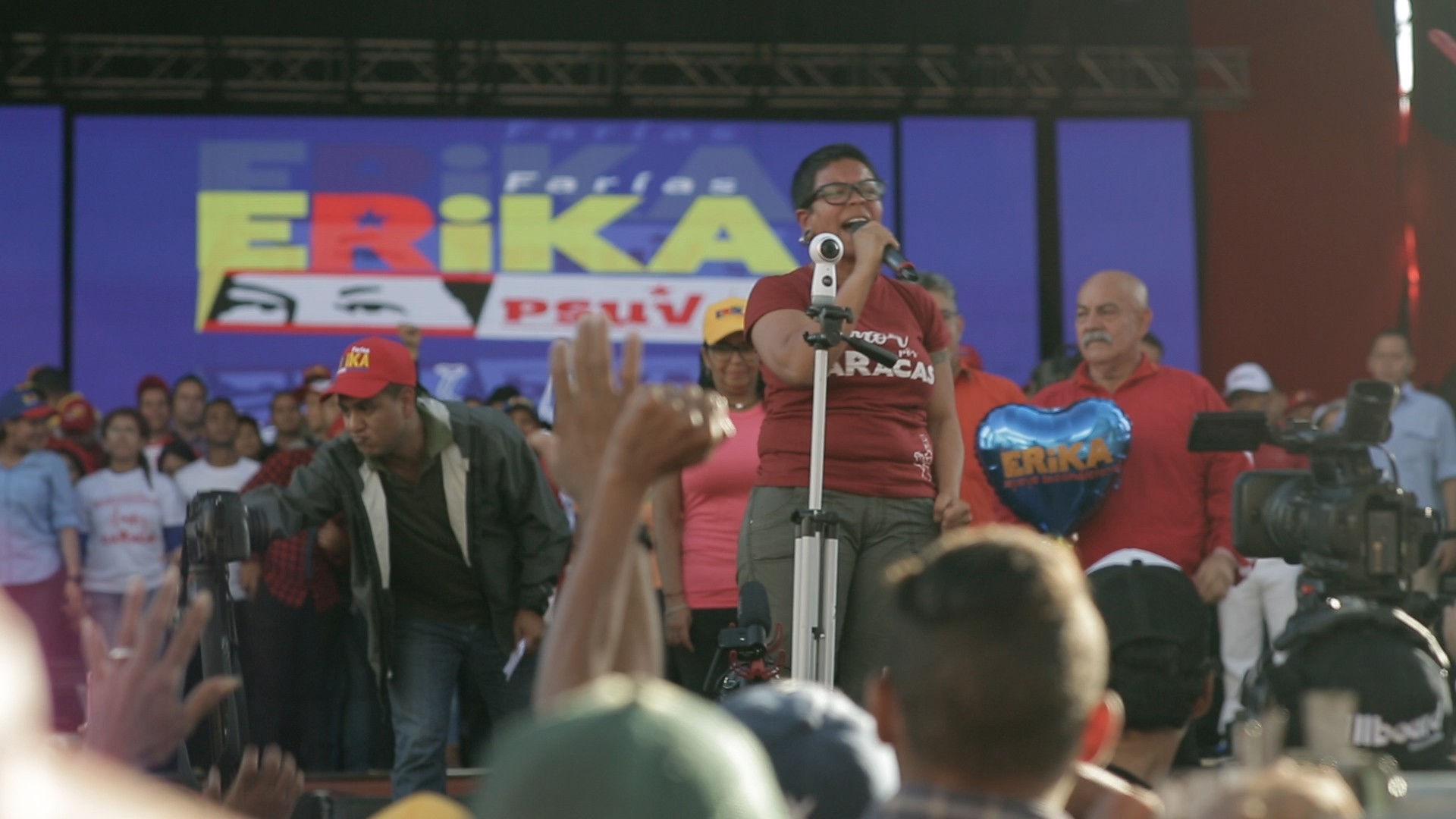 Cover image: Venezuela's President Nicolas Maduro speaks during a press conference, where he warned the Lima Group that he would take energetic measures if they do not rectify their position on Venezuela in 48 hours, on the eve of assuming a new six-year mandate, at the Miraflores presidential palace in Caracas, Venezuela on January 9, 2018. (YURI CORTEZ/AFP/Getty Images)