This month in "New Yorkers Are So Lucky" and "I Can't Believe This is Quietly Happening and No One Has Noticed," legendary analog synthesizer designers Moog have partnered with Williamsburg's Rough Trade and set up an amazing collection of their gear in what they are calling a "month-long synthesizer residency." Situated in the upstairs room that previously housed a facsimile of Childish Gambino's bedroom—(did anyone actually find that exhibit deepened the meaning of his work?)—Moog has filled the room with enough kit to instantly quadruple the value of the entire store.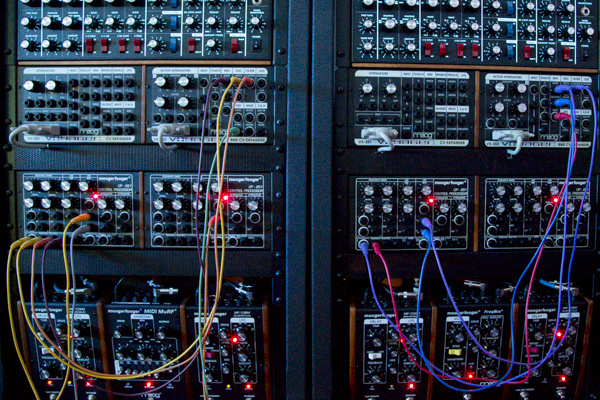 Said to be in celebration of "Bob Moog's spirit of innovation and creative experimentation," the exhibition is unique in more ways than one. Not only does the packed room give anyone the chance to come fiddle on the type of instruments that have been out of reach for 99% of musicians, Moog has carefully curated how you interact with their gear and encourages visitors to bring a recording device (or just a hard drive) and put their instruments to good use.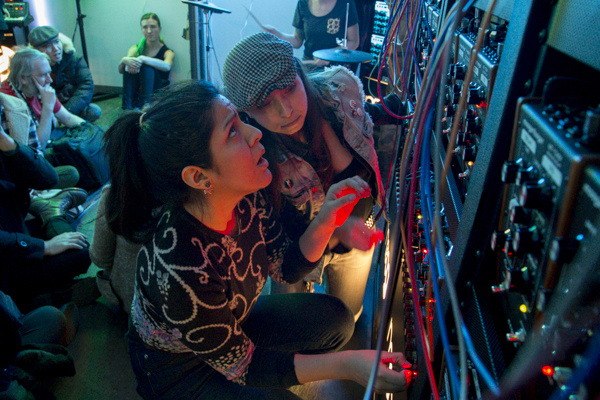 Other than being a bit disappointed that the newly-announced Sub 37 was missing—though I was told that's because there are simply only two prototypes currently in existence—Moog has done a fantastic job in showing the endless possibilities of their handmade designs. There's a wall of Voyagers that are connected via patchbay and an assortment of modular connections. When I arrived, a Moog representative was modestly concocting a twisting, pummeling wall of sound using just two of the available Voyagers. There's a guitar connected to a series of 50 of Moog's recent analog effect pedals, allowing visitors to create incredibly detailed sound processing that even the deepest studio would be hard pressed to replicate. Most impressively, Moog connected 10 of their mono Sub Phatty synths via midi, creating an enormous-sounding 10 voice analog synthesizer with the company's legendary depth of field.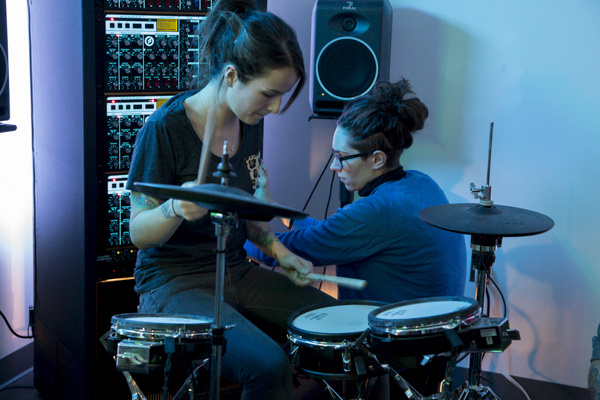 If getting some hands-on time with one of the world's pre-eminent collections of electronic instruments isn't enticing enough, Moog is giving visitors the chance to enter to win pairs of tickets to its upcoming Moogfest. There will also be performances throughout the installation: Tom Tom Magazine will bring Kiran Gandhi of M.I.A.'s band on March 20, while a still-unannounced date will bring Anna Barie of These Are Powers. Moog's Synthesizer Residency is free and open to the public from 11 AM to 11 PM between March 5 and March 29. It'll all be gone and packed up before you know it, whereas Netflix will always be there for you. Don't (analog) delay.