According to his protected Twitter, Lupe Fiasco has cancelled the three farewell albums he was supposed to release this year, meaning he's retired. Again.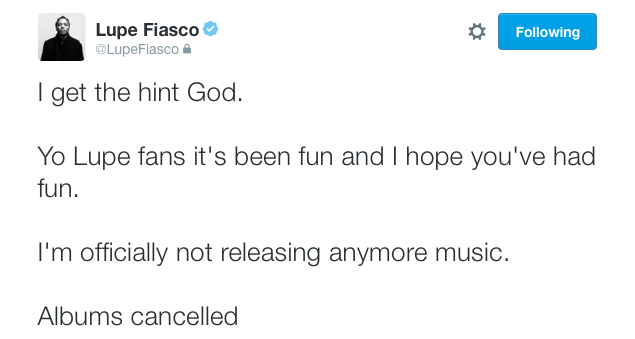 The announcement comes after a Twitter spat Lupe had with DJBooth yesterday when the site called him out for lyrics in his recent song "NERD" that they interpreted as anti-Semitic. Lupe promised fans three albums this year, entitled Roy, Drogas, and Skulls, before Skulls was maybe scrapped in favor of something called Drogas Light. All of this was pushed back to 2017 to possibly be released alongside a sequel to Lupe's 2008 album The Cool, which was also planned to not really be an "album," per se. It's all very obtuse. They were to be his final albums, but now they're not, apparently.
Of course, Lupe has a long history of threatening to retire or alluding to a potential retirement before doubling back on his statements afterwards. He's outdone himself this time, since he's effectively retiring from his own retirement. Then again, if another single drops before the end of the year, it would just make all this another chapter in the saga and would surprise no one, especially not his long-suffering fanbase.
Image via Flickr.
Follow Noisey on Twitter.