When Christine Blasey Ford accused Supreme Court nominee Brett Kavanaugh of sexually assaulting her at a 1980s high school party, she didn't just derail a confirmation process that seemed all but over. She also turned the fight over whether to believe her into a campaign issue for candidates across the country.
"There's so many people that are disgusted, that have had it. It's gone too far and it's done too much damage," said Gretchen Whitmer, the Democratic gubernatorial nominee in Michigan, a state Donald Trump won by just 10,704 votes. "I think people are just really taken aback by the fact that, you know, there's a woman who's bravely come forward and how she's being treated — from the White House, to the United States Senate, to rhetoric that's happening in our day-to-day life."
Whitmer has spoken out about sexual violence for years: In 2013, long before the #MeToo movement exploded across social media, she revealed on the floor of the Michigan legislature that she'd been raped more than two decades ago. For candidates like her, who've talked about surviving sexual abuse or are running in races shaken by sexual misconduct, it's not just the accusations against Kavanaugh that could sway the outcome of the election in just seven weeks.
It's the way that Trump and Republicans have talked about them.
On Friday, Trump suggested on Twitter that Ford should have filed charges about the alleged attack with local law enforcement right after it occurred, "if the attack on Dr. Ford was as bad as she says." That tweet promptly spawned the viral hashtag #WhyIDidntReport, as people across social media attempted to explain to the president why they didn't go to the police after surviving sexual violence.
On Tuesday, Trump attacked Deborah Ramirez, who attended Yale with Kavanaugh and told the New Yorker that Kavanaugh exposed his penis to her and thrust it into her face at a drunken party. (Kavanaugh has denied all wrongdoing.) "The second accuser has nothing," Trump told reporters. "The second accuser thinks maybe it could have been him, maybe not. She admits she was drunk. She admits time lapses."
"This fine nominee to the Supreme Court will receive a vote. In this Senate. In the near future."
Senate Majority Leader Mitch McConnell also called the allegations against Kavanaugh a "shameful smear campaign" by Democrats. "Judge Kavanaugh will be voted on here on the Senate floor. Up or down, on the Senate floor," McConnell promised Monday. "This fine nominee to the Supreme Court will receive a vote. In this Senate. In the near future."
The Senate Judiciary Committee is set to vote on Kavanaugh's nomination Friday morning. If Republicans don't get Kavanaugh confirmed by the full Senate within the next seven weeks, they risk handing a victory over to Democrats — energizing liberals and demoralizing conservatives, who Republicans desperately need to turn out if they want to keep control of the House.
But a relentless push for Kavanaugh's nomination could also backfire for Republicans on Nov. 6. The party has spent the last two years fighting claims that it doesn't take sexual misconduct seriously enough; Trump won the presidency after bragging about grabbing a woman "by the pussy" and being accused of sexual misconduct by 19 women. (He denies the allegations.) Americans also already opposed Kavanaugh's nomination in near-unprecedented numbers, even before Ford and Ramirez's allegations came to light. Since August, support for the nomination has dropped by 11 percentage points among suburban women, a prized demographic, a Fox News poll found Monday. There are early signals that the sexual assault allegations alone led to a 4-point drop, FiveThirtyEight reported.
"You could hardly think of a more galvanizing news event"
"You could hardly think of a more galvanizing news event," Krystal Ball, a Democratic strategist, told CNN. "This election is about backlash to Trump. And this turns it up to 11."
Read: She's Running: Katie Hill ramps up her campaign after primary win
Several candidates for office this November shared their own #WhyIDidntReport stories on Twitter this weekend, including Whitmer. Democrat Shireen Ghorbani, running for Utah's 2nd Congressional District, tweeted, "Because I was 8 and someone came up behind me in a swimming pool and stuck their fingers inside of me. I never saw a face. I had no idea what to say."
Janet Garrett, the Democratic nominee for Ohio's 4th District, wrote, "I did report, but it was dismissed by the police. I know what it is like. I understand the shame and humiliation and why people don't report. Women deserve to be treated with the dignity that is due to every human being." (Garrett is running against Republican Rep. Jim Jordan, who seems to have survived accusations that he ignored sexual abuse at Ohio State University. Jordan has denied the allegations.)
California Democrat Katie Hill, who's running for the state's 25th District, went even further and released an ad detailing why she didn't report her multiple sexual assaults. "As somebody who's processed that throughout the course of my life, I know how hard it is for somebody to come forward," Hill said in the ad. "If we let that go, for someone in power, who should be held to the highest possible standard, instead, we are showing to boys and men across the country, that it's okay."
Democrat Mary Gay Scanlon spent the weekend touring Pennsylvania's 5th District, where she's running for Congress. The seat has been open for months, since Republican Rep. Pat Meehan left office after it was revealed he'd used taxpayer money to settle sexual harassment allegations brought by a former aide, and Scanlon said voters are "fed up" with "this drumbeat of sexual harassment."
"I was actually really surprised by some of the voters who were bringing up the Kavanaugh issue: older men, veterans, a woman who was talking to me about changing her voter registration," Scanlon recalled, adding that she felt the furor over the allegations demonstrates Republicans' lack of accountability and represents another chance to recruit conservative women to the Democratic cause.
"We've already been reaching across the aisle to Republican women for this reason, and I'm not sure who's reaching harder," she said. "Republican women [are] reaching across the aisle because they no longer recognize the party and they're unhappy with a party that doesn't stick up for them."
Both Scanlon and Whitmer believe the FBI should investigate the allegations against Kavanaugh.
"There's no rush. These same guys left a seat open for a long time, just based on their political objectives," Whitmer said, referring to Merrick Garland, who President Barack Obama nominated to the Supreme Court in March 2016 and who never received a hearing. "We gotta do it right."
Read: Sex abuse attorneys explain what Christine Blasey Ford will face in front of the Senate
Whitmer is polling ahead her Republican opponent, Michigan Attorney General Bill Schuette, by an average of 11 percentage points, according to a Real Clear Politics analysis. Schuette did not respond to a VICE News request for comment, but according to the Detroit Metro-Times, he told journalists Monday that the Senate should "have a hearing, let every voice be heard, and then the Senators should vote."
For Republican candidates, the line between supporting alleged sexual abuse victims and supporting the president can be particularly fine. Arizona Rep. Martha McSally, who's running for the state's open Senate seat in one of the closest races in Congress, told the Wall Street Journal in April that, as a teenager, she'd been sexually abused by a high school coach two decades her senior. On Monday, she told local television news outlet 12 Today that Kavanaugh's accusers must be treated respectfully.
"We need to get a lot more information on the path forward, and I think in general everyone should have a tone of respect and fairness for all parties involved," McSally said.
McSally didn't report her abuse to police at the time, according to the Journal, and has loudly supported Trump throughout her race. When anchors then pressed McSally about Trump's Friday tweets, she told them, "A lot of people who have not been through this — oh thank God they have not been through this — don't understand that a lot of us don't immediately go to law enforcement. And many, many women and some men have been through experiences like this, so let's have respect for that, but let's also have due process and fairness."
McSally's campaign didn't respond to multiple VICE News requests for an interview, or to a request for comment on Trump's statements about Ramirez.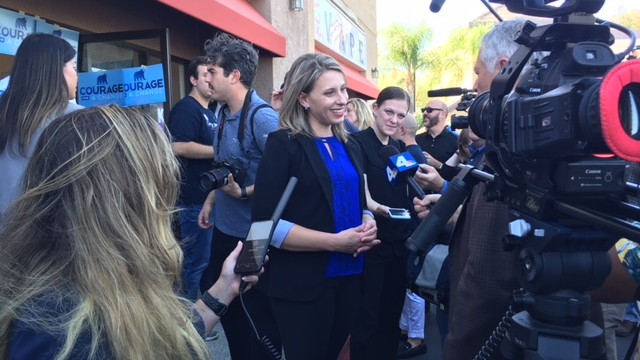 Emma Ockerman contributed to this report.
Cover: Gretchen Whitmer, Michigan Democratic gubernatorial nominee, speaks with reporters after a Democrat Unity Rally at the Westin Book Cadillac Hotel August 8, 2018 in Detroit, Michigan. Whitmer will face off against Republican gubernatorial nominee Bill Schuette in November. (Photo by Bill Pugliano/Getty Images)