We're nearly two weeks away from when pitchers and catchers report, and yet it feels like MLB's offseason hasn't quite managed to hit its stride. Plenty of free agents remain unsigned, plenty of trades are still likely to be made, and for the Toronto Blue Jays that means a roster that remains in flux—leaving us with a fuzzy picture of what might come next, if anything.
Especially when you start looking at the margins of the Jays' roster, there are plenty of questions still to be answered. And that's precisely what I'm going to attempt to do in this week's edition of our Blue Jays mailbag!
Tim Mayza. Gift Ngoepe. R.A. Dickey. Travis Snider. Rowdy Tellez. All these names will actually be discussed this week—plus some actual exciting ones, too! So let's do it to it!
And remember, if you have a Blue Jays question you'd like me to tackle for the next mailbag, be sure to send it to stoeten@gmail.com. As always, I have not read any of Griff's answers.
---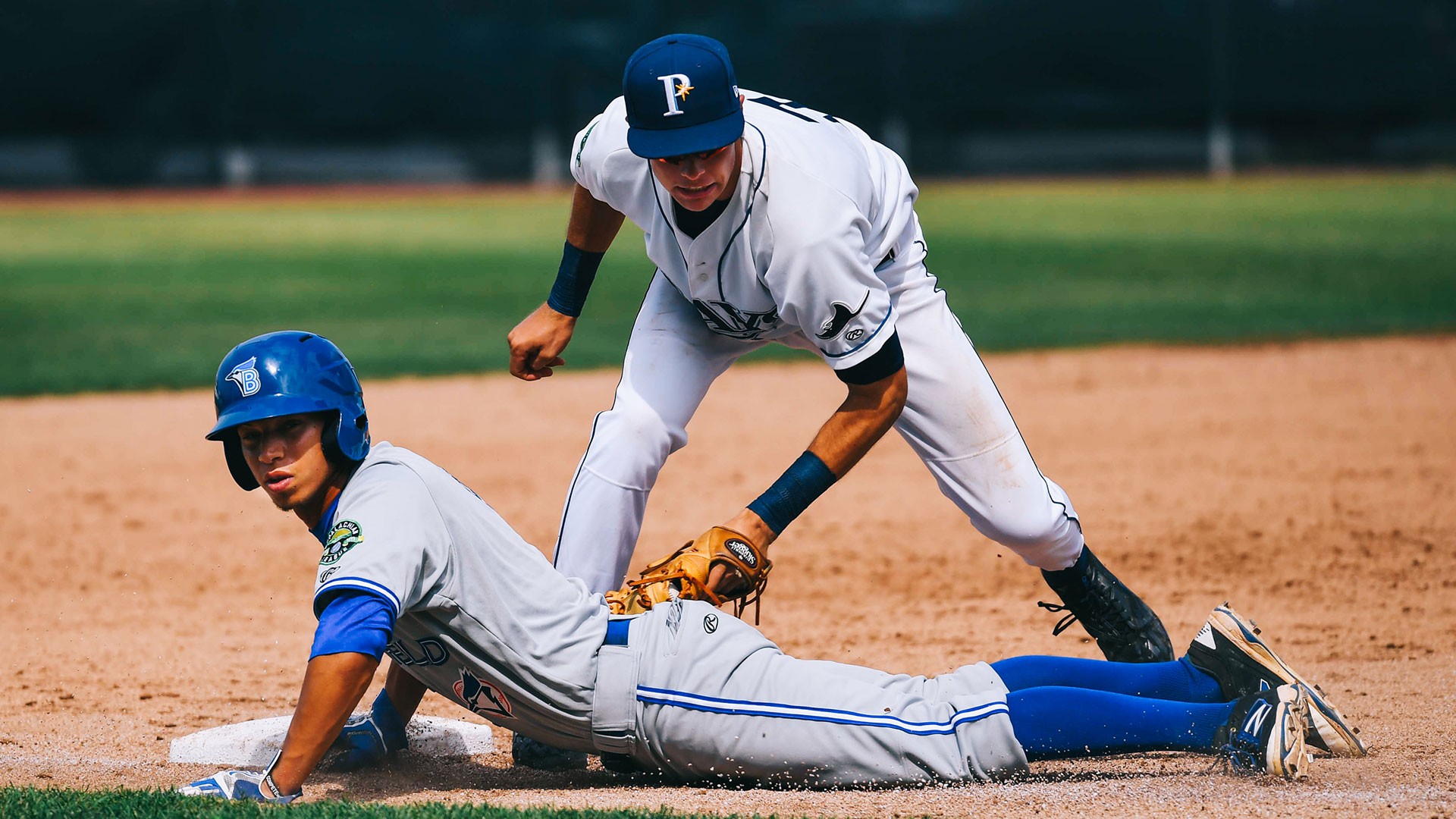 ---
Do you think the Jays give the kids like Jansen, Gurriel and Alford a legit shot at opening day if they blow the doors off in Spring Training or are veteran presents too shiny for Shatkins.
Lionel
First off, never "Shatkins." Never, ever "Shatkins."
Secondly, what an utterly ridiculous way to frame this question. You're talking about kids who, combined, have 99 plate appearances above Double-A. Young players that are almost universally believed to still need more time in the minor leagues. Players who are clearly behind more established players on the Jays' roster, who have actual big league track records of success. These are guys who, with the possible exception of Alford, absolutely should not be on the Opening Day roster, and absolutely should not be reason to cause major roster shifts if they perform well in a tiny sample against players of dramatically varying talent and experience levels in the damn Grapefruit League. And yet you're trying to preemptively create some kind of an issue here about Ross Atkins and Mark Shapiro having blind loyalty to veterans or something? For fuck sakes, man.
(OK, maybe Jansen could break camp with the Jays and work as Russell Martin's backup if he's going to get something like 60 to 80 starts, but I really don't see them going that route—and I don't think they should go that route, either.)
---
Hey Andrew,
Question for your mailbag:
Does the Blue Jays addition of infield depth this offseason signal the end of Lourdes Gurriel in the middle infield?
My question stems from the addition of Diaz and Ngoepe, and the presumed return of Urena to Buffalo at SS. I am asking under the impression that prior to the offseason the Jays would have wanted to start Gurriel at AAA because of his age and pro experience.
Thanks,
Greg
I don't think so at all. The Jays paid $22 million for Lourdes Gurriel a little over a year ago, and (except when he was at DH) played him exclusively as a shortstop or second baseman last year. They're not likely to be giving up on that already—certainly not for potentially less useful guys ahead of him, like Ngoepe and Urena (and maybe Diaz, depending on how that goes). Maybe he starts the year in New Hampshire and does a little better there before they find a spot for him in Buffalo, or maybe he goes to Triple-A from the get-go and sees some outfield time mixed in while also playing the middle infield. Or maybe there are still moves to be made and the situation becomes a little clearer.
This front office has been banging on about depth since Day One, so I don't think this is something they're going to be handcuffed by.
---
My Optimal Jays Lineup opening day:
Alford 7
Donaldson 5
Smoak 3
Morales DH
Martin 2
Grichuk 9
Travis 4
Tulo 6
Pillar 8 If not, what is it for you? Switch Grichuk and Tulo perhaps?
It's certainly not that. I don't see Pillar and Alford coexisting as everyday players. Both need to be in centre, I think—at least until Alford establishes himself as a hitter—and for now it seems like Pillar is going to be there, at least to begin the season (though that may change, and I sorta hope it does).
I also think that the lineup will change heavily depending on whether the Jays are facing a left-handed or a right-handed pitcher.
With the Jays due to face the Yankees on Opening Day, that almost certainly means Masahiro Tanaka, a right-hander. For me, that means Curtis Granderson is definitely in the lineup and possibly Yangervis Solarte, too. Devon Travis, if he's healthy, proooooobably leads off, then it's Donaldson and Smoak. I haven't thought about this at all (and it's probably not worth thinking about all that much until the roster takes better shape), but from there I might be inclined to go Granderson, Grichuk, Morales, Tulo, Martin, Pillar. That's almost certainly not the way it will actually go (I don't see Gibbons having Tulo and Martin so low in the lineup—at least not off the hop), but… I dunno… that could work.
The thing is, to me, picking the absolute best Opening Day lineup doesn't really matter. Water will find its level, you know? Like, Morales was awful against right-handers last year, but probably should be better. I wouldn't mind him getting a chance to hit higher up at first, until he proves that he shouldn't be there. The bigger issue is being responsive to what each player is doing in each split.
---
Do you think the Jays will prioritize adding another LH RP or are they set to roll with Loup and Mayza? And/or someone I'm probably forgetting.
Dan G.
I think they probably will add a lefty for the bullpen, yeah. And I say that despite actually thinking Aaron Loup isn't all that bad, and that Tim Mayza's peripherals are actually really encouraging. Sure, Mayza allowed too many home runs, and the 6.88 ERA in the majors is ugly, but the 34.2 percent strikeout rate and 5.1 percent walk rate is pretty tasty looking. Granted, the sample is tiny, and he's never put up numbers like that at any level before, so… yeah, another lefty makes sense. Matt Dermody is a lefty option out there, too, but I think the point stands. Tony Watson is a name that you hear connected to the Jays a lot, and I'd be all for that.
---
How about R.A. Dickey for 5th starter? (No, really)
Matt
I'd love it just because of how many brains it would break. And it's totally not a bad idea, either. Dickey had a very R.A. Dickey year in 2017, posting a 4.26 ERA in the NL East, 1.6 or 2.1 WAR (depending on which version you prefer), and making 31 starts with Dickey-esque walk and strikeout numbers. The Jays could use an arm like that. I get the sense that Gibby might not be too thrilled with the idea, though. Plus, Dickey has spoken about liking NL ball, and getting the opportunity to get on the bases during his starts. So I wouldn't hold my breath on this.
---
Who do you think the backup catcher will be? Is he already a Jay or will the acquire someone.
Liz
I think it's really hard to say. There are a few options out there that are clearly better than Luke Maile, or whatever else the Jays have currently got, but guys like and Jonathan Lucroy (or whoever else) are surely holding out for more money and, perhaps more importantly, more playing time than the Jays are likely willing to offer.
As I said above, I don't think they rush Danny Jansen into a big league role because it's just too important to keep getting him reps at the plate and trying to build off his breakout offensive success of last season. But he'll definitely be a possibility to see the bulk of the playing time if Martin should happen to get hurt, which means that maybe just going with Maile isn't such a big deal. But I think it would be best if they can bring someone in from outside the organization.
It feels weird to say, this close to camp opening, but there's still a whole lot of offseason left to go.
---
Dear Stoeten. If Smoak is bad again in 2018, do we have an option for 1B that isn't Pearce? Assuming Morales and Tellez aren't better options than bad Smoak.
Dan B.
Why are we assuming Morales wouldn't be a better option than bad Smoak? I think they'll be fine with what they have. I think Kendrys can be a lot better than people believe—he was an elite hitter from the right side against left-handers last season and the year before that, and based on exit velocity he still strikes the ball at an elite rate, too, so there's some hope there. And I'm not too worried about Smoak, either. Sure, he tailed off at the end of the season, and it's maybe hard to take the club at face value that he was dealing with a leg contusion and that it was the sole problem, but to me "bad Smoak" is the version of Smoak that strikes out way too much, and that simply wasn't the case at the end of 2017.
---
Should Travis Snider have spent more time in the minors before his Jays call up and would he have turned into a franchise right fielder in 2010?
E
Yes he should have spent more time in the minors before his call-up, but no, I don't think it markedly changed what he was ultimately going to be as a player. The contact issues were there and were going to get exposed one way or another.
---
What's the surplus value of Vlad Jr and Bo right now?
Ben
As high as the surplus value of Christian Yelich, apparently! For Vlad, at least. Which is pretty remarkably high.
---
Any chance Bo or Vlad make an appearance this season?
Maze
Absolutely there's a chance. I wouldn't bet on it, but I wouldn't bet against it, either. It all depends on their progress, where the team is at, and, perhaps, whether the club feels it can get away with manipulating their service time by holding them back until a few weeks into 2019, thus pushing their eventual free agency off by a year. A lot of variables at play there.
You can send Andrew Stoeten questions for VICE Sports' Blue Jays Mailbag at stoeten@gmail.com, and follow him on Twitter.