Grace Albers
As of Friday afternoon, the Lightner Creek Fire was within four miles of Durango, Colorado, a town of almost 20,000 located in a scrubby, pretty river valley where the San Juan Mountains meet the high desert of the Colorado Plateau. The fire is 20 percent contained and extends across 362 acres. About 170 homes have been evacuated.
Wildfires are pretty routine around these parts, where it takes little to ignite characteristically dry and deadwood-choked forests. In my years living in the area it was normal enough to wake up to an acrid haze on summer mornings. But, however normal, wildfires are an ominous, unpredictable presence. The wildland firefighters tasked with bushwacking up the sides of mountains in peak summer heat to dig trenches and chop down trees are justifiably treated with reverence.
On Wednesday evening, things got a little more dangerous for everyone as unauthorized drone activity grounded two US Forest Service aircraft. According to the Durango Herald, after a drone was reported flying in the fire management area, both planes were forced to prematurely jettison their loads of fire retardant—valued at between $8,000 and $10,000—and return to base. Both aircraft had been preparing to drop the retardant on a section of fire that had been creeping toward the western edge of Durango.
Unauthorized drone usage in a wildfire management area is a federal crime. On Thursday night, the Durango Police Department contacted two people who had been flying drones over the fire. Information on the pilots has been turned over to the US Forest Service, according to the Herald.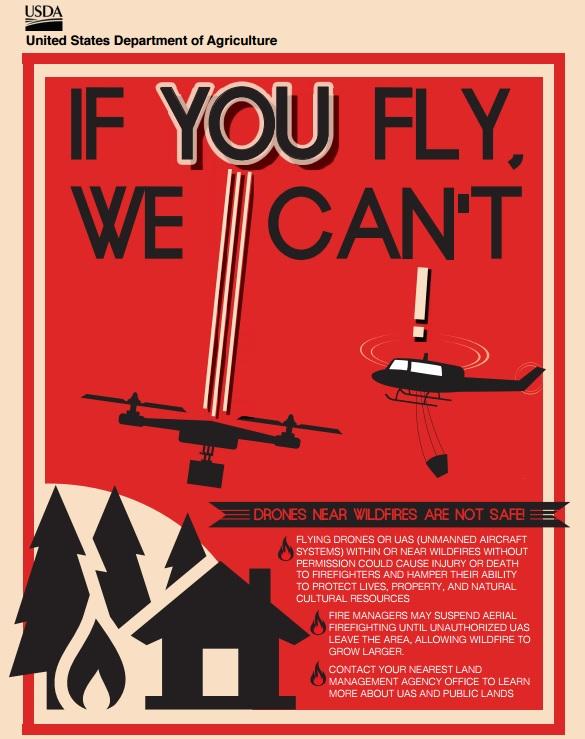 On Friday, firefighting efforts had shifted to a ground game as more crews arrived on the scene. "Today it's going to be an emphasis on getting crews up into that steep, difficult country to work to build containment lines," Chris Barth, spokesman for the incident command team, told the Herald. "Having aviation is great, but you need to have firefighters on the ground as well to help build those containment lines."
The problem of drones interfering with firefighters is hardly new. For several years the Forest Service has been promoting an awareness campaign to keep drones away from wildfire suppression activities. Just a single month in the wildfire-scorched summer of 2015 saw five incidents of drones grounding firefighting aircraft in California.
In 2015, a bill was passed by the California state senate authorizing emergency workers to shoot down drones. It was ultimately vetoed by Governor Jerry Brown.
Colorado is now approaching peak wildfire season as spring precipitation dwindles and snow continues to melt from higher elevations. Generally, however, 2017 is forecasted to be a below-average year for fire activity in the Rocky Mountains owing to a relatively wet winter and deep lingering snowpack.