Martine portrait by Pip
Mums and nans will still remember Martine McCutcheon as Tiff off EastEnders, but she's also had a number one single, had a fictional relationship with Hugh Grant and featured in, frankly, the greatest wedding photo of the 21st century. After a debilitating period of dealing with Lyme disease and ME she's releasing her first album in 15 years, Lost and Found.
I meet Martine at her publicist's office in north London and warm and funny and basically Natalie. Let the – and yes, I'm very sorry – "Martaissance" start here.
VICE: What would your parents prefer you to have chosen as a career?
Martine McCutcheon: My mum just knew I was going to be a performer, and there was no choice in it. But at first she didn't know I was that good; she just thought I had loads of energy. She only realised when she was told by Wendy Foley, who was this fabulous woman with a beehive, an orange fake tan and a fag hanging out her mouth. She used to teach me Latin American and ballroom dancing on Mare Street in Dalston, and she said to my mum, "Do you know what, Jenny, Martine's actually really good." You know, I had a difficult childhood with my dad [who threatened Martine with violence and physically abused her mother], so performing was a fantastic escape for me. My mum always used to say it was the only thing that could balance out the horrible times.
What's the latest you've ever stayed up?
I don't know how late I stayed up because I just didn't go to bed. I mean, I was out having a great time. I'd literally go home, have a quick shower, change into another outfit and carry on. I'd go to Hanover Grand, Malibu Stacey, Club Raw, Ministry of Sound, Madame Jojo's, Heaven, G-A-Y, the Astoria. My ex, James Mason, who's sadly passed away now, his father Bryan Mason used to own the Astoria. I always felt safe there – it was great. For me, it was all about the music and the outfits. I've never done drugs in my life. My uncle died when I was 18 from an overdose and I always felt he like he was there with me, going, "Martine, don't do it." Every time I was tempted, something awful would happen, like someone would conk out or someone's nose would explode. I mean, I loved a drink, but the drug thing was never for me.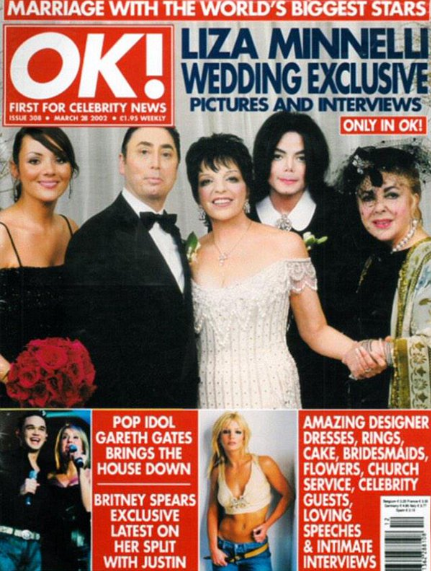 What film or TV show makes you cry?
Oh my god, A Star Is Born with Barbra Streisand and Kris Kristofferson. I sob my heart out every time – it's my favourite movie ever. I think it's the fact that [Streisand's character] loves him so much, but she can't get him to change. And he loves her so much, but he kind of creates a monster by helping her become such a big star. And I mean, can we talk about all the emotion that Barbra has? She's got more stardust and glitter in her little finger than anyone I know.
What was your worst phase?
Definitely up until two-and-a-half or three years ago, when I was ill and lost everything. It was the most awful, tedious, dark, boring, miserable time. It was just vile. Sometimes I couldn't get up in the morning – [my husband] Jack would have to bathe me and wash my hair. But the good thing that came out of it was I found out who my real friends were. And I also realised how much I loved Jack, because by that point I was quite guarded with my emotions. I think he kept me going, and the desire to have a child kept me going. Getting pregnant, and being able to keep the baby, was a massive milestone for me. It meant my body was getting stronger again.
What memory from school stands out for you more strongly than any other?
Dancing to "going loco down in Acapulco" in a feathered outfit for a dance competition. I must have been about 12. Everyone else just wore a glittery belt or put a bit of makeup on, but when they said it was a competition I decided to really go for it. I didn't have a proper routine, but when I won they said I had to do the routine again. And I remember thinking, 'Oh my god, how am I going to replicate it? Argh!' Even now, if I hear that song, it reminds me of the blue feather outfit that mum got for me from her friend Barbara down Roman Road market.
Why did you break up with your first boyfriend?
He broke up with me because he didn't want to be with someone who was famous. He couldn't cope with it. You know, it was really tough for him. I'd gone from being a young girl working in Knickerbox with pipe dreams of being an actress or a pop star, to things actually happening for me on a major level. I'd have footballers asking me on dates right in front of him, which wasn't very nice for him. Everything was just changing for me big time and it was hard to keep up.
Where did you go on your first friends holiday, and what did you do?
Well, it was me and my friend Dionne. She went to Italia Conti [Academy of Theatre Arts] with me, and we were in a girlband called Milan together. We went to Tenerife when I was 17 and it was brilliant. We went out dancing, I fancied the DJ, and "Show Me Love" by Robin S had just come out. I just remember dancing to all this amazing music with our bikinis on underneath. And when we were done, we'd literally take off our outfits from the night before, head to the beach and have a donut for breakfast. I loved it.
What's the closest you've come to having a stalker?
I've had a couple of stalkers. One time, when I was living in Chelsea, I was recording the You Me & Us album in Chiswick, and I was supposed to go back to my flat that night. But the producers invited me out after the session. Even though it would have been much quicker just to go home, for some reason I felt like I should go all the way to Islington for a drink. At the same time, this stalker had been sending me all these weird letters. And this night, when I was out in Islington, he knocked out the concierge at my building, then went upstairs and macheted my front door in. After that he was sectioned; he's still in an asylum now. That was the closest I've ever come to being in the wrong place at the wrong time. It's times like this that I feel like my uncle's here watching over me.
'Lost and Found' by Martine McCutcheon is out now on BMG
More VICE Interviews: