GARO / Getty Images
Because 2017 hasn't been filled with enough bad news about birth control, here's a bit more: A packaging mix-up has led to a recall of one type of the pill.
Lupin Pharmaceuticals Inc. announced a voluntary recall of Mibelas 24 Fe, the company's chewable oral contraceptive—apparently that's a thing—after a consumer discovered a packaging error. (FYI: Mibelas 24 Fe is a generic version of Allergan Pharmaceuticals' Minastrin 24 Fe.)
According to the company's announcement on the Food and Drug Administration's website: "the blister [pack] was rotated 180 degrees within the wallet, reversing the weekly tablet orientation." Basically, the pills were inserted in the wrong order, with the four, darker placebo tablets at the beginning of the 28-day cycle, instead of at the end after the 24 white pills. The incorrect orientation of the packages also hid the lot numbers and expiration dates. The recall affects single-month packs and cartons of three packs like you'd get from a mail-order pharmacy.
Here's the outside of a Mibelas package and what the blister pack is supposed to look like: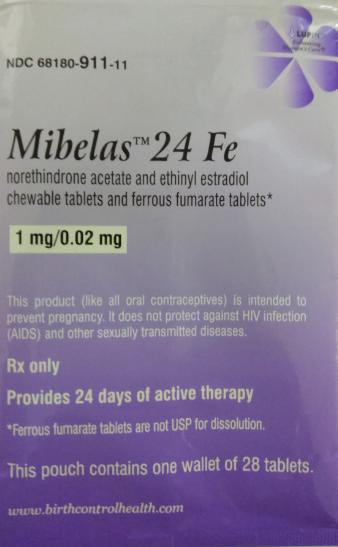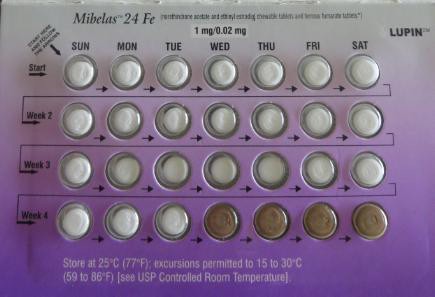 Packaging mix-ups with birth control pills are a big deal because taking pills out of sequence can result in unintended pregnancy (hence the recommendations to use a backup birth control if you miss two or more days), along with some annoying breakthrough bleeding. The hormonal pills prevent the ovaries from releasing an egg and the placebo pills are what cause the simulated period on the pill. If someone took even more placebo pills right after they finished their last pack and they weren't using condoms or another method of birth control, they could get pregnant.
The FDA notes that pregnancy is a health risk for some women and others may be taking medications that would result in birth defects so this recall could have even more significant consequences for them besides being knocked up when you don't want to be.
A similar packaging error resulted in a 2015 lawsuit against Qualitest Pharmaceuticals, a subsidiary of Endo Pharmaceuticals. Though the company voluntarily recalled eight brands of oral contraceptives in 2011, the lawsuit alleges more than 100 women from 28 states still became pregnant, unintentionally, after taking the incorrectly packaged pills. According to a statement given to ABC News, however, Endo Pharmaceuticals was only able to confirm that one defective blister pack had been sold to a patient.
According to the FDA and Lupin Pharmaceuticals, there have been no reports of the serious adverse effects mentioned above; the company did not say if there were any unintended pregnancies reported. However, it's still recommend that any affected Mibelas 24 Fe packets (lot L600518, Exp 05/18, though if you can't see those numbers, that's another indication they're part of the recall) should be returned to the pharmacy, and that anyone who has taken the pills contact their physician or healthcare provider if they've experienced any problems related to taking the drug.
Just a friendly reminder to make sure that the placebo pills in your pack are where they're supposed to be.
Read This Next: 'Women's Viagra' Was Found in Shady Herbal Sex Pills