Why can't anyone do anything right? It's one of the great mysteries of our time. Life is famously hard, of course, but it is made up of small, surmountable situations that are particularly surmountable for certain portions of the population. Think: Older white men with families and more or less successful careers. Why do they continue to make things hard for themselves? Why do they insist on bungling the easiest tasks with a level of haplessness that borders on the insulting?
I could be talking about the president, but I'm actually talking about Kurt Eichenwald, the beleaguered journalist who is frequently targeted by the popular leftist podcast Chapo Trap House for the doofy or downright unethical behavior he has exhibited in a variety of scenarios that I don't want to get into. During the Comey hearing today, Eichenwald tweeted a photo of a piece of anti-Semitic hate-mail he'd received. Visible on his computer screen behind the vile communiqué was a blurry but legible tab. That tab broadcasted to the savvy scavengers of Twitter.com that Eichenwald was looking at "B-Chiku [English, Uncensored, 212 pictures]." This is hentai porn.
Read more: I Ate Myself Out Using My iPhone, and It Was Pretty Good
As a young person trying to make it in media, or whatever, the totally preventable uproar that followed really teed me off. Put your porn in a separate window and EXIT OUT during office hours. You can google some keywords later. It's not that hard. Why can't anyone do anything right?
Brian Gross, the former head of PR and marketing for Vivid in 1999 and a publicist who has worked with both adult and non-adult clients, agrees that Eichenwald could have taken some basic precautions. "If. You're. Going. To. Take. A. Screenshot. Review. The. Screenshot. Before. You. Post. It!" Gross told me, kind of yelling over the phone.
Of course, your personal brand will have a real effect on how any accidental porn tweeting will be received. If you have 300 Twitter followers, it's likely no one will care, except maybe your nemesis from high school, who is just jealous anyway. If you're a porn star, you are just doing your job. If you are a sassy and media-savvy-enough young starlet who's recently learned the term slut shaming, it could probably be good for you. If you are Harry Styles and you or someone operating your account likes an image of bodily fluids on a woman's fingers and your legions of fans notice—because they always notice—it might help you shed your clean-cut, boy-band past. If you are a straitlaced reporter who has a long and public history of media fumbles, it's possible there's no right way to respond.
---
Watch: Rose McGowan on Sexism in Hollywood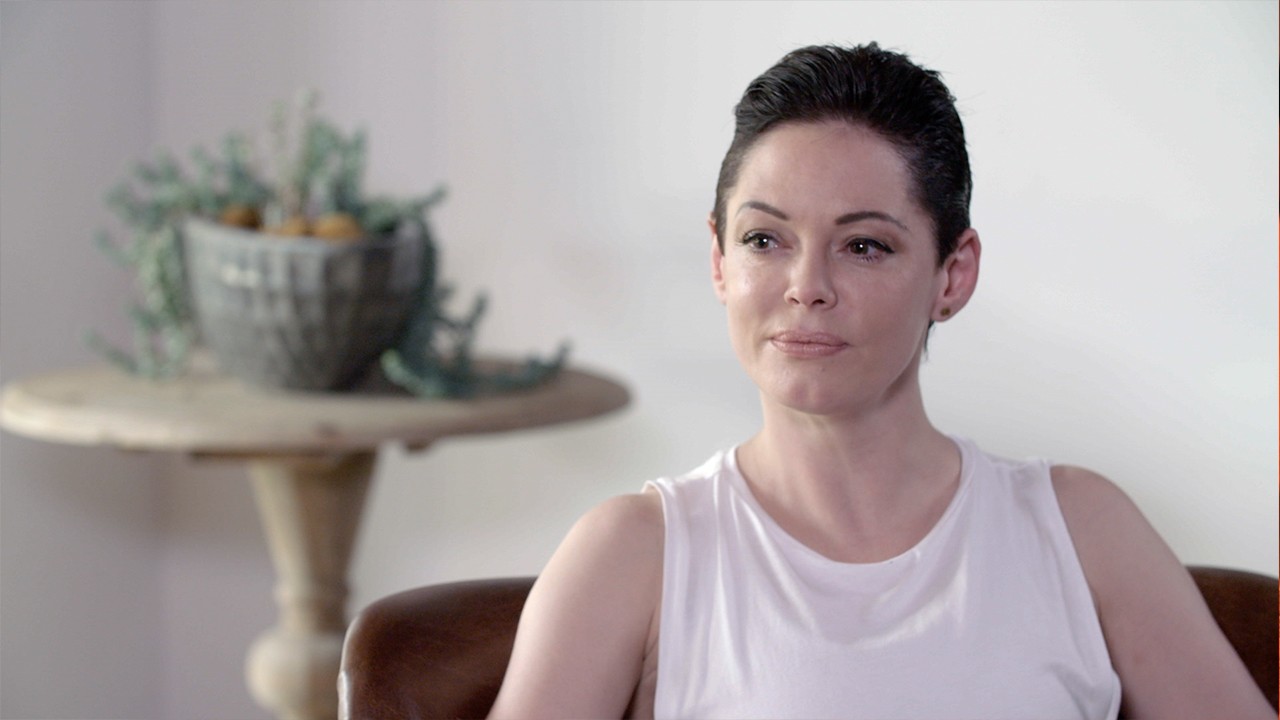 ---
There is a definite wrong way, though, and Eichenwald demonstrated it effectively. After the swarms of young leftists cacklingly owned him, he tried to explain. "Sigh," he tweeted, to the cringing glee of the hundreds of young people who have heard of him and don't like him at all. "Ok, I'm a dumbass. Believe it or not, my kids & I were trying to convince my wife that 'tentacle porn' existed. I tried to find…(1)" You can see where it's going. It ended with Eichenwald posting a screenshot of a text exchange with his wife in which he asked her, apparently in response to being resoundingly dunked on, "were our [adult] sons and i trying to prove to you that tentacle porn exists?" She replied, "Yes. Still amazes me."
From the "[adult] sons" to the likelihood of his collusion with his wife on this text beforehand, this was yet another mistake. "Once you get into the explanation, you're just digging a grave," Gross told me. "If you come out and say, 'Yes, I watched that,' you are diffusing the situation. If you go into explanation, you are just feeding the fodder of the internet."
Though it was the avoidability of the mishap and not necessarily the hentai itself that brought the ridicule, Eichenwald's strategy perpetuated the shaming rather than stood up to it. "I got into this industry because I wanted to open up communication about sexuality," he said. "This is someone who needs to be honest not only with the public but with himself. He shouldn't have shame in it." The incident, Gross told me, was "really disappointing, because we're trying to get to a place in this society where how you feel and what you desire is OK. (Obviously along the lines of legality.)"
If you're like me and feeling just fed up with people's incompetence, it can be strangely heartening to contrast Eichenwald's spluttering response to that of Josh Marshall, the editor-in-chief of Talking Points Memo. Late last year, Marshall tweeted a lesbian porn clip alongside the perplexing commentary, "They did say targeting close associates." Though the riotous ranks of rose-emoji Twitter immediately commenced goofing on him, Marshall neither deleted the tweet nor attempted to explain it away. Although he likely meant to make some vaguely witty commentary on whatever was happening in politics at the time and copied the wrong link, he was able to leave open the (slim) possibility that maybe the tweet was just an inappropriately sexual dad joke that no one got because it wasn't good. Today, this canny decision has earned Marshall the only partially ironic respect from the very same Twitter personalities who were mocking him mere months ago.