This story has been updated (Nov. 26, 1:15 am): The Army Corps of Engineers has notified the Standing Rock Sioux tribe that the camp must leave by Dec. 5.
At Oceti Sakowin, the largest camp of "water protectors" fighting the Dakota Access Pipeline, the sounds of chainsaws at the communal wood piles stretch well into the night, mingling with the sounds of drumming and singing. These North Dakota nights are chilly, and hazy with river fog and campfire smoke lit from the north by massive floodlights erected along the ridge of the contested camp. A pick-up truck drives up the largest hill in camp with a young man in the bed singing loudly, legs swinging in red brake lights. It stops at the top and the people pull out their phones: "Facebook Hill" is one place that gets a decent signal.
When day breaks, Oceti Sakowin Camp becomes a series of construction sites and organisational hubs, dedicated to stopping construction of the pipeline, which leaders from the neighboring Standing Rock Sioux tribe say will imperil water sources and sacred Native American burial sites, prayer sites and artifacts. The Army Corps of Engineers, which controls the land, has postponed the easement needed for construction, but pipeline builder Transfer Energy Partners said last week it will continue to build, seeking a ruling that would grant it "legal right-of-way to build, complete and operate the Dakota Access Pipeline without any further action from the Army Corps of Engineers."
Smaller protest camps of Rosebud and Sacred Stone are to the south and within Standing Rock Reservation boundaries, but Oceti Sakowin is on land controlled by the Army Corps of Engineers, and a matter of legal contention. In a series of encounters with the police that have sometimes turned violent, some 500 protesters have been arrested so far. On Friday evening, the Corps announced it had decided to give the camp permission to remain until December 5, after which point remaining protesters would face arrest.
In a letter to the tribe, Col. John W. Henderson, a district commissioner for the Corps, wrote, "I do not take this action lightly, but have decided that it is required due to the concern for public safety and the fact that much of this land is leased to private persons for grazing and/or haying purposes as part of the Corps' land management practices." He said a "free speech zone" would be allowed to remain on land to the south of the river.
Tribal Chairman Dave Archambault II issued a statement blasting the Corps. "Our Tribe is deeply disappointed in this decision by the United States, but our resolve to protect our water is stronger than ever," he said. "The best way to protect people during the winter, and reduce the risk of conflict between water protectors and militarized police, is to deny the easement for the Oahe crossing, and deny it now."
He did not announce how the camp intends to proceed, but in a press conference on the 26th with a panel of representatives from camp, including the Chairman, Nick Tilsen, a Lakota housing activist, said, "Not an indigenous person in this camp that has intention of being removed not on their own terms. We're not going to move unless it's on our own terms because this is our treaty land."
Many water protectors have been preparing for another challenge: winter on an exposed floodplain in North Dakota.
"With wind chill, temperatures in the 30s and 20s can easily feel down at zero," says Kevin Lawrence, a meteorologist based in Bismarck. Given the 40-50 inches of annual snowfall and consistent wind, Lawrence said he doubted the protectors' capacity for winter camping in such, which would be a first for most of them. A much colder weather pattern is expected in the coming weeks, which should clear up the fog as the rivers freeze. By mid-December, daily highs hover around 23 degrees on average, with lows around zero. Without insulation and external heating sources, he says, it would be near impossible.
That danger can be amplified by the authorities themselves. Since October 27th, a police blockade made of burnt military vehicles and concrete barriers has blocked the most direct route to the camp from Bismarck, Highway 1806. On November 20th, when protesters attempted to remove the blockade, officers responded with tear gas and water cannons, in spite of 26-degree weather, and without access to active rewarming or nearby hospitalization. Police defended their actions, citing violence towards officers.
Some protesters were treated for hypothermia, and one of them, Sophia Wilansky, was seriously injured in the arm, possibly by an explosion caused by a police stinger ball, a device that spreads tiny rubber pellets. An ambulance was delayed in reaching her due to the blockade, and she was later airlifted to a hospital in Minnesota. The incident is now being examined by local and federal investigators.
A drone-shot video from November 20, when police used water cannons on protesters in freezing weather
The camp lies across the floodplain of Cannonball River, which feeds into the Missouri River to form the northeast boundary to the Standing Rock reservation. Where these rivers converge is considered sacred ground for many Northern Plains tribes, but traditionally the Lakota would have never spent a winter here. They would have moved to the Black Hills area, where there is wood and wind cover, before it was taken in 1877, in one of many examples of treaty-breaking by the US government.
But what some have called the largest gathering of indigenous peoples in over a century, plus allies from around the country, has been making preparations to stay for the winter. At one of the daily meetings devoted to winterizing, in early November, I am overwhelmed by the largest concentration of white people I've seen ever at camp. The meeting gets off to a rocky start: in an atmosphere committed to healing and prayer, there is a palpable concern that we could really go about this the wrong way. People defer power until it's clear those with the appropriate knowledge of how to run meetings in this space step in, despite themselves having attended just to learn winter prep.
The awkward moment is not uncommon at this camp that is attempting to strike a delicate balance between the huge range of world views, experiences and people that pass through. Unity seems to emerge through a shared commitment to respect--the water and each other. But the problems that plague social justice work nationwide hold true here too: strategies and styles vary widely and not all ideas are good ones, as Dallas Goldtooth, a prominent indigenous rights activist in camp, notes. "How to be an ally' is a question that lurks under the surface.
"We will be growing strawberries in January here if we do this right."
Even so, the meeting bubbles with enthusiasm. A huge array of visions are cast out across the circle: More yurts and tipis for the school (including a library with 1,000 books by native authors), stoves, generators, mobile showering units, mentions of alternative messaging systems due to terrible cell reception. One non-indigenous renewable energy educator Brad Kallio imagines that if camp could be run completely without fossil fuels it could prove to the world that there was no need for more pipelines. "We will be growing strawberries in January here if we do this right," he insists, describing the capacity of his wind-powered generators.
Such lofty visions require a lot of skilled work. Requests are made over and over for people that know greywater management, composting toilets, natural building and fire safety to do trainings and disperse knowledge.
"It takes about a week for people to learn "how to learn how to do things and communicate" explains Ernest Rando, a permaculturist from the Midwest who has been in camp for a couple weeks. "The people that are coming now are actually the people that are going to be here for the winter. Now we have people with materials, taking initiative, and [we can] start teaching."
Rando is building Rocket Stoves, which use about a quarter of the wood of a traditional wood-burning stove, emitting mostly water vapor and CO2 instead of smoke. They will be placed in new and existing structures with the idea that "they're safer, they store energy and they burn all the smoke and [soot] that's gonna build up in these wood stoves."
One such structure is the "tarpee," an invention of Seattle carpenter Paul Cheoketen Wagner that's been brought in by the Winter Shelters for Standing Rock project. The structure is a modern take on the tipi, a cone made out of reinforced 2x4s and a circular roof for a stovepipe, with 20-by-20 foot terra-proof thick tarps that hold in warm air and ventilation doors in the top and bottom. Bryan Farbert, permaculture designer and caregiver explained that he's given up his jobs in Seattle to build tarpees for winter.
Farbert explains they've got enough money to bring in 40 tarpees, but construction and logistics are another story. As we speak, three are being built behind us by crews of volunteers that he trains as they go. Jackie is one such builder, staying in the SouthWest camp next to Farbert's construction area. Hailing from Dilkon, AZ, he is one of the youth runners, who ran a staggering 1,400 miles from home to be a part of the fight against DAPL.
"We're working together with the tribe to welcome people that are coming individually," Jackie explains. "So we'll welcome individuals to come into our camp, rather than having them coming and not having a place to stay, and get cold and just leave."
Most people are stay in clusters of tents, tipis and RVs that make up smaller camps within Oceti Sakowin, and Jackie's concern reflects a wider effort to rework the infrastructure of camp to more efficiently allocate resources. Difficulties with potholes from so called "weekend-warriors"—people who come with good intentions but dig a fire pit and use up communal wood to warm very small groups—have sparked the need for a crew that can go fill in the fire-pits but also understands the sensitivity around taking dirt from this area.
The permanence of camp—the delicate issue at the heart of winterizing precautions—is itself controversial.
Assembling crews like that is possible. One builder and construction crew leader, Paul Sherlock of Cleveland, Ohio, is putting in raised floors with vapor barriers and insulation in one of the meeting tents. When asked if he brought his whole crew from Ohio, he says he'd just met most of them, explaining that he put up a sign that said "Volunteers Please" and "people just kept walking up."
But organizing those willing to work at the level needed here is made difficult by the constant ebb and flow of people and communications obstacles, including lack of cell service. When asked about the grand plans laid out at the winterizing meeting, Winona Kasto of the traditional food kitchen, said "they should send people around, camp to camp, and ask what people need," explaining that she didn't know about those things because she had no spare time to attend such meetings.
Montana native Benji Buffalo came up here eleven weeks ago with nothing but a backpack and now has been given or created things that he needed. He has no yurt or winter tent, but rather a structure he built himself out of materials he found around camp, mounted on sliding rails to make it moveable. When asked if he worked construction, he explained, "No, I've made one of these forts before up in Eureka because my buddy needed someone to look after his horses." A tour inside reveals a cot, stocked supplies, loads of blankets, and among other things, snowshoes and a snowboard.
The camp's dogged fixation on life-affirming practices is straddling the future and the past with alarming hope, given everything
Many, like Leola Cowboy from the Dine nation in New Mexico, have sacrificed other parts of their life to be a part of what is happening here. "This is our home now, we left everything," she says. For her and her partner Little Feather, a security guard at camp, it's an opportunity to stand together with indigenous peoples in a way unlike anything they've ever experienced. At the communal wood pile, Joe Ayala, a photographer from Oregon, said the same thing. "I came for five days in September and couldn't wait to get back." When his lease was up he packed up his things and moved to Oceti Sakowin.
Though motives vary, many people are dedicated not only to staying here through winter, but to living while they're here. Patterns of life, roles of the community, mobile structures and infrastructures are all being built. With the new pallor of the american body politic, Oceti Sakowin Camp's dogged fixation on life-affirming practices (like protecting water) in the face of acute and historic brutality is unique. It's straddling the future and the past with alarming hope, given everything.
On my first trip to the Oceti Sakowin camp in mid-October, I stood in line for a couple hours to refill propane tanks for one of the kitchens, which provided me ample opportunity to complain about the cold wind and the cold months ahead. Eddy, a fellow refill-volunteer who hitched-hiked up here from Arizona, with ancestral roots in New Mexico, said he was looking forward to winter. Shocked and skeptical, I asked why. "Because that's when we win," he said.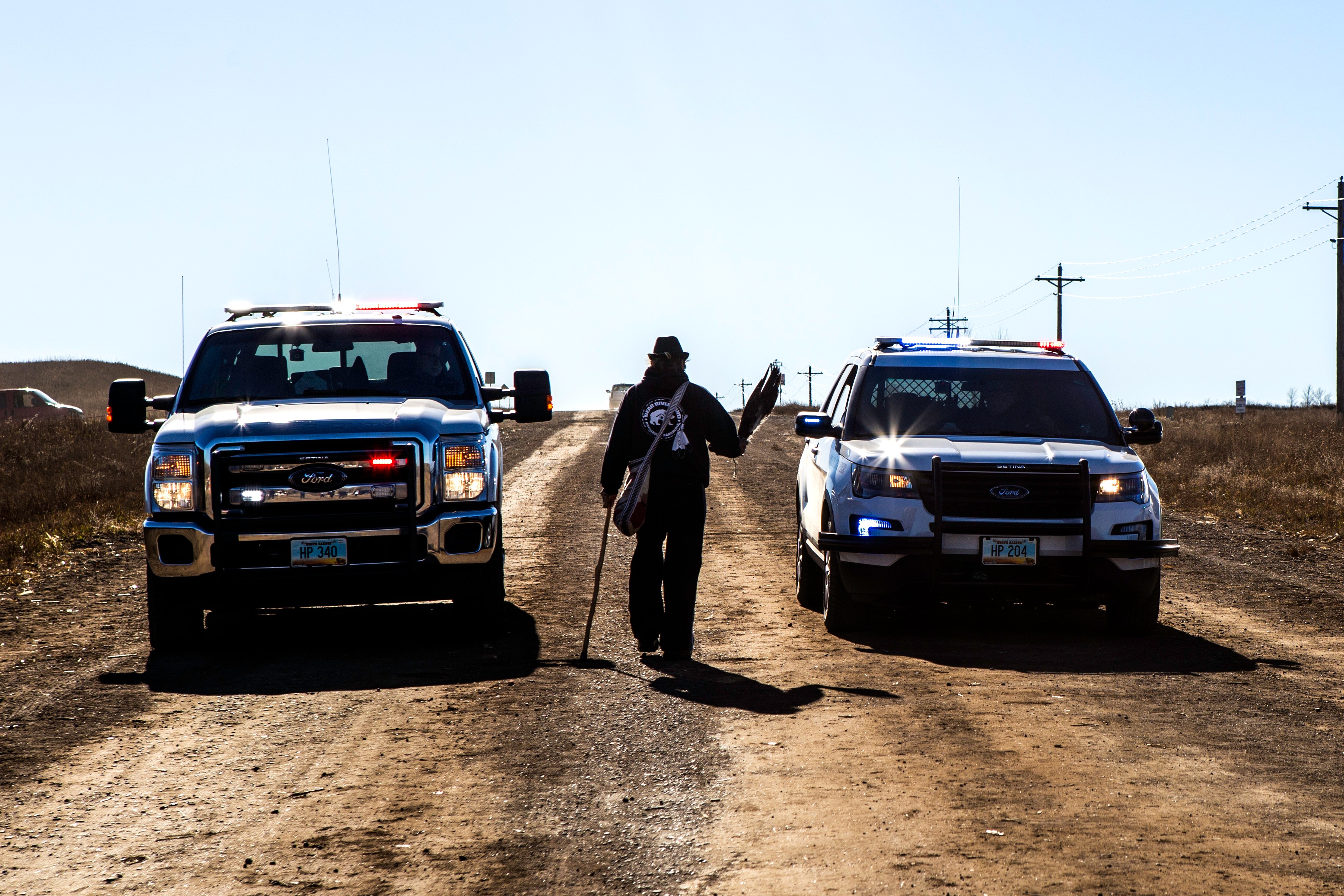 Video: Vice News