Fighters Quinita Hati (left) and Kelly Broerse battle it out at Auckland's Lethal Ladies fight meet. Photo by Michael Duignan
In sport, to say that things are slowly changing is to kick the ball into touch. It is to hope that the next ones with good field position will have more guts, and more pragmatism, than you ever did to get the job done.
While the last few years have seen some measurable improvements, real gender equality in New Zealand sport—like most female sport around the globe—has sat under a white flag since long-jumper Yvette Williams claimed gold in Helsinki in 1952, becoming our first-ever female Olympic champion.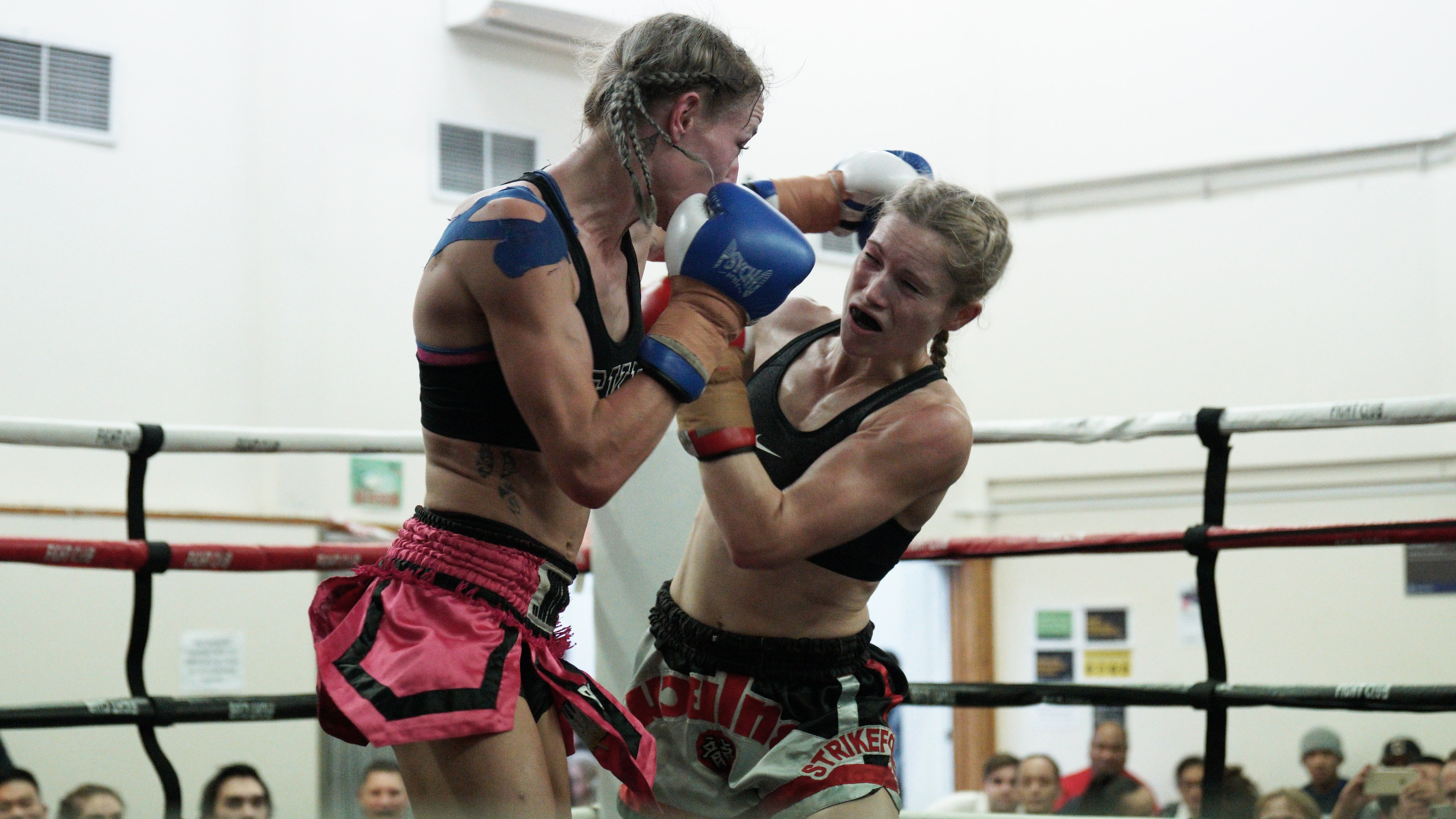 Every generation, a star like Williams, Susan Devoy, Sarah Walker or Val Adams has risen up, become beloved, developed significant public credit, scored some good sponsorship deals and started a few conversations about equality. Williams, to put her significance in context, was in 1987 declared by Athletics New Zealand as its "Athlete of the Century"—beating out icons like Peter Snell and Murray Halberg.
Female participation in top-level sport in New Zealand is holding steady, if not increasing. Recent NZ Rugby numbers show female rugby player numbers increased 14.6 percent over the last year, while, for the first time, women will outnumber men at the national weightlifting championships in Auckland later this month. Female Kiwi athletes outnumbered their male counterparts at the last Olympics in Rio de Janeiro, and won 61 percent of our medals, too.
In an impressive summary of where gender equality in Kiwi sport is at right now, Toni Bruce wrote, for Newsroom in March, that there is some real movement in the boardroom too.
In 2012, Sport New Zealand and the NZOC set a target of 40 percent women on all boards by 2020. Back then, only 27 percent of members on sports boards were female. That figure now sits at 35 percent with the 40 percent goal looking likely.
For the first time ever, this year 30 Black Ferns received professional contracts with NZ Rugby this March, with players receiving up to $50,000 a season. Prior to the agreement, the NZ Herald's Gregor Paul showed the difference in support between the All Blacks and their female colleagues to be stark.
At the 2015 Rugby World Cup, he wrote, the men were paid $7500 in match fees, while in 2017 women were paid just $2000. Retainers and bonuses meant the highest-paid All Blacks banked close to a million dollars in the 2014 World Cup year, while the top women's players would receive only about $18,000 in a World Cup year.
The year before, Football Ferns captain Abby Erceg unexpectedly retired from international football, at age 27, to protest the lack of the support her team received from its national body. "Time to move on to places where female footballers are appreciated, respected and endorsed," she posted on a social media account. "I hope NZF one day has this philosophy."
Fortunately, they would. New Zealand Football followed rugby's suit and signed a new labour agreement that saw both male and female players supported equally, following a prior example set by Norway.
Yet with these steps forward, there's still a lot of quicksand. Coverage of female sport, in the media, is an area of constant criticism.
Recent research cited by Bruce showed that female athletes were 11 percent more likely to be pictured with a spouse or partner, 20 percent more likely to be spoken for by their coach and, shockingly, 39 percent more likely to be referred to as a 'girl' as opposed to men being described as a 'boy.' Research by Bruce also shows only about 10 percent of published sports stories focused on women.
Obviously, that highlights the importance of the sports media in snapping itself out of an archaic way of considering gender in sport. Though Kiwi media coverage of female athletes has improved over the last decade, New Zealand Olympic Committee chief executive Kereyn Smith still slammed it as "horrifyingly bad." "There just hasn't been the storytelling of women's sport, and just the mass coverage of male sport continues to feed upon itself," Smith told Newstalk ZB in February.
Courage and leadership by editors can improve things, as Suzanne McFadden, the editor of Newsroom's Locker Room, a female sport-specific sub-site that has enjoyed impressive reader numbers, has shown. But with the entire industry in financial strife, expect publications and websites to continue to aim for page hits ahead of tangible change.
Of all of New Zealand's biggest sports, NZ Rugby—somewhat surprisingly—has been leading the way forward in recent years. In New Zealand, rugby has, and continues to hold, a privileged position of social and political power. For generations, its culture was unquestioned. The boys were allowed to be boys, from the changing sheds and pubs, from the home to the boardroom.
That seemed almost carved in stone, until a trio of incidents in 2016 and 2017 rocked New Zealand rugby: the Chiefs' appalling treatment of a stripper at a post-season party, and NZ Rugby's poorly handled investigation into it; the Losi Filipo cover-up by Wellington rugby; the Aaron Smith airport sex romp that cost him serious mana. The open secrets of misogyny, entitlement and ass-covering that stalked alongside rugby's enduring qualities of teamwork and mate-ship were out in the open.
Yet, at the top level, NZ Rugby didn't sit on its hands—it responded. Women's rights advocate Louise Nicholas was brought in by NZ Rugby to help address cultural issues towards women, while former Black Fern Dr Farah Palmer became the first female board member in 2016. There are strong inclinations that the next will be a woman as well.
Kiwi public policy could follow suit, too. Canada has already provided an impressive example. Earlier this year, the Canadian government pledged to have total gender equality, from salaries to governance, in all sport by 2035—and have pumped in C$30 million to start the ball rolling.
Out of the gates, the Labour-led government has talked the talk in New Zealand. March saw Grant Robertson, the Minister for Sport, announce that the promotion of women in sports was his number-one priority in the role. "If something is at the heart of our identity and we allow blatant sexism and under-representation of women to continue, then that will be at the heart of our identity as a country and none of us want that," he said.
Prime Minister Jacinda Ardern backed that up in August, when she told a group of female rugby administrators that if the sport wants to really prove it remains our national game, it must be more inclusive to women. The comments were roundly applauded, but that evening, in the bowels of Eden Park following an All Blacks victory, coach Steve Hansen asked the Prime Minister for more taxpayer funding to pay his players. "They should be our biggest sponsors because we're their biggest brand," he told media later.
The Prime Minister tackled those comments with political savvy, but walking the walk on women in sport is the next challenge. So far only $300,000 extra of taxpayer money has been earmarked for women's sport by the Labour-led government, which was focused on New Zealand chairing the International Working Group on Women in Sport (IWG) for the next four years.
That term starts this month, meaning the direction we take here will be felt worldwide. You'd have to think resources will have to increase, and soon. Time to stop saying we're changing slowly. Instead, how about this: change is happening because it's long overdue.