Getty Images
Eleven months after being fired, former FBI Director James Comey took his revenge on Donald Trump this week, delivering a devastating critique of the president in a tell-all book.
In "A Higher Loyalty: Truth, Lies, and Leadership," Comey describes Trump as "unethical" and "untethered to truth" and recounts in detail his interactions with the man who ended his career.
The book goes on sale Tuesday, but exclusive excerpts in Axios and the New York Post, as well as advance copies obtained by the New York Times, Daily Beast, Washington Post, and CNN, have revealed the extent of Comey's takedown ahead of a planned promotion tour.
Trump and his allies are braced for the fallout, with the RNC launching a Lyin' Comey website in a bid to push back against the tome's myriad allegations.
In a pair of tweets Friday morning, Trump lashed back at Comey, calling him "an untruthful slime ball" adding that it was his "great honor" to fire Comey.
Here are 10 juicy revelations in Comey's book that definitely triggered Trump:
The most headline-grabbing excerpt related to the Steele dossier, which claimed Moscow had a video of Trump in a hotel room with prostitutes pissing on each other — kompromat Russia is using to blackmail Trump.
Comey claims Trump was deeply concerned that Melania might believe the allegations.
"He brought up what he called the 'golden showers thing' … adding that it bothered him if there was 'even a one percent chance' his wife, Melania, thought it was true," Comey writes, according to the Post. "I'm a germaphobe. There's no way I would let people pee on each other around me. No way."
Comey describes the first time he met Trump in the Oval Office. "He didn't look comfortable. He was sitting, suit jacket on, close against the famous Reso­lute desk, both forearms on the desk. As a result, he was separated from everyone who spoke to him by a large block of wood."
Comey says previous presidents he had met in the office — Obama and Bush — typically sat in an armchair by the fireplace and "held meetings in a more open, casual arrangement."
"But when the president sits on a throne, protected by a large wooden obstacle, as Trump routinely did in my interactions with him, the formality of the Oval Office is magnified and the chances of getting the full truth plummet."
According to Comey, current White House chief of staff John Kelly called him within minutes of his firing last May. Kelly reportedly told Comey he was "sick" about the situation and "intended to quit" in protest. Kelly said "he didn't want to work for dishonorable people" and referred specifically to Trump. Comey says he asked Kelly to remain in his position as "this president" needed people of principle and integrity around him.
Comey considers Trump's strange relationship with Russia and his inability to say what was obvious to almost everyone else. "I had often wondered why, when given numerous opportunities to condemn the Russian government's invasions of its neighbors and repression — even murder — of its own citizens, Trump refused to just state the plain facts."
"Maybe it was a contrarian streak or maybe it was something more complicated that explained his constant equivocation and apologies for Vladimir Putin."
Comey gives a vivid description of the first time he met Trump: "His face appeared slightly orange, with bright white half-moons under his eyes where I assumed he placed small tanning goggles." He goes on to say that Trump had "impressively coiffed, bright blond hair, which upon close inspection looked to be all his."
As his description of Trump's physical appearance shows, Comey is not above pettiness, something exemplified by his reference to Trump's paws. "As he extended his hand," Comey says, "I made a mental note to check its size. It was smaller than mine, but did not seem unusually so."
Comey describes Trump's approach to personal relationships as similar to that of "Sammy the Bull's Cosa Nostra induction ceremony." He says it reminded him of his days prosecuting Mafia kingpins with their "silent circle of assent."
"The boss in complete control. The loyalty oaths. The us-versus-them worldview. The lying about all things, large and small, in service to some code of loyalty that put the organization above morality and above the truth."
One such occasion was a "loyalty dinner" with Trump in the White House residence on Jan. 27, 2017. The president laid out just how he saw the relationship with Comey working:
"Now it was pretty clear to me what was happening. The setup of the dinner, both the physical layout of a private meal and Trump's pretense that he had not already asked me to stay on multiple occasions, convinced me this was an effort to establish a patronage relationship. This only added to the strangeness of the experience. The president of the United States had invited me to dinner and decided my job security was on the menu."
During a meeting at Trump Tower with Trump and his advisers, Comey says he was surprised no one thought it would be a good idea to ask top intelligence officials "about what the future Russian threat might be. Nor did they ask how the United States might prepare itself to meet that threat." Instead, they focused on "how they could spin what we'd just told them."
Comey leaves no doubt about his personal opinion of Trump. "This president is unethical, and untethered to truth and institutional values. His leadership is transactional, ego driven, and about personal loyalty."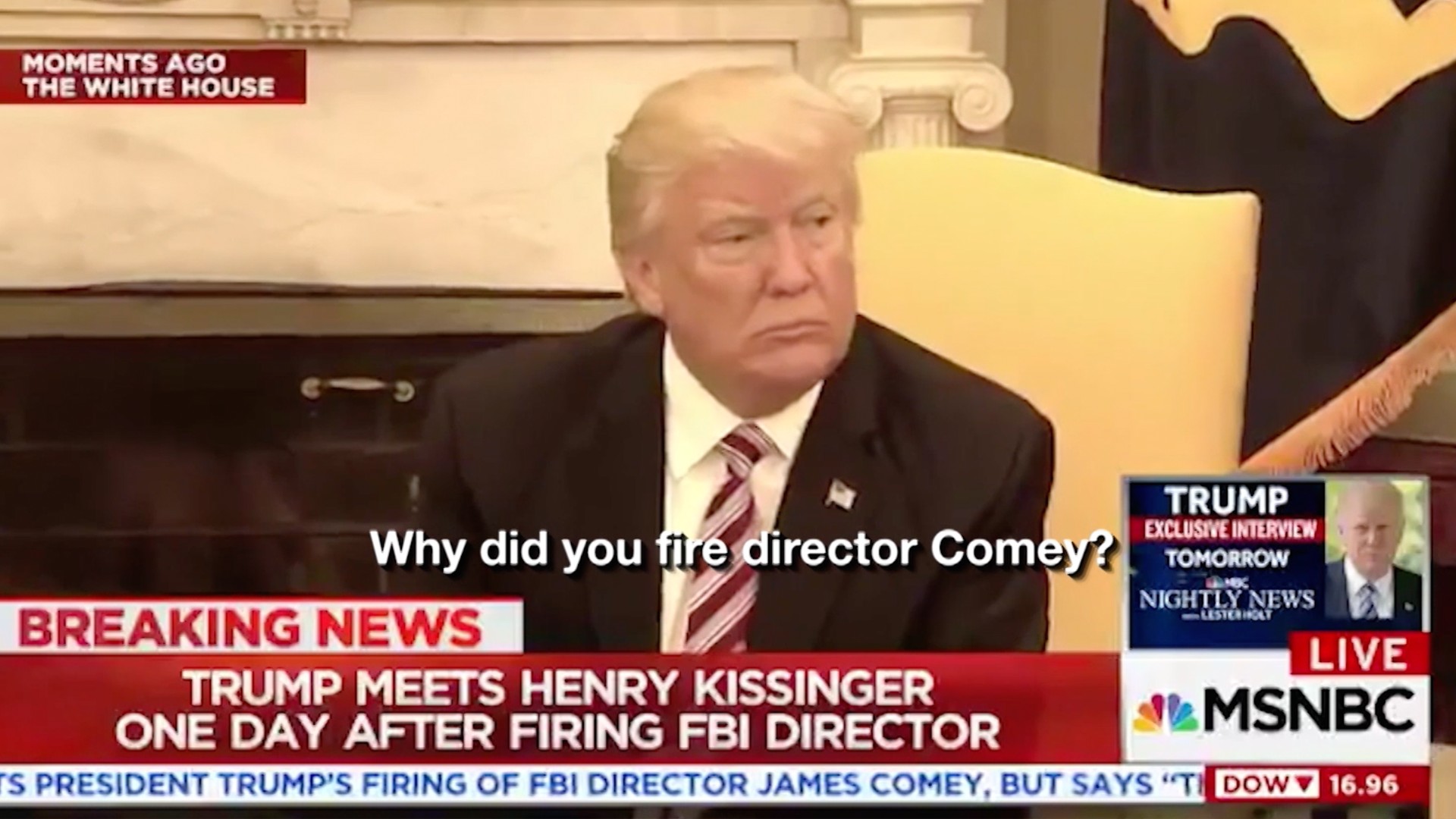 Cover image: Former FBI Director James Comey testifies before the Senate Intelligence Committee in the Hart Senate Office Building on Capitol Hill June 8, 2017 in Washington, DC. (Drew Angerer/Getty Images)