All photos by Tess Mayer unless otherwise noted
Members of the Little Red Wagon Club are accustomed to picking up other people's trash. The group is composed of kids from Decatur, Illinois, who come together to clean litter, eat treats, and encourage good deeds. But this weekend, a dozen members of the club boarded a donated bus and headed to the nation's capital to take the idea of cleaning up someone else's mess to another level: They joined hundreds of thousands of others who marched on or around the National Mall and other cities across America to demand politicians work together to actually address America's gun-violence epidemic.
"I don't want my kids to have to be worried at school," said 19-year-old Monte Freeman. "I think just being here is important because it will make people realize that the guns can't be allowed."
---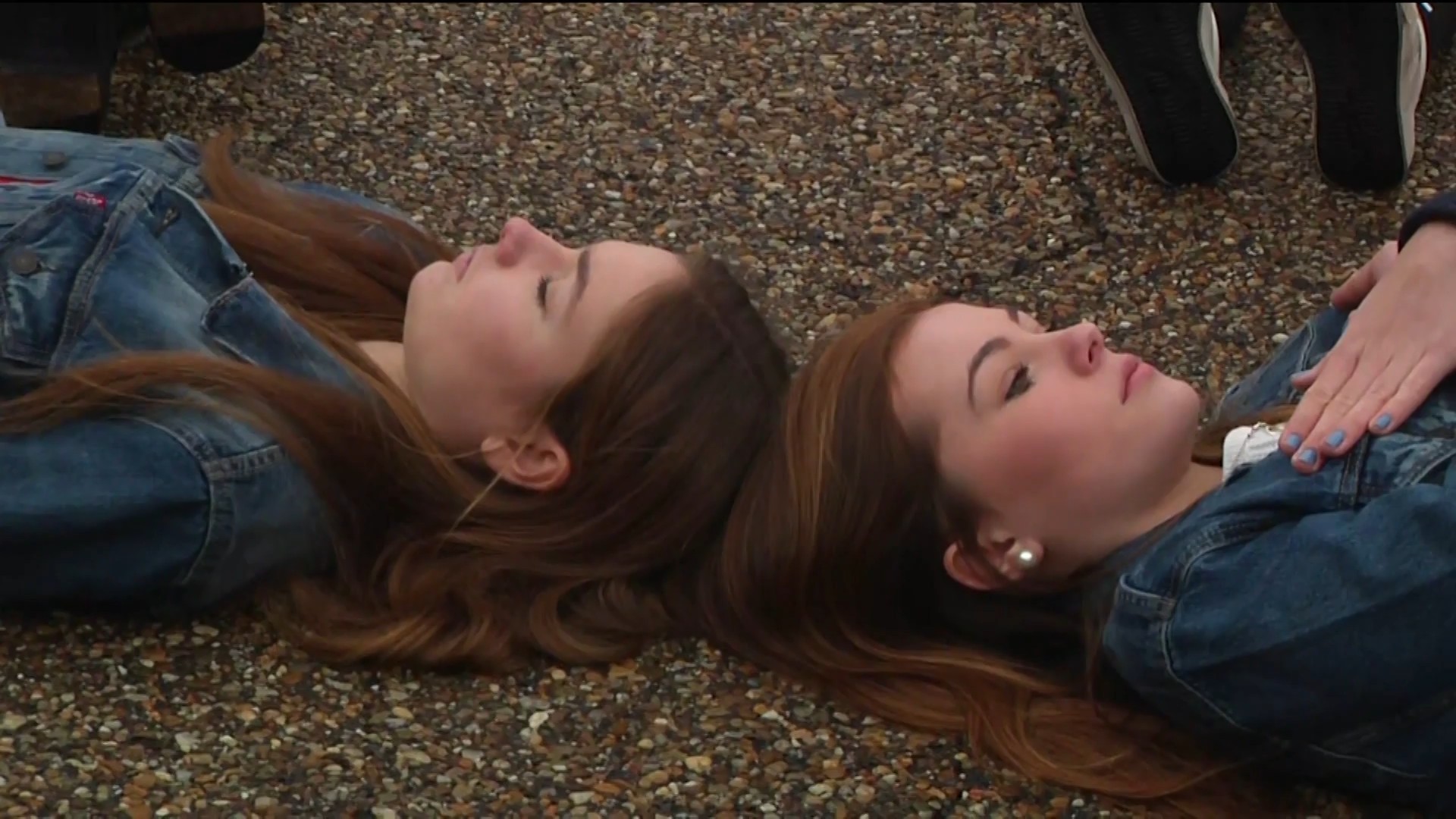 ---
The organizers and speakers at the March for Our Lives—the stars of this hastily assembled movement like Parkland survivors Emma Gonzalez and David Hogg—have not been proposing a repeal or rewrite of the Second Amendment. Instead, they want sensible gun reform, and have reasonably concluded that politicians will need to stop accepting so much money from the National Rifle Association if that's going to happen. "When politicians say that your voice doesn't matter because the NRA owns them, we say: No more," Hogg said in one of Saturday's more fiery moments. "When politicians send their thoughts and prayers with no action, we say: No more. And to those politicians supported by the NRA, that allow the continued slaughter of our children and our future, I say: Get your résumés ready."
Of course, in a dilemma certainly not unique to to #NeverAgain in the annals of left-wing protests in modern America, there was a bit of confusion among some of the people on the ground in DC this weekend about the precise purpose of the gathering, even if the villains—like the NRA—were universally understood. The mission statement on the march's website read that the organizers were seeking "a comprehensive and effective bill" to "address the gun violence issues that are rampant in our country." It did not state exactly what that might look like, though a press conference, online petition, and "shadow" congressional hearing before the march teased out demands like an assault-weapons ban, universal background checks, and a ban on high-capacity magazines.
Even if demands were still being disseminated, the spectacle ultimately seemed much more focused than the Women's March of 2017 and even the Charlottesville Unite the Right rally that ended in death last summer. Standing up against the idea of children being slaughtered at school is one thing, but the throngs of activists I met were well-aware of the gun lobby's historical stranglehold on American politics—and determined to enact specific changes to gun laws. The single-issue nature of the affair might have limited total turnout—one estimate cited by the New York Times put the March for Our Lives headcount in DC at less than half that of the Women's March last year. But it also suggests these kids weren't content to make a one-time statement about identity or resistance—they wanted legislative results, and they were gearing up to do the dirty work of making that happen.
"The Parkland kids and others were breathtakingly impressive as organizers as well as orators— smart, focused, media-savvy—and lots of other groups came to help," said Todd Gitlin, a Columbia professor and former president of Students for a Democratic Society who studies social movements. "It's extraordinary that they have a clear sense of what they can do and at the same time an un-inflated recognition of all the others they need to bond with, including black kids in Chicago, Washington, and elsewhere, and adult groups."
Gitlin added that the big questions this movement now faces include how the Parkland graduates can stay in touch with those still in high school in the years ahead, what mechanisms they can create for deciding on subsequent actions, and how they mobilize to continue registering voters and turn them out in swing districts in November.
Demonstrating they're up to that challenge—that they won't tire or shed their precision—has been a mantra of Parkland survivors. The crowd skewed young on Saturday, the weather in the district was beautiful, and entertainers like Ariana Grande performed for free. But the somber nature of the occasion never strayed far from the surface: This wasn't a party for kids on spring break even if some of them were, in fact, on spring break.
Einav Cohen, a sophomore Parkland survivor, recalled standing next to Kanye West, Kim Kardashian, and George Clooney during the rally. While she acknowledged that was exciting, she was adamant it wasn't the best part of the day. "The speeches definitely outweighed the performers," she told me afterward. "That was what was important. Like [fellow survivor and speaker] Ryan Deitsch said, it wasn't Coachella—it was a march for our lives."
Still, there was fun to be had: Attendees seemed to realize cardboard signs essentially amount to analog memes, and that if they made good ones, they might get posted on Instagram and Snapchat and actually seen across the world. Posters comparing the NRA to evil Patrick Star from Spongebob Squarepants and joking that the group's notorious spokesperson, Dana Loesch, was a crisis actor were basically magnets for photographers hungry for clicks and shares.
But that gets at part of why the Marjory Stoneman Douglas kids have been so successful at galvanizing the nation since the tragedy at their school last month: they know how to play the modern media game. In the days after survivor Sam Zeif's texts to his brother made headlines, he started hitting the cable and talk show circuit to honor the memory of his friend, Joaquin Oliver, who was killed in the Parkland attack. Although he had no political or journalistic aspirations, the lead-up to March for Our Lives for Zeif consisted of a staggering pace of interviews with everyone from Ellen DeGeneres to Brian Williams.
These kids are running a more sophisticated operation than some major-party political campaigns. And they aren't going anywhere any time soon.
"He went to bed a 17-year-old and woke up as someone who needed to be 30-something," said Zeif's father Doug, who attended the march with his son. "You never know how you're doing as a parent—the metrics that you go on are like report cards and grades. But the way he acted in those texts, I couldn't have done anything better myself. In this process, my son has become my hero."
Sign up for our newsletter to get the best of VICE delivered to your inbox daily.
Follow Allie Conti on Twitter.