Oil prices are dropping right now, but the reasons why it's dropping aren't necessarily such good news for consumers.
Crude tumbled about 3 percent to trade below $50 a barrel in New York on Friday afternoon. The selling was driven in part by traders' nervousness about Tropical Storm Nate, which is swirling in the Gulf of Mexico and on a trajectory that may soon threaten key U.S. refining facilities in the southeast.
If the storm does eventually make landfall in coastal Texas or Louisiana, it would likely lead to shutdowns of refineries and thus reduced purchases of crude to turn into gasoline and other finished fuels. Such a scenario played out recently around Hurricane Harvey, which temporarily shuttered more than one-fifth of all U.S. refining capacity and prompted a September spike in retail gasoline prices.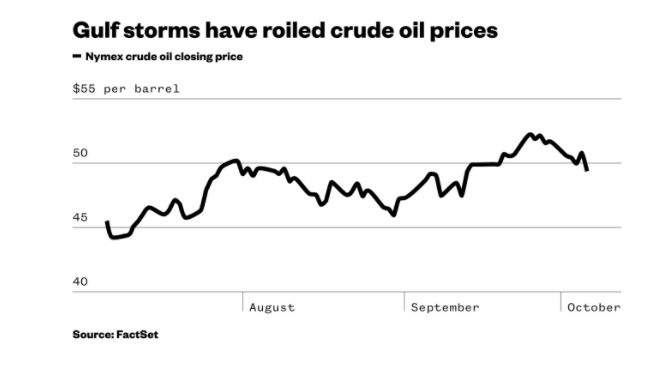 Nate is the latest addition to a growing list of factors weighing on oil. The commodity tumbled 4 percent for the week, its first weekly decline in a month.
Other market drivers lately have included:
– A surprising rise in U.S. exports of crude. The latest weekly data from the Energy Information Administration showed that outgoing shipments of American crude are at a record 2 million barrels a day right now. Since the U.S. is usually the world's biggest consumer of oil — and thus tends to hold onto whatever it can produce domestically — the jump in exports has been read by traders as a signal of potential global oversupply of crude.
– A stronger dollar. The Federal Reserve is widely expected to begin tightening the supply of money flowing through the U.S. economy soon, in a bid to stave off inflation. As a result, the greenback has rallied almost 3 percent versus the euro over the last month. That move has effectively made goods traded globally in dollar terms, including commodities like oil, a little cheaper.
– Speculators' chart watching. CNBC points out that crude has basically stalled around $50 a barrel right now in part because that round number has itself become a rallying point for oil skeptics. Whenever oil approaches that number lately, it prompts some short term-focused traders to sell, which then creates a self-fulfilling (if temporary) decline in the price.
Of course, the drop in oil prices has caught the attention of overseas producers, who are eager to "remedy" the situation. Saudi Arabia's King Salman recently made his first visit ever to Russia, with a possible deal to cut global oil production high on the agenda in talks with President Vladimir Putin.
Russia isn't yet fully committed to such a move, however, according to a Reuters report Friday.