The story of Jemaah Ansharut Daulah, the now-notorious terrorist organization behind a string of deadly attacks, including the suicide bombing of three churches and a police station in Surabaya, began in the hilly resort town of Batu, less than an hour outside the city of Malang, East Java. It was there, in a town where Dutch colonial rulers and businessman used to holiday, that 30 men came together for a secret meeting called by Saiful Munthohir, a hardened jihadist who had fought alongside Islamic militants in conflicts in Poso, Central Sulawesi, and Ambon, Maluku.
The meeting called together 30 or so supporters of the Islamic State (ISIS) for a Quran recitation session where, by the end of the meeting, each of them had pledged allegiance to a newly formed group called Jemaah Ansharut Daulah or JAD. The earliest mentions of the group hit Indonesia's national intelligence networks a few months before the meeting, back in March of 2015, but it allegedly took Saiful and his crew until November to convince Indonesia's then unaffiliated terrorist groups to meet and unite under a shared goal—establishing an Indonesian caliphate that answered to ISIS.
The meeting wasn't without its drama. Several members of the older militant group Jemaah Islamiyah (JI) refused to show. But the meeting, even with JI's absence, was considered a success by Saiful. A few days later, Saiful was waiting in the visiting room of the Kembang Kuning Penitentiary, on the prison island of Nusakambangan, in Central Java. He was there to meet the man who had envisioned the formation of JAD from behind bars—Aman Abdurrahman.
Aman, real name Oman Rochman, has become a familiar name since JAD burst onto the scene. Here at VICE's Indonesia office, we've spent a fair amount of time tracing the deadly rise of JAD, from the bombing of a bus station in Jakarta to the recent attacks in Surabaya and Sidoarjo, East Java.
The following is the most-complete account we have constructed to-date of the organization's formation and its ambitions to stage several high-profile terrorist attacks in Indonesia, the likes of which the country hasn't seen in more than a decade. Much of it is based on court documents obtained by VICE that detail the charges against the terrorist leader and numerous interviews with experts who study terrorist networks conducted over the course of the last year.
---
Watch: This Indonesian School is Deradicalizing the Children of Convicted Terrorists
---
The thing about Aman is that he isn't some hardened jihadist or battle-tested mujahideen. Instead, he's something of a spiritual leader amongst Indonesian terrorists, a man who advocates takfiri—the controversial practice of claiming that Muslims who don't share their radical views aren't actual Muslims. It's worth noting here that ISIS shares these same interpretations of Islam and that it uses takfiri to justify attacks on other Muslims in countries like Iraq.
Aman preached takfiri during his time as a lecturer at Jakarta's Saudi-funded Institution of Islam and Arab Knowledge (LIPIA). His sermons quickly cemented his position among the most-popular preachers for proponents of radical Islam. He was fluent in Arabic, knew the Quran front-to-back, and his book Seri Materi Tauhid, which argued that Islam and democracy can't ever co-exist, was a popular text among Indonesian jihadists.
He was sentenced to nine years in prison back in 2010 for helping the man accused of planning the 2002 Bali bombings elude capture and funding a terrorist training camp in Aceh.
Today, Aman is a central figure in the formation of JAD—some say it was all his idea—and back in November of 2015, Saiful was at Nusakambangan to tell Aman that his dream of a centralized Indonesian terrorist network was one step closer to becoming a reality.
Saiful allegedly told Aman that it was his plan to ask the members of JAD to board flights to Syria where they could wage jihad as part of ISIS. That's when Aman gestured for Saiful to lean in closer. The deadly ISIS attacks on Paris, France, had only occurred a few days before. That attack left Aman feeling inspired. It was important to go to Syria, he told Saiful, but if any of their members couldn't make it to the Islamic State, then they could just wage jihad right here in Indonesia.
"There's an instruction from umaroh (Abū Bakr al-Baghdadi, the leader of ISIS)," Aman whispered to Saiful, according to court documents prepared for the ongoing case against Aman that were obtained by VICE. "The technicalities of it will be delivered by Rois."
The Rois he's talking here about is a man who shared a cell block with Aman. He was sentenced to death for his role in the 2004 attack on the Australian embassy in Jakarta and together both men, along with several others, were still very much involved in Indonesia's terrorist networks despite being behind bars. Rois was expecting Saiful when he arrived, and, leaning forward, he reiterated that it was their plan "to execute an amaliah jihad (an attack) just like the kind that happened in Paris, France."
Saiful was a bit hesitant to throw his weight behind Rois' plans. He was still a member of Darul Islam, another terrorist network with roots in West Java, and he was using that group as a way to restart a military wing under his command out in Ambon. Saiful has a long history with the city of Ambon. Back when the region descended into a bloody sectarian conflict, he was right there in the middle of it as part of the Committee of Crisis Countermeasures (KOMPAK), an NGO that was, on the surface, meant to counter the violence, but, in reality, was used to funnel Islamic militants right into the middle of the clash.
One of his disciples was making a name for himself out in the then-ongoing conflict in Poso and Saiful was eager to get back into that kind of armed militancy. But Rois wanted something that would grab far bigger headlines. The East Indonesia Mujahideen had waged an Islamic insurgency from the forests of Poso for years without much attention. Rois wanted a big attack, an attack that targeted civilians as well as police, and, more importantly, he had the money to make it happen.
Rois had somehow received Rp 200 million ($14,390 USD) from Syria to carry out an attack. Saiful purchased some guns from militants in Mindanao, in the southern Philippines, and quickly found four men willing to martyr themselves in the kind of attack Rois wanted to see.
It took less than two months for Rois' deadly dream to become a nightmare for everyone sipping coffee, working, or crossing Jalan Thamrin, in Central Jakarta, on 14 January 2016. Eight people, including all four terrorists, were killed in that attack, the first one linked to ISIS to hit Indonesia. Twenty-four others were injured.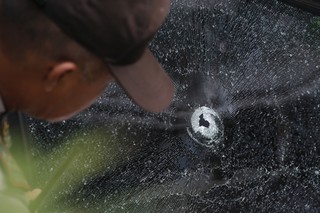 The Jakarta attacks, dubbed the Sarinah bombings in the press because of their proximity to the city's oldest mall, were only the start. In the coming years, JAD was behind the firebombing of a church in Samarinda, East Kalimantan, that killed a child and left five other injured. In May of last year, it was behind the twin suicide bombings of a bus station in Kampung Melayu, East Jakarta. And then this month, JAD launched its deadliest attacks to-date in Surabaya and nearby Sidoarjo.
There's a straight line between those attacks in Surabaya and that whispered conversation between Saiful and Aman that took place in Nusakambangan back in November of 2015. It took a little more than two years for a plan hatched in the cells of one of Indonesia's most-secure prisons to explode on the streets of Indonesia.
So much of this story revolves around those two men—Saiful and Aman. The pair met back in 2003 when Aman was preaching at the At-Taqwa mosque, in Tanah Abang, Central Jakarta. Aman was a masterful preacher and his sermons on takfiri, the incompatibility of democracy and Islam, and the need to wage war against any democratic government really struck a chord with Saiful.
The two men were perfect counter-balance to each other. Aman had spent years studying Islamic texts and the sermons of Salafi ustads like Abu Muhammad Al Maqdisi. Saiful, on the other hand, was an expert in violence. While Aman taught Saiful about the theological justifications for jihad, Saiful taught his scholarly friend how jihad was actually waged. He brought Aman out to the forest near the University of Indonesia and made him run training drills, doing push-ups, jogging long distances, and practicing self-defense moves.
When the self-defense drills weren't enough, Saiful asked Aman if he wanted to learn how to build bombs. Aman quickly offered up his home in the suburbs of Jakarta to be used as the site of regular bomb-making classes and Quran recitation meetings.
After only three bomb-making classes one of them accidentally exploded, taking off part of the home's roof with it. No one was killed in the explosion, but Aman's neighbors had enough. They reported him to the police and he was sentenced to seven years in jail. But Aman only served two of those years and by 2008 he was back on the streets and ready to dive deeper into the world of armed jihad.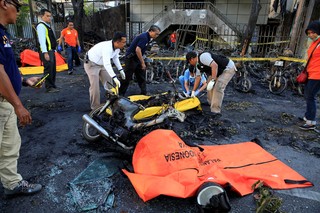 But by then, Saiful was already gone, having fled to Ambon in an attempt to elude authorities who were looking to arrest anyone else who was a regular at Aman's home. In Ambon, Saiful continued to stage attacks on Indonesian police, including the 2006 attack on a police station in West Seram, Ambon, that left five members of the National Police Mobile Brigade (BriMob) dead, while also killing the local police chief.
Saiful was locked up until 2011. But he too left prison and got right back into his old life, meeting with other jihadists as part of his plan to restart the conflict in Ambon. He also remained in touch with his old friend Aman, and that's how he ended up being the man tasked with bringing Aman's jailhouse dream of a new terrorist network into the real world.
The two men were reunited again last week, this time at the South Jakarta State Courthouse. Saiful, who was jailed once again, this time for nine years for his role in planning the Sarinah bombings, was brought in as a key witness in the state's case against his old friend Aman.
The trial offered outsiders the most-complete view of JAD yet, including a detailed description of its organizational structure and the names of many of its top commanders. According to an indictment statement read out by the public prosecutor, Aman was the spiritual head of an organization that was led by an emir and an asykari, or military commander. These men oversaw a loose coalition of local leaders from the provincial level down to individual sub-districts. These leaders all worked together to plan terrorist attacks and recruit Indonesians to fight overseas in Syria.
---
Watch: What It's Really Like to Fight for the Islamic State
---
But while JAD shares some of the similar organizational positions as more established terrorist groups like JI, it lacks the a central coordination or reporting structure. That makes it much harder for authorities to combat. While, in the old days of JI, the arrest of someone high enough in their ranks could hobble the terrorist group, the arrest of anyone in JAD only affected the small section of the larger group that they were directly involved with.
According to police, most of the recent attacks by JAD were carried out without the knowledge of anyone at the top. There were known cells active in West Java, Central Java, East Java, Kalimantan, South Sulawesi, Ambon, West Nusa Tenggara, and Jakarta, but no one really knows how big any of these cells actually was. That's why, despite a recent wave of arrests, most experts doubt that we've seen the end of JAD.
Experts point to four reasons as to why JAD may be harder than most terrorist networks to bring down:
the decentralized nature of the group means that no one person knows everyone in, or everything about, JAD
the group relies heavily on social media to recruit new members, and it allows people to pledge allegiance to JAD without ever meeting face-to-face
the upper echelons of JAD are all together behind bars in prisons where they can easily communicate with militants on the outside
the group can easily regenerate thanks to the fact that Aman has hundreds of followers who agree with his views
"Regenerations happen within the networks of terrorists," said Sidney Jones, the director of the Jakarta-based Institute for Analysis of Conflict (IPAC). "JAD is the biggest supporter of ISIS, but they don't stand alone. There are many smaller groups who support ISIS too, and their capacity for regeneration is well-documented."
IPAC traces the growth of small militant groups in Indonesia, and it has identified several groups that, while not direct affiliates of JAD, share most of JAD's ideology. These groups, Khatibul Iman in Solo and Jambi; Al-Hawariyun which is connected to ISIS and Syria; and Negara Islam Indonesia (NII) in Bandung, Makassar, and Riau; all operate independently command-wise but are connected with JAD through a shared ideological thread.
"Consequently, there's a competition to conduct amaliyah (an act of terror)," Sidney told VICE. "It's easy to start a new cell and to recruit people."

Aman, himself, continues to deny any allegations that is was behind the recent string of JAD terrorist attacks. His friends told the courts the same thing, explaining that Aman wasn't all that good at jihad, so they saw no need to involve him in any of their plots.
He also denied that he has ever advocated for jihad. While much of his sermons are on tauhid and takfiri, he claims to have never talked directly about jihad. He said that the attack on a church in Samarinda—the one where a child died—had "violated Islamic laws and was conducted by people who didn't understand the teachings of Islam."
"Even though I consider government officials as kafir," Aman told the court, "even until this very second, in any of my published writings, I have never instructed my brothers to attack government officials."
But even if what Aman says is true, that doesn't mean he is totally innocent, said Adhe Bhakti, the director of the Study Center of Radicalism and Deradicalization (PAKAR). In Indonesia, it's very common to find terrorist networks that keep their spiritual leader out of the official organizational hierarchies.
And sometimes spiritual leaders don't even know the details of what the organization is even up to, Adhe said, pointing to the jailed spiritual leader of JI, Abu Bakar Basyir, who was able to inspire the terrorist group while keeping his hands out of any specific attack.
"Aman may not know anything about the attacks, but he has always been a reference for his followers," Adhe told VICE. "That's why spiritual leaders always keep their hands clean."