Photos by Ben Guzman

Nelly Furtado's bona fide joy is so pronounced it can be felt over a transcontinental phone call. Speaking to me from Los Angeles while I was sat in a hotel in Williamsburg, Brooklyn, I can feel how Furtado's voice journeys higher, ironically, in exuberance as she tells me a story about once being so enamoured with Pierrot, the Commedia dell'Arte era sad clown with white face paint who was would get his heartbroken, and was typically viewed as buffoonish and naive. She builds to an exclamation point talking about owning a hand-me down bedroom set and lamp covered with images of the most infamous sad clown before she tumbles into a welcome break of laughter. Furtado is one of Canada's, if not the world's, biggest pop stars who has run the media promotion track several times in her life.

Furtado's readying the release of her sixth record The Ride, which is out at the end of March, her first since The Indestructible Spirit from 2012. It is a real departure from her previous records, both creatively and metaphorically; the album art for The Ride is a instant giveaway to that. All of Furtado's prior albums from her debut Whoa, Nelly to the fantastic pop smash Loose to her Spanish language record Mi Plan bear similar typography; looping, swirled letters that are more—as she would be happy to call it herself—hippy-like. On The Ride's album cover we're presented with a more stoic looking Furtado wearing overalls and holding yellow flowers with lettering reflective of that: simple lines (NF denoting the singer's name) and typewriter style for the album's title. "The whole album, to me, is a mistake confessional booth," Furtado says. "It's kind of like really looking at the ugly oily puddle and saying 'that's beautiful!'"
What Furtado tells me, and it is something that she will tell all of us, is that The Ride is her turning point record. Artists go through these creative ebbs and flows; shedding their figurative skin, as it were. For Furtado, at 38, her turning point meant doing something for herself and by herself for the first time in a long time. For 18 years, Furtado had a (platonic, very important) relationship with her manager and it was on its way out before she started The Ride. That partnership was completely finished by the time she went to the United Kingdom to do a few sessions outside of London in a town called Ripley. "I arrived in the UK a little bit broken. I was having a particularly low moment in my life," she says. "I had just lost this long business relationship and I kind of was aware that I was in the next step forward in my life." A large part of her record reflects this headspace; her journey to the unknown as an artist and person. "I was totally alone and I woke up in the middle of the night in a cold sweat thinking 'what the hell are you doing here? And who do you think you are?' I realized that if I didn't have music then I'd have nothing at all!"
Here is when Furtado wrote the first song for The Ride, which appears as the last song on the record: "Phoenix." It served as her starting point to unravel the old version of herself and find the new. It wouldn't be until a year later that she'd record the vocals for "Phoenix" with her new producer and mentor John Congleton. "The song became a blankie and it was making me feel better like we're not alone in the universe," she says. "John and I struggled getting the production right on that song. He loves Brian Eno and he loves the album Music for Airports so he used that as a reference for producing it. It's the type of song where if you don't produce it correctly it can sound saccharine, you know? We almost went off in a Bruce Springsteen direction. Can't you picture Bruce Springsteen singing that song? 'Like a phoeeeeenix, aahhhhhhh!' I can't!" she says, laughing afterward for a full thirty seconds.
Furtado met Congleton through Annie Clark (known to us mortals as St. Vincent.) Furtado has had swerves into the indie pool; most notably, recently anyway, with Blood Orange's Dev Hynes where they released cassettes of their collaboration. With Congleton, Furtado says she emerged as more of an artist; following Congleton's lead in pursuit of something higher than what she calls commerce (or commercial success.) This isn't to say she wasn't an artist before in the more serious sense of that word but Congleton brought that out in her; he challenged her, which is something she says she likes in a producer. That is the link between Congleton, Hynes, and Timbaland, the latter of which has fingerprints are all over Loose—they all challenged Furtado to unlock her highest potential. "What had happened was, when you're this female in the music industry you want to progress, but you want to support people along the way," she says. "I think what happens is, you tour and tour and tour and build this mini-empire and you kind of go 'wait a minute? Was I kind of doing this for me?' You go 'wait? What about the quiet needs of my soul? I have been ignoring the quiet needs of my soul.' I just started to pay attention to the quiet needs of my soul… I started to miss the hippy girl in the flower dress from Victoria who used to write songs in the livingroom on her guitar."
The Ride is a metaphor for Furtado's life. "Life can take you on a ride. I mean, a person can take you on a ride. You can choose to be taken on a ride. You just, you know, really life can play out like a ride with a lot of highs and lows," she says. The carnivalesque imagery is front-and-center on tracks like "Carnival Games", "Magic", and "Tap Dancing." What drew Furtado to tell me about being so obsessed with a character like Pierrot is that, for most of this album's writing and recording, she felt like a sad clown herself. On "Tap Dancing", Furtado as the Entertainer comes through. She says it's a song that "really [recognizes] that just because you're an entertainer on stage, doesn't mean you have to entertain people in your personal life, too. And doesn't mean you have to be full of drama and excitement. It's okay to be quiet and simple and contained." The Ride is thoughtful in execution; not necessarily reaching for the highest of pop heights, though there are some danceable bangers like "Flatline" and "Cold Hard Truth," on which she tells me Congleton directly referenced Stevie Wonders' "Superstitious" , giving the album more funk. During a session Furtado says she worked on a beat that was originally made for RZA. "[Congleton] writes with a lot of rock, alternative, and punk people who already have their songs written and stuff and so he pulls up this RZA beat or whatever and I was like 'I like this one!' I started writing to it and I just kinda like adapted it and it became the song 'Right Road.'"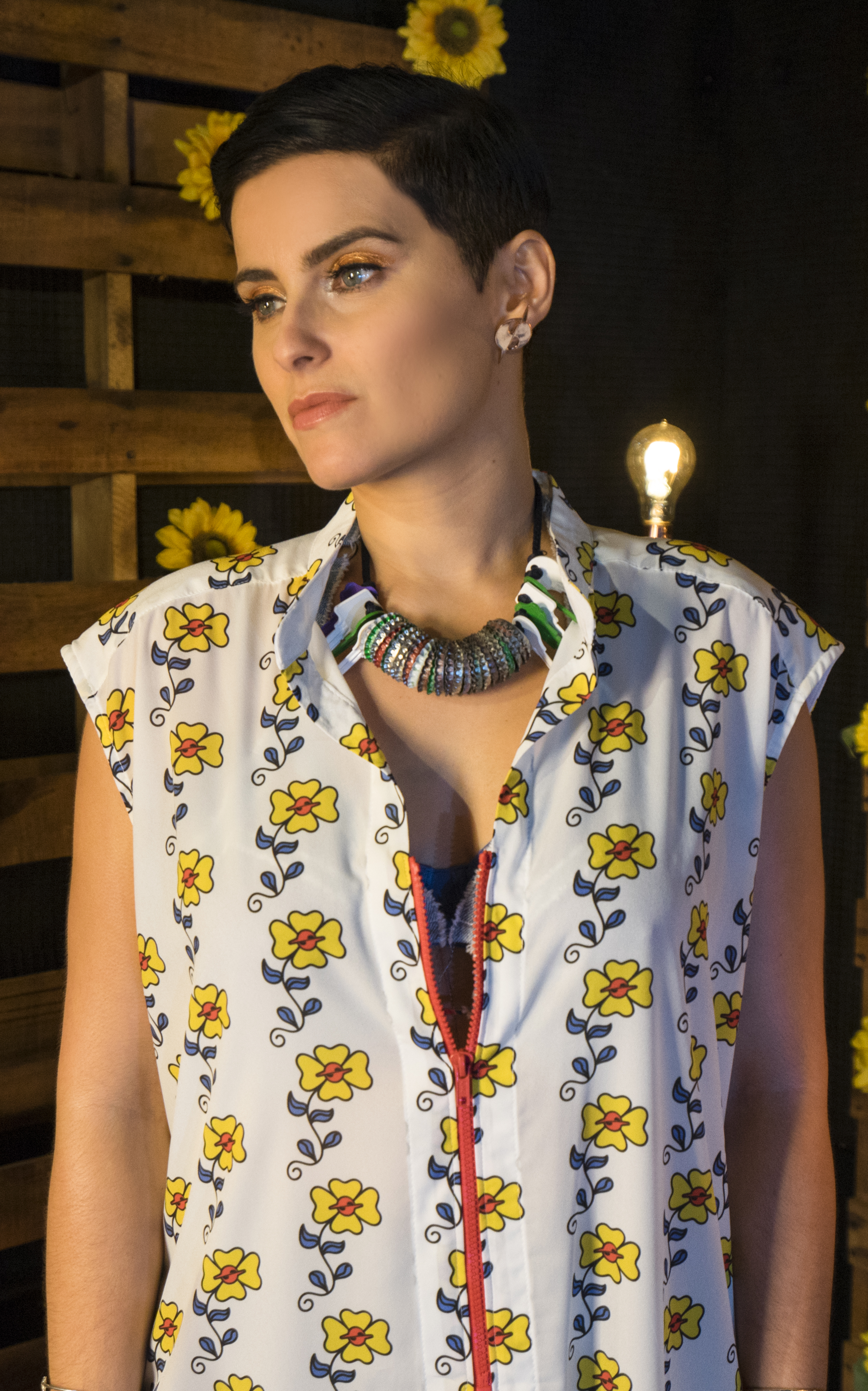 As much as Furtado belongs to the larger pop world, one of those few acts to crossover and not just find success in North America but internationally, too, she still remains one of ours. She is a first generation Portuguese woman born to immigrant parents from Victoria, B.C. whose whimsical, earnest flights of fancy on Whoa, Nelly—specifically "I'm Like a Bird"— captivated MuchMusic video countdowns in 2000. Furtado now lives in Toronto; sometimes taking sewing classes or pottery on her downtime, especially during her sort of out-of-office period in her life during The Ride's writing and recording. Furtado is excited for the new wave of Canadian artists; the ones gaining national and international acclaim. "One of my favourites is River Tiber who I've become friendly with and we've been writing together. And I've been texting with Charlotte Day Wilson because we've been trying to get into the studio together," she says. "Someone i'm really proud of and excited for is Mustafa Ahmed—I've known him since he was 15 . And, oh my god, I finally got see BadBadNotGood perform live—we have mutual business associates and friends," she tells me, "and we finally got to hangout. We were in the dressing room and Ryan Hemsworth who is also part our extended music biz fam was also there. There is this real pride… I watched BBNG and watched them deliver what was somehow both a sublime and altruistic show."
Furtado is as proudly Canadian as any of our pop stars. But she understands the country's growing pains as we all come to terms with the kind of racism, misogyny, and xenophobia that, though we're not exactly America right now, means we're not wholly immune to or removed from it. In an op-ed that appeared on Jezebel in February, Furtado wrote about her experience singing the national anthem at the NBA All Star Game in Toronto last year. She changed the lyric from "in all our sons command" to a gender-neutral "in all of us command", which, along with the indigenous hoop dancer and flute player Tony Duncan who joined her, caused some unnecessary friction online. People tweeted vitriol at her about going back to Portugal, telling Furtado she is inauthentic, not truly a Canadian. The experience left her upset but not long after she received letters of support from children at the Timiskaming First Nation Kiwetin school in Quebec. Furtado and Duncan would go and surprise those children, performing the anthem again, making a real connection with those kids and the community. "I want to hear more Canadian stories, the new Canada, the things that are building, the things that are bubbling. The things… I'd love us to keep on opening our collective Canadian unconscious, our national, I guess, self-image," Furtado says. "It was a beautiful exchange of friendship. I always felt like those children needed to be honoured in a story. That's why I wrote the piece for Jezebel."

For as joyful and silly as Furtado truly is, a kind of expressed happiness that is rare to sincerely find, she is also very wise. That wisdom can sometimes get lost on the pop charts. The Ride is the record Furtado has needed to make in the five years since her last. Speaking about opening up and readying not only the process of beginning a new record, but one that interrogates the very fabric of yourself, Furtado plainly and quietly says, "I think when you make big choices, it could be the right decisions, but you're still unsure of your footing, you still feel lost." In the end, though, it paid off.


Sarah MacDonald is an Assistant Editor at Noisey Canada. Follow her on Twitter.