Images: David Akerman
Share house couches are still bullshit.
It's early evening and Royal Headache are tucked in guitarist Lawrence 'Law' Hall's small living room in Sydney's inner west. Love's classic 1969 album Forever Changes is playing and the band; Law, Tim 'Shogun' Wall, Joe Sukit, and Chris 'Shortty' Short are trying to get comfortable.
We are here to chat about the band's upcoming record High, one of the most anticipated Australian albums of the last few years.
But for the moment the discussion is about Love. Talk turns to the LA band's earlier albums and vocalist Arthur Lee. "Listen to how dark the lyrics on this album are. It's crazy," says Shogun who starts singing along to the track "Wise Old Man". "I think I ripped a bit off that", he laughs.
Though you wouldn't know it as they talk about late 60s pop music and drink beers in a Redfern share house, Royal Headache have had a rocky few years.
The band split and promptly disappeared in 2013, refusing record company offers after their 2011 self-titled debut of soulful and melodic garage punk became a cult hit in Australia and beyond. They reformed last year, played a handful of sold out shows and will be in the middle of their third US tour when High is released later this week.
----------------------------
There aren't many bands in 2015 with the balls to release a song like "Wouldn't You Know". But then there aren't many bands that have a vocalist like Shogun.
A standout on an already exceptional album, the track is a tender love song that begins with Law's simple guitar strum, and then burns with tinkling keys and an earnest and powerful vocal delivery.
"I wanted to do something a little classy", the singer explains. "As you get a bit of a reputation of being a piece of shit noisey garage band you want to reach a little higher and further. Do something a bit more special and revealing."
All ten songs on High are that bit more "special and revealing". In just under 30-minutes the record is short but full of joy and hopelessness with touches of sadness.
"To be honest they are all sad songs. There's no other reason to write a song," explains Shogun. "A song for me is someone trying to deal with a rift between themselves and reality."
For Shogun, stepping out of and challenging comfort zones is punk.
"Singing a traditional love ballad to a bunch of Sydney punk kids is one of the most hardcore things you could do. Sing a pretty song to an Australian set of heteronormative people. Miss the mark and you're really in deep shit."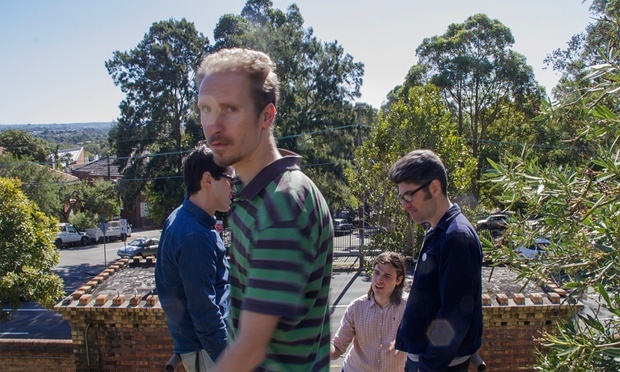 Royal Headache was born in in a boatshed in Putney, a scenic if sleepy Sydney suburb on the banks of the Parramatta River. It was here that Shortty and Law started jamming in 2008. "We just wanted to do something more stripped back. A back-to-basics rock and roll sensibility", explains Shortty.
Shortty had been playing in a number of hardcore and punk bands while Law had come from Eucalypt, an emo post-punk band. "I didn't play guitar properly. Weird octaves and single notes. [In the early jams] I had to learn bar chords," he laughs about the days they jammed power pop influenced by the Nerves, the Buzzcocks and the Marked Men.
On a trip to Melbourne's Flip Out festival they handed out copies of their rough instrumental demo hoping to find a singer. Law remembers the lineup fondly; Eddy Current Suppression Ring, Deaf Wish, UV Race, Straight Arrows, "I remember saying "This fest is sick we have to play it next year"".
The following year they headlined.
The demo piqued the interest of Shogun who had known Shortty from the Sydney punk and hardcore scene. At the time he was playing guitar in Baltic, a band he describes as "cock rock where I'd do wails and shred".
Singing in a band is something he'd always wanted to do.
"The tape was pretty sloppy but very spirited. The moment I heard it I wanted to insinuate my way into the band" he laughs.
"I'd always been a hardcore nerd but I was getting more into the lovely form of punk singles. Short and raw but incredibly infectious songs. Just everything you can fit into that juicy minute and a half."
A fan of the Smiths and Cure since his early twenties, Shogun says that even the dark pop of Morrissey and Robert Smith wasn't dark enough for that period in his life. "Life was going down the toilet a bit. People were fucking up and partying too hard. Even the rental and living conditions were getting worse. It just made sense to do something louder. The New Order synth paradise of the world wasn't ringing as true. It needed something with more guts and distortion and Royal Headache came about at the right time."
The band's first show was in late January 2009 at a warehouse space called Maggotville where they played alongside Eddy Current Suppression Ring, Naked on the Vague, Kirin J Callinan and Dead Famers.
When I spoke to them in 2009, Royal Headache had only played three shows but already word was buzzing about this raw garage band with the amazing vocalist.
Joe had moved to Sydney from Cairns and met Shortty at a Straight Arrows show. "I heard their bass player was leaving so I just forced my way into the band. I just told them that I could play bass very well. And I lied! (laughter) I'd never played bass. After the first practices I was like "They know! There's no way I'm going to be in this band anymore."
Joe stayed and Royal Headache soon became 'the' opener for any touring international guitar band. Though often blowing the international band off stage, the novelty of travel and playing for peanuts soon wore thin.
"It was a weird situation because we had a bit of a following from the get go," explains Joe. "We were mentioned on Pitchfork and then it got a bit buzzy. We got the Buzzcocks support. This was all before we had a record. It seems we skipped a lot of steps."
A mid-week Melbourne support slot for King Khan and BBQ was the crux. "It was a Wednesday night and we had to fly to go to work the next morning," explains Shortty. "I remember we were in a taxi and saying "Why the fuck are we doing this?" We'd just rather play with our friend's bands."
The band had still yet to release any official album.
Marrickville's Factory Theatre is a short distance from where Royal Headache played their first show. It has a large stage and a good-sized PA but as in most 800-900 capacity rooms it lacks atmosphere or intimacy. The kind of place that hosts Bolt Thrower one week and Miss Pole Dance NSW the next.
Tonight it's Royal Headache. It's two weeks before they head off for their third US tour and joining them on the bill are Low Life, GLOSS and solo experimental musician Horse MacGyver. In typical Royal Headache fashion they blitz it. It's a short and tight set, the crowd whoop and holler for both the old and new material and sing along exuberantly with Shogun during "Really in Love".
In a short review the following day, respected Sydney music writer Shaun Prescott, mentions his surprise at hearing Shogun sing extra words during the song "Psychotic Episode". "It was blunt and unpoetic," wrote Prescott. "Just: "please kill me", repeated, in an unusual monotone, in a song with a tempo so high and an energy so overpowering that you don't even try bopping your head in time with it."
I speak to Shogun a few days later and he tells me that although those lyrics aren't on the first album they've been included in the live set for a while. "Maybe I don't feel that way anymore but I've been singing it for a long time."
Shogun is a straight talker. He's worked in a call centre for 10-years but doesn't suffer fools. He has excellent musical knowledge and an exceptional ear for melody. Hang out with him and you will hear lines from songs by everyone from Love and 80s Boston hardcore punk band DYS.
"I don't know why but there's something in human DNA that responds to the physics of harmony and melody. It's something I try to enrich but not tamper with too much because I have respect for it. I'm not trying to be anyone special and I think that's why people enjoy it is because sometimes the revelatory or avant-garde get in the way gets in the way and artists end up producing boring and forgettable music while desperately trying to be different."
And does he have a favourite singer?
"I'm interested in certain periods and certain styles but I don't idolise the work of any particular individual. I find most performers and musicians generally pretty questionable people. I don't close my eyes and feel like I'm really connecting with someone like Rod Stewart or Ian Brown because I don't want to connect with a prick."
"You belong in Melbourne," screams Shogun on "Garbage" the opening track on High's Side-B. Royal Headache are a very Sydney band or perhaps more accurately a very un-Melbourne band. Melbourne with its wealth of venues, bands and independent labels has long prided itself on being a music town. A culturally privileged city that is considered by many who live in Brisbane and Sydney to have its head stuck up its arse.
The venues of Brunswick and Collingwood are a long way from the boatshed on the banks of the Parramatta River.
Sydney in 2008 was heavily influenced by synth pop and indie rock. The 'Modular scene' based around the label that included acts such as the Presets, Van She and Bag Raiders ruled the musical landscape and was having a huge impact on radio programmers, venue bookers and punters.
"It was all rigged. It was about who you knew and how you looked", says Shogun. "We were just pushing music that we believed in as the foremost thing."
"People now are interested in noisier or more passionate stuff. Back then it was being completely ignored. Sydney was culturally bankrupt and the scene was dominated by tyrannically vapid shit. We had that to thank in a way because when we stared it kind of exploded. We didn't have many peers. It was almost a vacuum, which is free and liberating. Melbourne has an old tradition, which is great, but it can get a bit conservative."
There are some concerns that Royal Headache are becoming too popular. The Eddy Current-ification of a band. When a hugely talented band goes from playing pubs to arenas. When the Facebook event for a gig becomes a call for "PM me for tickets" or "need 2 tix". But the band remains grounded. They don't have a manager and with the exception of the upcoming US tour have booked most of their own shows.
"We don't act like a regular band most of the time", explains Joe. "People want us to be a proper band but any band becomes a product after a while. They want that 'thing'. But we have lives outside the band."
The band's break was Shogun's decision and he admits to being confused by expectations placed on him and the band at the time.
"I didn't understand what it was about anymore. Some of it wasn't making sense. I guess I just wanted to do something else. I was starting to feel like shit and I wanted to stop feeling like shit so I though quitting the band would help but it didn't so I rejoined (laughter)."
But the break was also productive. Joe got married and wrote new material for his other band Bed Wetting Bad Boys, Law travelled to the US and started a pinball importing business and Shogun played guitar with his friends Low Life, whose dark and despondent debut album Dogging was one of the best Australian releases of 2014.
The band reunited in part to finish High. A lot of the material was written around the same the first album was recorded but Shogun was growing frustrated with some of the songs and went looking for an extra element. He asked friend Gabrielle De Giorgio's to help out on keyboard and organ. "She came over and smashed out song after song. I showed the guys who may have been a bit skeptical about the idea at first but the keys on "Fantasy" or "Need You" or Wouldn't You Know" made the songs sounded completely different than before."
Shortty prefers to examine the album as a whole. "Even though it's a bit all over the shop I don't like the idea of singles were you have to pluck one out in isolation. You are supposed to listen to it as one long song."
Previous Royal Headache records have been released on RIP Society, the Sydney label managed by their good friend Nic Warnock, but for High the band opted for New York's What's Your Rupture. "Nic has a busy release schedule for the year. RIP was also a place for releases that wouldn't be released any where else. It kind of worked out to go with Kev at What's Your Rupture," says Joe.
Royal Headache are back and for fans of soulful and authentic music that's good news.
Shortty sums it up best. "The thing that is exciting with Royal Headache is that there are no rules and it's a bit of a mess because it's human and that's what people relate to."
'High' is available August 21 through What's Your Rupture?