LOL
It's over. Done. Finito. If you didn't apply for the chance to be the host of Noisey's new show, Headhunter, then you are definitely not going to be running around festivals this summer talking to hot people who love music. Sorry! Maybe next time. Right now we're in the middle of ploughing through the hundreds and hundreds of entries to find the perfect boy and the perfect girl to do the job. People who can talk! In complete sentences! And manage to sound informed and funny! It's a tall order and there have been some valiant efforts along the way.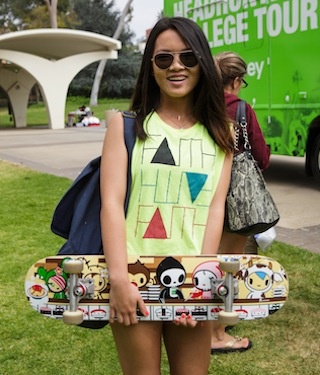 For our last stop we went to the West Coast to visit the University of California at Riverside. Cali prêt-à-porter was more tasteful than we expected, i.e. not everyone looks like Katy Perry and not everyone wears PacSun. On this coast it's all about color. Must be something to do with that 72 degrees and sunny thing. The campus was heavy on the skater vibes, which was made way better by the fact that there were kids who could actually skate.
Here's some students we thought were pretty rad.
Name: Breanna Ross
Age: 19
Area of Study: Political Science
Musical Icon: Michael Jackson because I'm an old school girl at heart.
Name: Dennis Shin
Age: 18
Area of Study: Psychology
Musical Icon: Because I'm a rapper myself, I pick up inspiration from other rappers. Right now I'm really into Childish Gambino, Macklemore, and Eminem.
Name: Jacqueline Curtis
Age: 20
Area of Study: Theater
Musical Icon: Karen O from the Yeah Yeah Yeahs, because she's always bringing something new to the table when it comes to style and performance.
Name: Abraham Lopez
Age: 22
Area of Study: Anthropology
Musical Icon: Being a musician myself, I really have quite diverse musical influences, but I really like Circa Survive and a lot of underground stuff at the moment.
One person here hasn't quite got to grips with how to apply gel...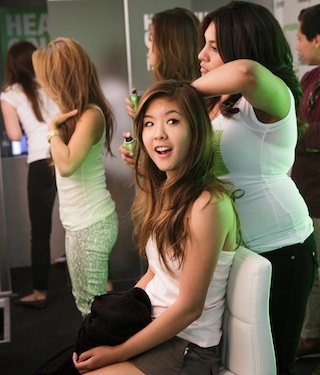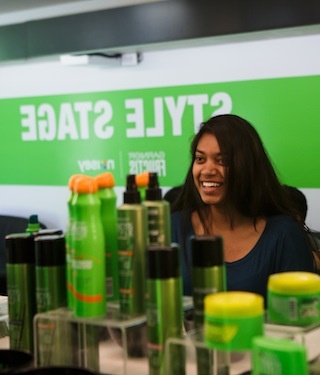 So that's the end of all this for now… but keep checking back to see who we've chosen to be the hosts of Headhunter. Only a week or so till all is revealed.
Style Stage is an ongoing partnership between Noisey & Garnier Fructis celebrating music, hair, and style.