The Jungle Book of the future gets realized in Odesza's new post-apocalyptic music video for their single, "Line of Sight," featuring Wynne and Mansionair. The video was shot by writer/director Daniel Brown, who shot the electronic pop duo's "Its Only" music video last year, in addition to his own surreal short film projects. Shot on the Hawaiian island of Kauai over the course of three days, "Line of Sight" follows the unlikely bond between a boy and a robot who strongly resembles the police droids in Chappie. South African director Neill Blomkamp just released an equally apocalyptic short sci-fi film called Rakka, which stars the legendary Sigourney Weaver. Otherworldly occupation, it seems, is on everybody's agenda.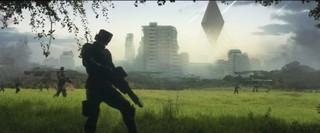 In "Line of Sight," as troves of these Chappie-esque droids scale the tropical wasteland, our protagonist navigates lush plains and overgrown jungles in search of food and shelter. He ultimately stumbles upon a downed robot that he quickly reboots. The two spend the rest of the video hunting together, playing chess, and dodging the other enemy robots. Harrison Mills, one-half of the Odesza duo tells NPR, "We may feel like we don't have control over a situation, whether it's technology or government or growing up, but through unlikely friendships, we can better understand each other and bridge the gap." Watch the full video below:
"Line of Sight" is the brainchild of production studios UNHEARD/OF and World Famous Inc. Check out more work by director Daniel Brown on Vimeo.

Related:
Custom-Built Helmet Turns Your Face Into A Surreal Film
Surreal Short Film Bends A Greenhouse Into A Shapeshifting Jungle