Australian politicians from both major parties have thrown their support behind calls from Australian Conservatives leader Cory Bernard for an ABC employee to be sacked over a comedy sketch that skewered one of his candidates. The bit, which aired on Tonightly with Tom Ballard, labelled the Australian Conservatives' candidate for the Batman by-election, Kevin Bailey, a "cunt."
"I think someone needs to lose their job over it, because it's not like these things go to air without being pre-screened," Senator Bernardi told ABC Radio Adelaide.
The sketch in question poked fun at the Batman by-election, drawing attention to the dubious history of the seat's namesake, John Batman. The deceased 1800s Australian "explorer" has been linked to multiple mass murders of Tasmanian Aboriginal Australians.
On the show, Tonightly correspondent Greg Larson provided a mockup of new posters for each candidate running for the seat with his suggested name for the electorate: "Batman-Was-a-Cunt."
There was one for the Greens' Alex Bhatal: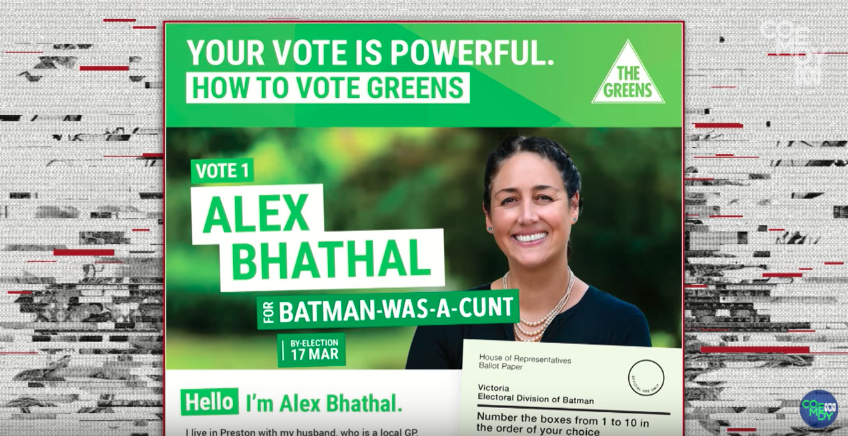 One for the eventually victorious former union leader Ged Kearney: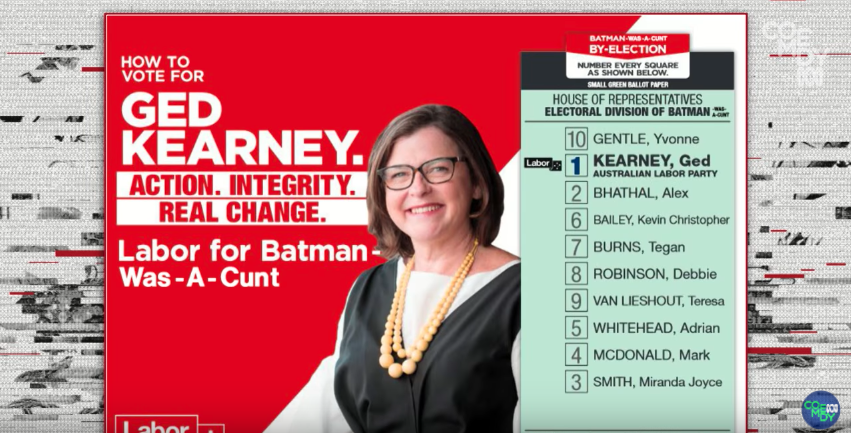 Unfortunately, Kevin Bailey's campaign poster didn't include the standard "For Batman" after the candidate's name. So Larson resorted to improvisation, simply adding "Is a Cunt" to the ad.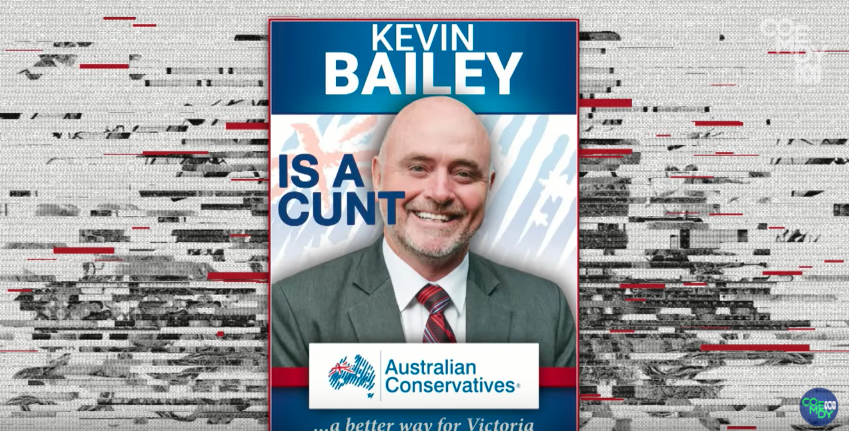 Federal communications minister Mitch Fifield quickly lashed out at the national broadcaster over the sketch, ordering an investigation into the sketch.
"Candidates for elected office expect to be criticised and parodied. But this ABC segment clearly crossed a line, particularly given that it was directed towards an individual who has served his nation in uniform," he said in press statement. "Vitriolic abuse of this kind has no place on the national broadcaster and I will be asking the ABC to investigate. The ABC should also immediately offer an unreserved apology to Mr Bailey," the press release concludes.
It seems use of the c word in comedy is an issue that's generated rare bipartisan agreement in Australian politics, with Labor frontbencher Amanda Rishworth labelling use of the explicative "inappropriate."
Coalition frontbencher Simon Birmingham concurred, "Frankly, somebody should lose their job over it. I'm all for good humour, I don't think I'm a prude when it comes to the use of language, but this crosses the line."
The line, it seems, is calling politicians cunts. That or Australia's politicians missed Black Comedy's recent Sunrise parody calling all white people cunts. Which is lucky. Because that was the best thing Australian comedy has seen in a long time.
The debacle continues the run of publicity for Tonightly with Tom Ballard, which let's remember is never a bad thing for ratings or relevance.
The ABC confirmed via a spokesperson that the public broadcaster would "respond to the Minister and Senator Bernardi in due course."
Let's hope all parties try and keep their language clean.
Watch the whole sketch here until it inevitably gets taken down: