America loves Marlboro. According to industry data, the company sold 41 percent of the 258 billion cigarettes smoked by emphysema-loving Yanks in 2016. This is more than the next eight most popular brands combined, with the second – Newport – taking a relatively paltry 13 percent market share.

A question: can you recount an advertising campaign for any cigarettes? The answer to this, if you were born in the 20th century, is that yes, you can think of one, and that one is the Marlboro Man. The Marlboro Man ran from 1955 until 1999, and this dashing cowboy can legitimately claim to be one of the the most enduring advertising icons of the 20th century. He took the reality of inhaling paper-wrapped, ultra-dried, chemical-laced, cancer-causing leaves and made it sexy and aspirational.
The power of adverts to sell us stuff that's shitty for us is incredible, and a new book about tobacco and alcohol advertising celebrates this. 20th Century Alcohol & Tobacco Ads is published this week, so I spoke to its editor – the cultural anthropologist and popular culture historian, Jim Heimann – about how companies flogged us booze and gaspers in the bad old days.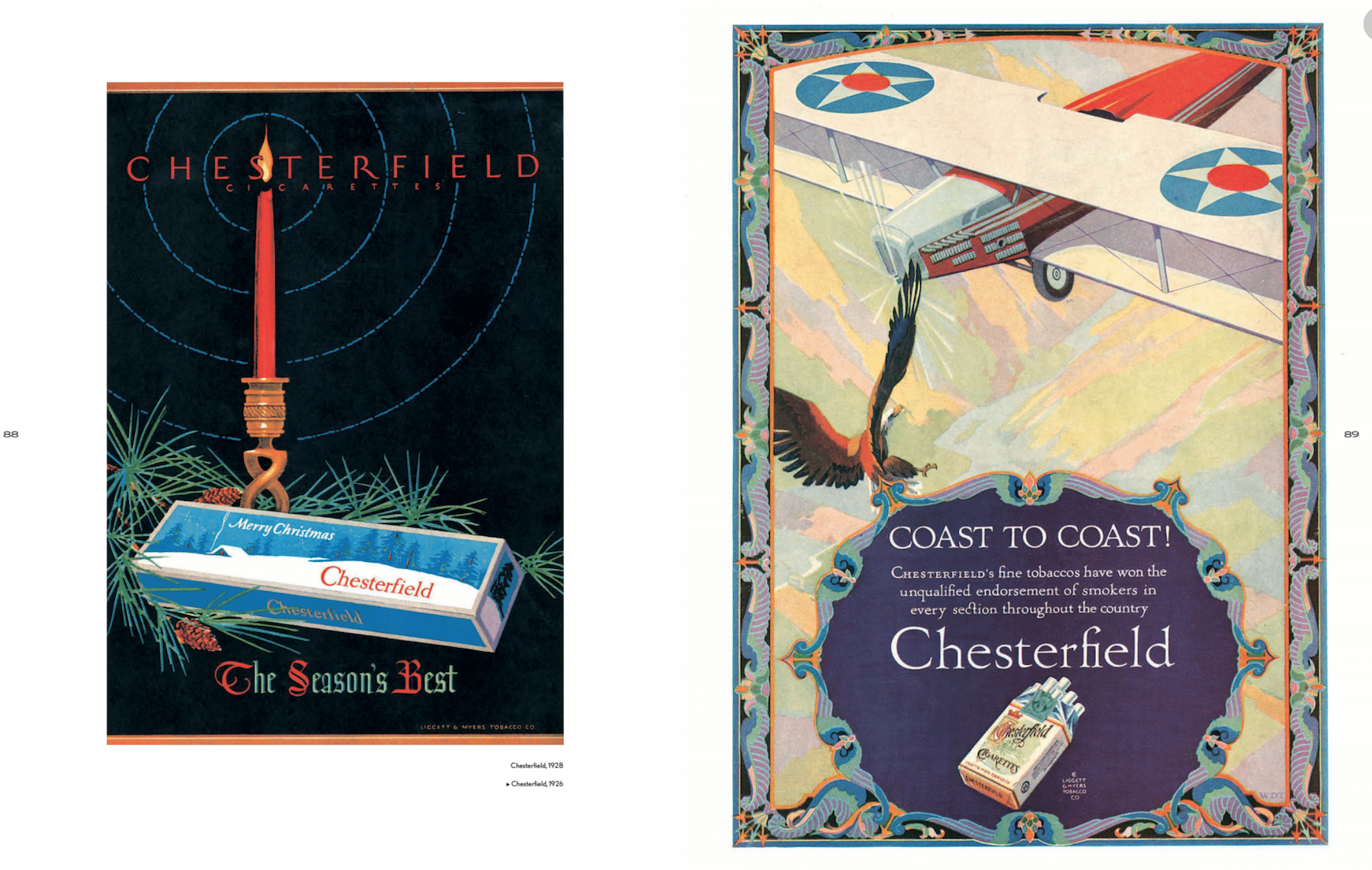 VICE: Hey Jim. Why do you think the Marlboro Man was so successful? It managed to transcend the product.
Jim Heimann: It represents the ideal of Americanism. It's the West, with this huge swathe of land, and you're yourself and you're strong. It's a positive reinforcement of what America is all about. But the cowboy has a lot of mystique, too. This lone singular figure who's self-sufficient and powerful, but also sensitive. The icon is just so strong. It's a similar thing with Camel – they are such a strong cigarette, and anyone who's buying them is buying into that macho idea, like James Dean, who's tough and can have a really strong cigarette.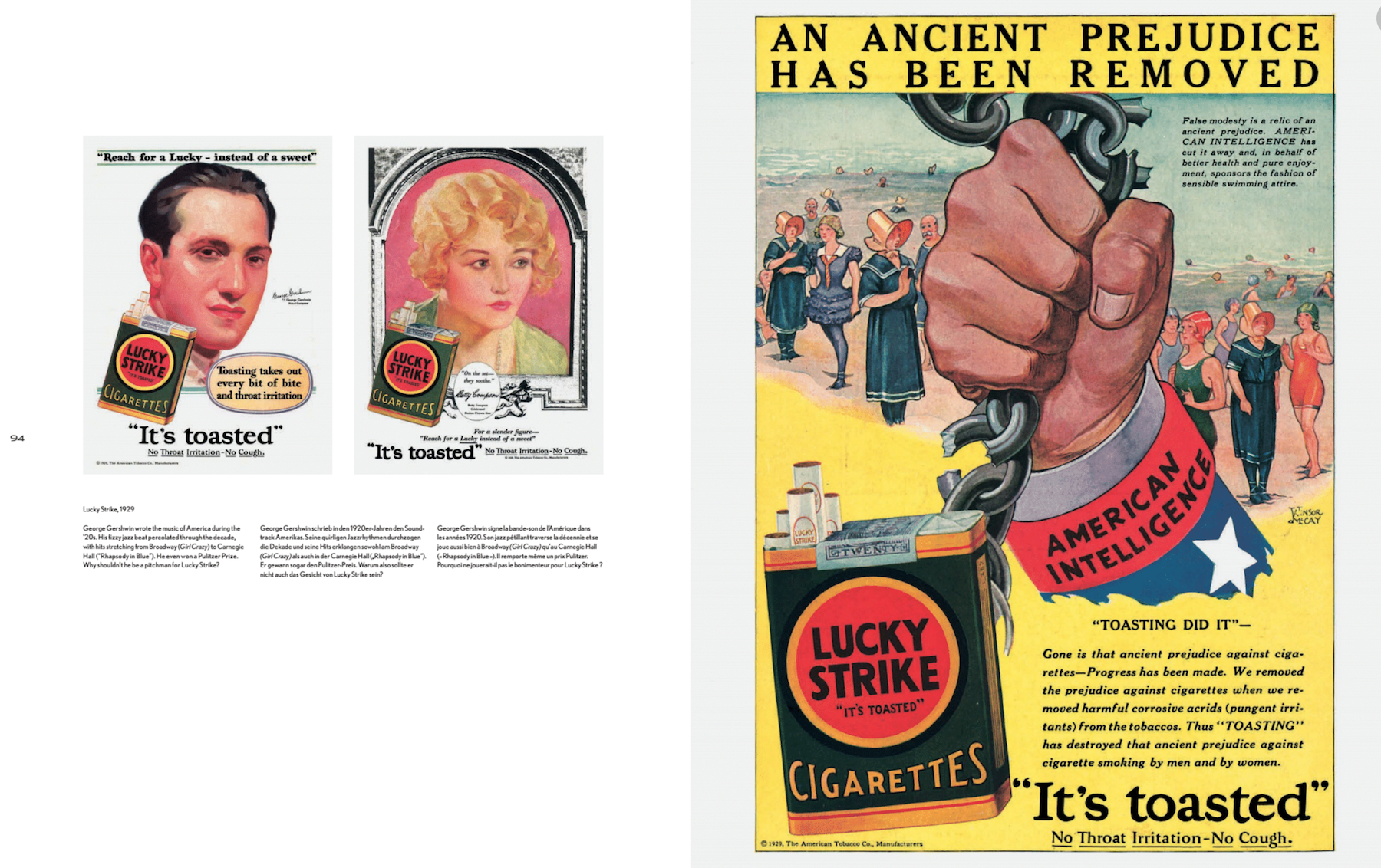 How important were celebrities in popularising smoking?
Celebrity endorsements have always been a part of advertising. In the 1930s you had movie stars talking about how it soothes their throat. Ironically, you had John Wayne advertising them, then dying of lung cancer. By the late 1960s and 70s, the link between lung cancer and smoking was so evident that they had to change their focus.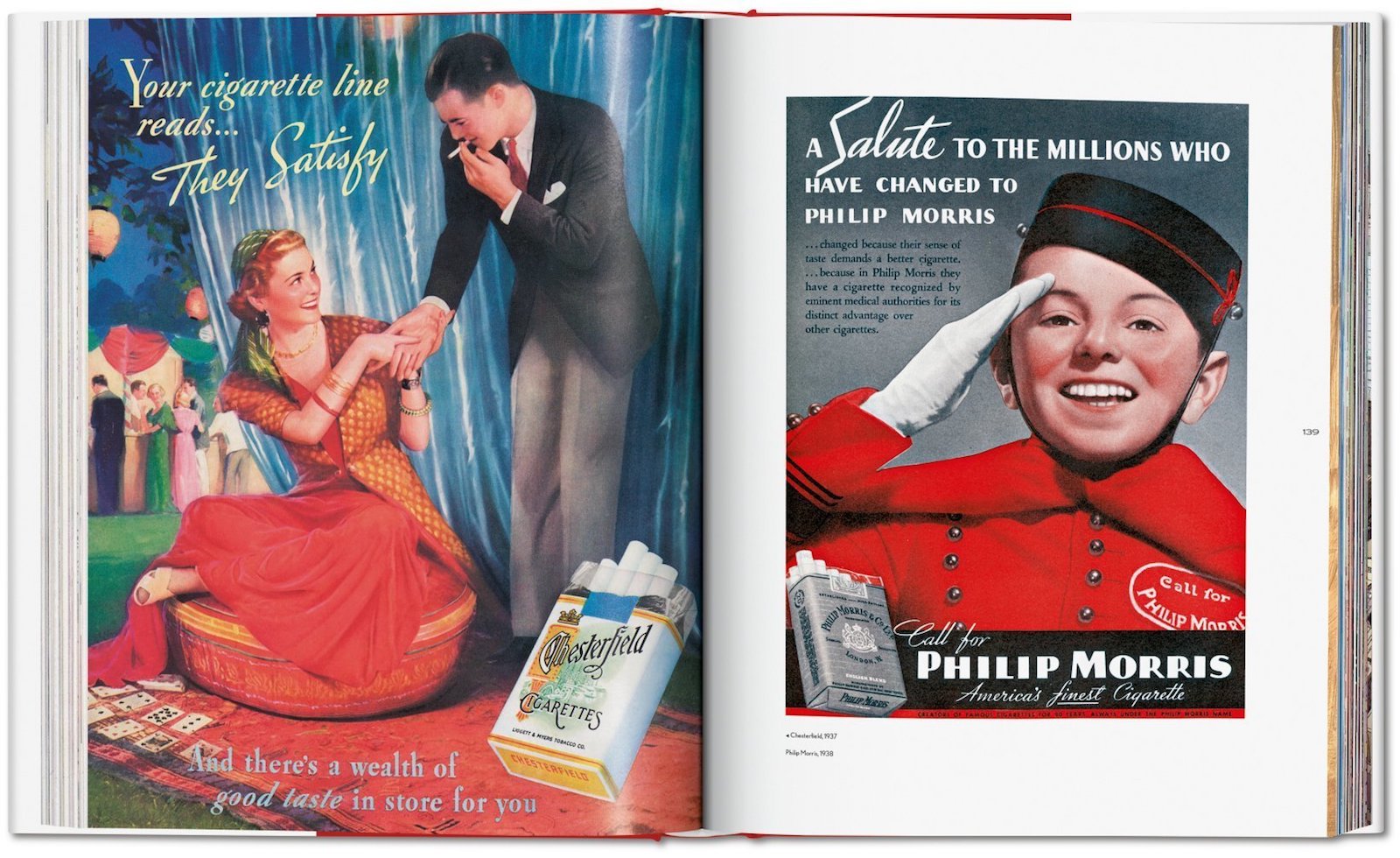 What about the Joe Camel cartoon adverts in the 80s and 90s?
What happened with Camel was really interesting. They introduced that cartoon character Joe Camel, which was directly appealing to a much younger demographic. They received huge criticism for this and eventually he got banned, because it was clearly appealing to young teenagers. [The cool-but-goofy character turned the company's fortunes around but saw them targeted by the anti-tobacco lobby; President Clinton welcomed the news of the ban by saying: "We must put tobacco ads like Joe Camel out of our children's reach forever."]
It all feels very geared towards men. What about for the women smokers-to-be?
Well, with the rise of feminism we saw Eve cigarettes, which were marketed specifically at women. So you had Marlboro for the men, Eve for the girls.
Who was traditionally targeted in alcohol adverts?
During Prohibition [1920-1933] there was no alcohol advertising because it wasn't legally available. But if you look at adverts from the 1940s and 50s, they were mostly aimed at older white men.This changed a little in the 1960s – the demographic changed and you had this whole generation of baby boomers turning 21, and we saw companies adopt more youth-orientated and women-focused campaigns.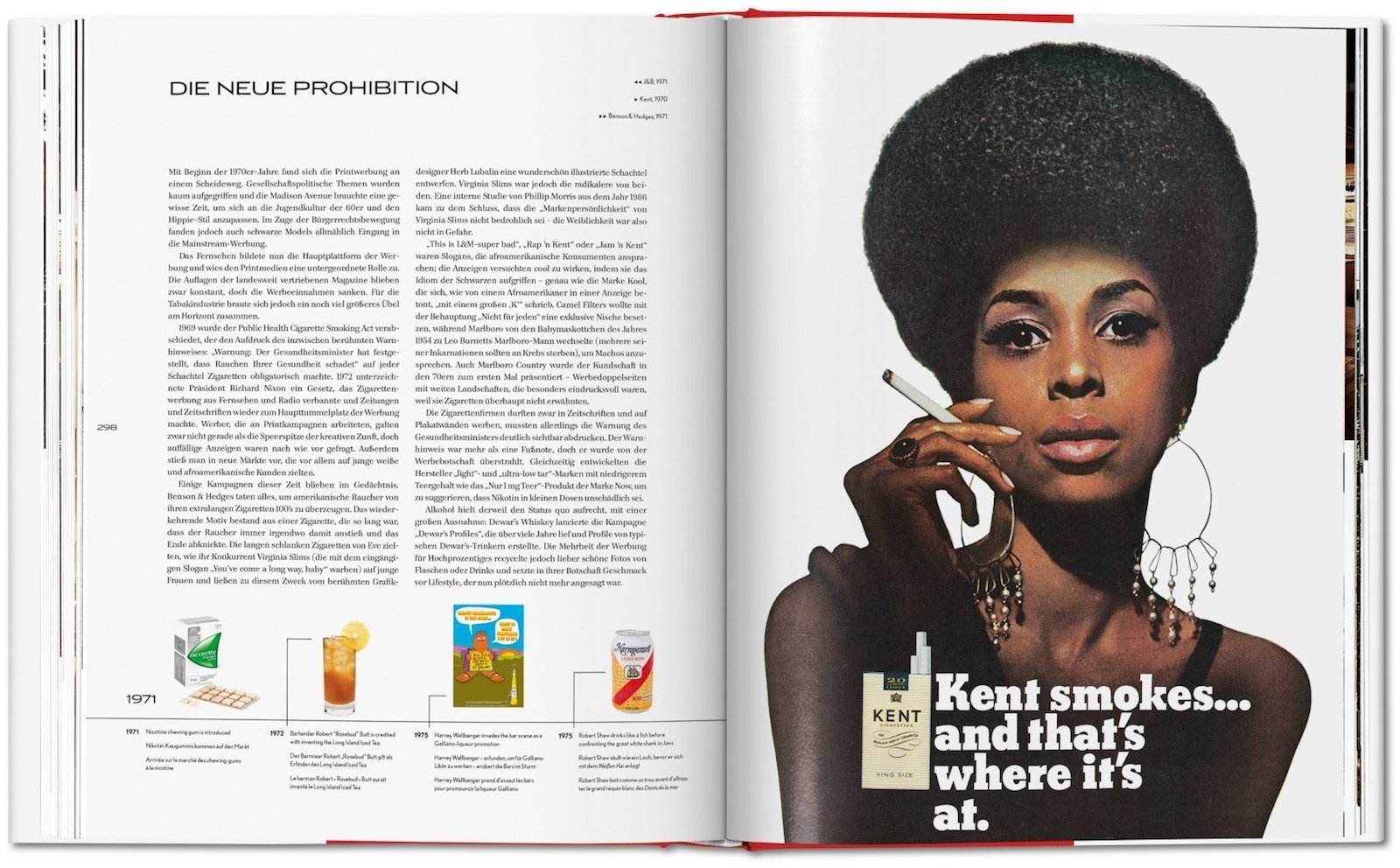 What effect did the civil rights movement have on advertising?
Oh, a huge one. The market for print advertising aimed at a black audience doesn't really start until the late-50s. Then, in the 60s and 70s, you see a lot of African-Americans featured in the mainstream. As black people achieved parity in society and developed dispensable incomes, more advertising was geared to them.
Has there been a more modern equivalent of this?
You could draw parallels with the Hispanic market these days. When Hispanic immigrants first arrived, most of them didn't have much money. Now, you've got second and third generation families who are very wealthy, and so we're seeing more advertising aimed at them.
What is the ultimate trope for alcohol adverts?
Lifestyle, definitely. This is why there are so many models on beaches; you see someone drinking a margarita on the beach, or drinking a Corona with lime, and think: 'I want that life.'
Wasn't there a lot of exploitation of doctors in early tobacco ads?
Ads from the early-50s, with testimonies from doctors saying cigarettes were good for your health, good for your throat. It was incredible, really. There were early Marlboro ads with a picture of a little kid saying, "Mom, smoke your Marlboro before you scold me." They were using all these devices that seem so wrong. These stopped in the late-50s, when the negative health effects of cigarettes became well known.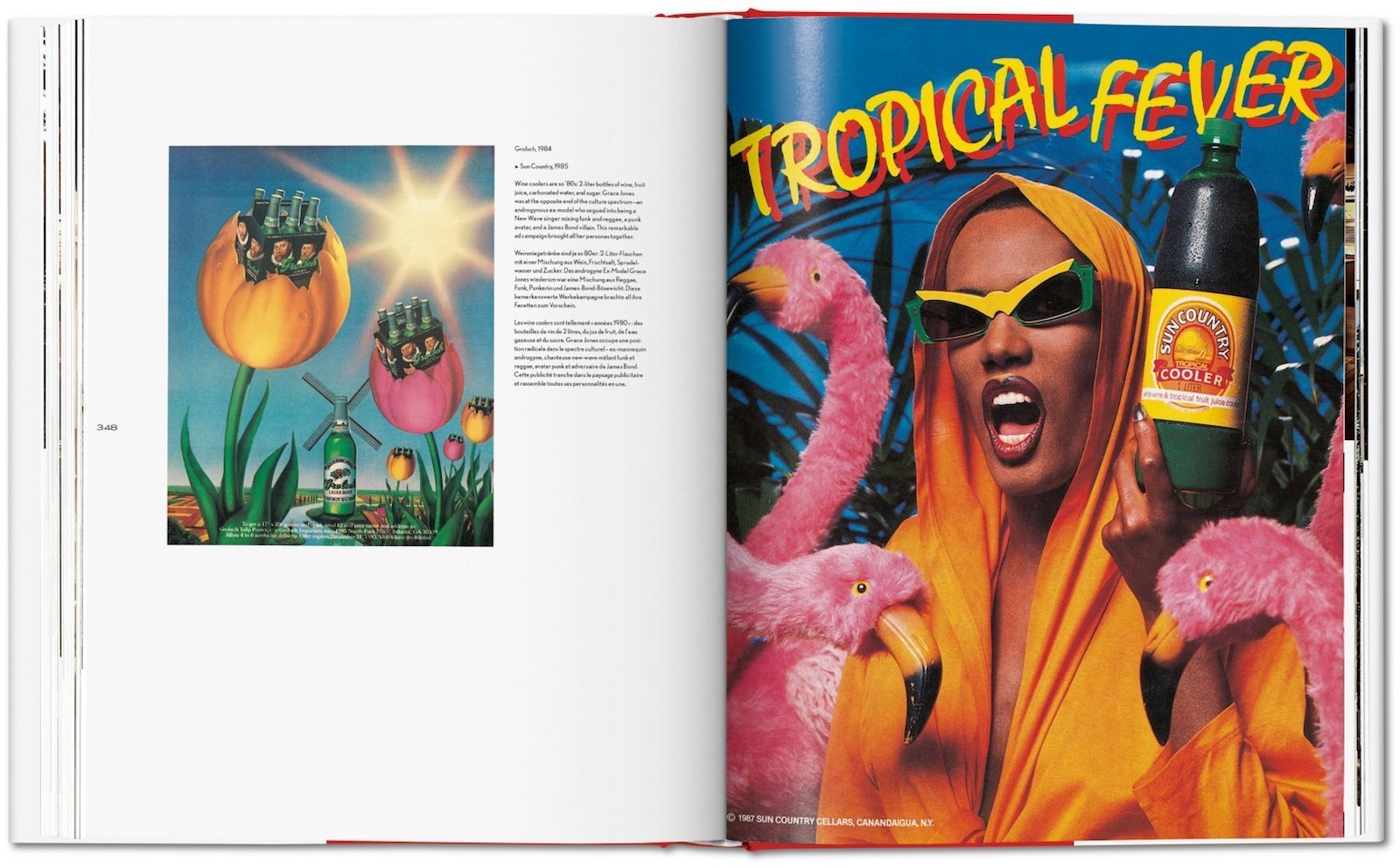 Has advertising changed a lot, or is it still exploiting people, albeit in different ways?
I don't think it's changed that much. They still know what buttons to push, whether it's a Prada dress or Coca-Cola.
What are you excited about for the future of advertising and marketing?
I'm fascinated to see what's going to happen with marijuana. Now it's legal, there's a huge market. in LA, there's all kinds of billboards, advertising dispensaries. That's going to be really interesting.
20th Century Alcohol & Tobacco Ads is available now via Taschen.
This article originally appeared on VICE UK.