What's in a name? When it comes to covering "No Diggity" it turns out quite a lot. Remember German songwriter Sarah Connor, blues guitarist Oli Brown, British hard rockers Rooster or Paddy Casey and the Dublin Gospel Choir?
Neither do we.
But Chet Faker's rendition of Backstreet's 1996 R&B hit ended up in a Super Bowl commercial and helped the Melbourne producer become an Australian household name. Now Australian households are now going to have get used to a new name.
In September, Nick Murphy announced through Twitter that he was dropping Chet Faker to tour and record under his actual name. Earlier this week he shared Missing Link, his first release since the name change. Released via Downtown Records/Interscope, the five-track EP opens with the Kaytranada produced "Your Time," and sees Murphy take on moody distortion and more of a dance-floor influence.
A short film, co-directed by Murphy and New York-based Australian filmmaker and musician Johann Rashid, released last week, features some of the EP's visual accompaniment.
"Missing Link is quite a literal title in that the music and film is what was missing from where I was trying to get and where I was. It's about looking inward and finding the kinks," Murphy explains from New York City where he's now based.
Back in 2012 when he released his debut EP Thinking in Textures, Murphy didn't think much beyond Chet Faker. It was purely a project, granted a project that became very successful. With lines like, ''I can barely hold my tongue, the shit we do can warm the sun," the EP was a slow, tender and sexy album that met at the intersection of R&B and soul-influenced electronic music. It was very 2012. A single with another Aussie producer with a pseudonym, Flume's Harley Streten, made the top 20 and then in early 2014 his debut album, Built on Glass, hit number one in Australia.
Chet Faker was big time. But fame and recognition didn't translate into total happiness or satisfaction. A move to the States helped and the challenges and energy of living in New York City fed into his creativity.
"I didn't realise how much of the sensory overload of this new location I'd been in was grinding away at me and at that same time New York was inspiring and challenging me," he explains. It was in New York where he started writing material for Missing Link and two weeks spent in Los Angeles working in Rick Rubin's Shangri La studios reinforced how much he fed off New York City's energy.
It was while sitting on Rubin's custom couches made from vintage military canvas that Murphy also reassessed his approach to music. "Rick was calling out next to me with no shoes on. I'd just met Neil Young in the backyard, Big Baby D.R.A.M. had been coming in and we'd be been having a good time, there were assistance at your beck and call in case you wanted a smoothie or some shit."
Murphy understands that for a young musician the concept of 'making it' is attractive but is also aware that it's easy to get sucked in get sort of sucked up in this whole thing. "I was almost at the top and I was thinking 'What's the view like here? Wow, it's pretty nice but this is not the mountain I want to be on.' It was almost the climbing of the mountain that gave me satisfaction."
Murphy realises that at some point a musician needs to ask themselves how they feel about the content they create. "I was somewhat afraid to ask because I think I knew at some point it wasn't right. I know people will like it but I don't want to play it or listen to it in my headphones."
On Missing Link Murphy was determined to create music that he'd like and with the help of Darkside's Dave Harrington, he recorded most of the album in his New York apartment.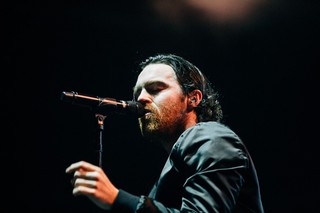 Murphy is aware of the significant shift in the way music is now released and presented but says that the change brings freedom. "In one sense the album is dead at least in terms of consumption. For me though the album is still it. That's what I'm interested in and where my heart lies. So it's funny that the thing that is most valuable to me is no longer deemed necessary. Which is cool in a way—no one's weighing in to tell me how to do it."

Besides folk-jazz mystic Terry Callier, Murphy has recently been listening to the dark drone of Swans and Earth, and tells me that the Missing Link live show that he is premiering at a 360-degree experience exclusively for the Opera House as part of Sydney's VIVID festival, explores darkness and light.
"It's more active. I was exploring this heavier side of things and bringing a cathartic energy on stage which I really enjoyed. I went pretty heavy in that and now I've come out the other end. I've been in rehearsal and it's something that I'm really enjoying."
Nick Murphy's 'Missing Link' EP is available now. Murphy plays the Sydney Opera House as part of Vivid Live on June 1-3.