Image: Carmen Juarez
Power's "Slimy's Chain" perfectly captures the feel and attitude of their Melbourne label Cool Death records. Taken from their upcoming LP, Electric Glitter Boogie, the track featuring a strutting kick and Nathan Williams surly snarl, represents the tough Aussie punk and non-bullshit style and approach that Cool Death has become known for.
Since releasing Gutter Gods and Dribble demos in 2013, Cool Death has fast become the best punk label in Australia and gone on to release (and often selling out) records from local bands Velvet Whip, Leather Lickers, Power and Soma Coma.
Running with the logo 'The Only Rule is Cool', Tom Bradford, Alessandro 'Coco' and Moses Williams (who all play in bands associated with the label) have developed a sound and aesthetic that's influenced as much by Rose Tattoo, Coloured Balls, the Chosen Few and the Stooges as it by current messed up hardcore.
With upcoming releases from Straightjacket Nation, UV Race, Tyrannamen, The Mishaps and Power, Cool Death looks to be getting cooler in 2015.
We caught up with Mo and Coco to find out more.
Noisey: Were there any labels that you based Cool Death on?
Coco: I don't think that we looked to any one label for inspiration. If anything we wanted to be seen as different from the independent labels around us at the time. We're always noticing, or trying to notice, what's going on in the environment around us, to a point, as well as looking to the classics of the past, and trying to pick up and learn from their strengths and weaknesses.
Mo: Another thing I wanted from the beginning was to be solid operator's y'know? We have been around long enough and dealt with our share of flaky people. Unfortunately a lot of these people are running some of the better current punk and hardcore labels/distros. It doesn't matter if you're releasing good shit, if you can't reply to a fucken email or send out a package within an acceptable period, then you're just as worthless as a band aping the greats in 2015.
The Soma Coma album is incredible.
Mo: I'm heaps happy with how it turned out. We recorded with Jason from Blood Duster at Goatsound and he was pretty chilled about the whole thing, which definitely made it easier to record. It's a record that could possibly have never come out. Daniel left the band literally hours after we released the tape back in 2013. There was a discussion on whether we should just kill the band off altogether or continue. We decided we had at least one record in us, so in that respect I'm just glad we persevered.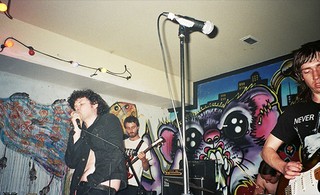 Dribble (Image: Sigorney Ormston)
You have really stepped up on the release schedule for 2015. There are some heavy hitters in there.
Mo: We're going to be well and truly drowning in debt by midyear but I'm excited for everything we've got planned. I can't wait for new SJN and UV recordings, I guess they've been around for a while, so people here and internationally will have a fair idea of what to expect. It's that exact reason why I'm so keen for the Power, Tyrannamen, and the Mishaps records to be unleashed. I'm keen for them all to move from being regional favorites and onto the international stage, because Australia has a lot more to offer the world than King Gizzard and the Lizard Wizard and Nick Cave.
People went ape shit over that Power tape but what has been the most surprising releases so far?
Mo: Given the personnel, we knew right from the get-go that Power would be pretty deadly. Sonically they're probably the most accessible band we've released to date, so yeah not too surprising that indie dorks are frothing.
The Warm and Tough cassette by Velvet Whip is the most surprising release for me. I was away for the first 4 or 5 shows when Velvets started, so I really had no idea what to expect, except for vague references to Hawkwind and Die Kreuzen. It's pretty amazing that four pretty quiet and affable guys could produce something that was not only unhinged, but offered hardcore punk in 2013 something somewhat unique and interesting.
Coco: The Power tape is super and people did go nuts for it. But the reaction to the Gutter Gods' Innersense LP still surprises me.
There seems to be a genuine and well-deserved buzz around Power at the moment. Live they really kick hard. Is that live feel captured on the upcoming record?
Mo: I thought it was pretty cheeky to name themselves Power, but to their credit they live up to their name perfectly. They have played relentlessly since they started that's half the reason why they've got such a strong live presence. As far as the recording went, they unquestionably needed capture themselves in hi-fi or it wouldn't have had the same impact. I don't think a weak 4-track recording would do them any justice. In that respect I think Mr Jack Farley nailed the recording and it's as close to the real thing as you're going to get.
And Nathan (Slimy) is a true front man/wildman. Is he channelling Bon, Lobby, Tim Hemmensly?
Coco: Nathan likes all the old rock dogs. He's watched more than a few Iggy Pop videos that's for sure. But he truly is his own man.
Mo: Also Tim Rogers.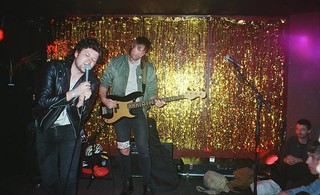 The Mishaps (Image: Sigourny Ormston)
What do you think of the current Aussie punk and hardcore?
Mo: It depends. Talk to a 21-year-old and you'll probably get a vastly different answer than an old cunt like me. I'm real selective with the shows I go to nowadays. I'm fast approaching 30, and social anxiety has finally got me by the balls. So the thought of venturing out to shows mostly attended by younger dickheads and narcissists, either fills me with annoyance or utter dread.
That being said, in the last month or so I've been sent new material from Tyrannamen, Power, The Mishaps, Terry and Whipper. All of it is sick. Some of it will be on Cool Death. Orion are coming down to Melbourne and I've been jammin' the new tape from Ripped Off out of Queensland. Brando's Island just dropped a 7" and did a few shows too.
'Electric Glitter Boogie' will be available mid 2015.