It's the first day of March, which means in New York that it's so close to spring that you probably walked outside without a jacket on just to prove that it wasn't cold. It's still cold, it's fine, there's no shame in admitting that. A better way of pretending it's spring is just listening to a shit ton of The-Dream, because his shit was my drive-around-with-the-windows-down music back when I had a car, and now that I am completely without vehicle and sit in an office (that is awesome come work for VICE) all day, I listen to The-Dream constantly to remind me of the fun times. The sun times. The simpler times. When I did not round up music news as the second-to-last thing I did every Friday. But those days are long gone. Here is what happened this week, complete with witty commentary so you can talk about this stuff at parties and hopefully get laid because of my jokes.
—Ja Rule's coming home from jail! On July 28th! Never forget how everybody clowned Ja Rule for playing along with the record industry a bit too hard back in the day—like the entire music video for "I'm Real," from the very clearly choreographed dance with J-Lo to the fact that he would even consent to participating in a song with this very conceit at all, let alone with a major Hollywood starlet, just screams "I Would Like One Million Dollars, Please." Which is fine. Everyone wants a million dollars. Ja Rule just should have paid taxes on his million dollars.
—Scott Weiland has been fired from Stone Temple Pilots, according to a statement released by the band on Wednesday. Weiland, predictably, is unhappy, but then again I saw him perform his Christmas album live one time and he was very clearly hammered, so I think everyone understands why he got fired from his own band. Substance abuse is a pretty good reason to fire someone from your band, so whatev.
—Kanye West told a Paris crowd that his "New Shit" would be ready soon, which bodes well. If his music is anywhere near the quality level of his recent rants, The New Shit would be legendary. Maybe his album is just titled The New Shit. That would be pretty chill.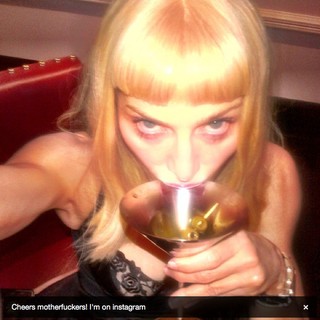 —Madonna recently started using her Instagram! And now The Man is trying to shut it down! Fuck The Man.
—Recent number-one-song-in-the-country-haver Baauer is set to embark on a tour with Danny Brown entitled the "Worst of Both Worlds," which is hilarious and awesome and hopefully will go better than Jay-Z and R. Kelly's "Best of Both Worlds" tour. Also, this.
—And finally, you should pick up the newest edition of the Village Voice, because—and this is completely nepotistic/narcissistic, and I apologize profusely for doing this—my friend Eric wrote this week's cover story on The Men, and I wrote a lil essay on Future for it.
Drew Millard regrets every decision he has made ever. He's on Twitter - @drewmillard