Photography by Mia Mala McDonald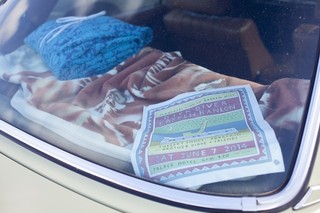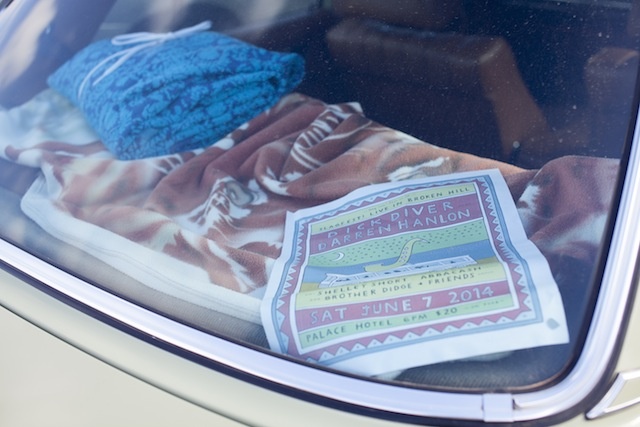 Slagfest is the best music festival you've never heard of. The brainchild of Steph Hughes and her mate Darren Hanlon, the festival took place Saturday June 7 at Broken Hill's Palace Hotel with a line-up featuring Steph's band Dick Diver, Hanlon, The Burnt Sausages and Shelley Short, as well as locals Abbacash and Brother Didge & Friends.
It wasn't just the "famous mound of mining grot known as the Slag Heap" from which the festival took its name that's significant about the place Steph and Darren chose to host the gig; the Palace is the same venue where everyone got drunk in Wake in Fright and where Bern said, "Why don't you just light your tampon, and blow your box apart?" in Priscilla Queen of the Desert. As far as venues go, this one is a national treasure.
Sadly, we couldn't make it to the debut of Broken Hill's Premier Wuss Rock Festival, so we caught up with Steph once she got home to get the lowdown on the weekend that she hoped would "blaze new trails and free the freaks".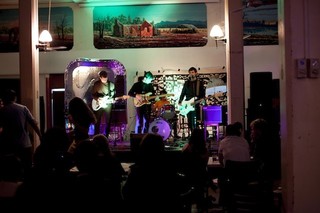 Steph Hughes: One of my favourite painters, Sam Byrne, is from Broken Hill so I had all these amazing images of Broken Hill in my head from these paintings of like, beautiful desert flowers. So I went there with Daz about a year ago and we played a gig together. Then we went back to Melbourne and decided to rally a whole busload of people to come up and just do it with no expectations, no idea what will happen. We just came up with a silly, drunk idea, and then were like, "Let's actually do it!"
Broken Hill is a nine-hour drive from Melbourne and even longer from Sydney, so it's a pretty big ask of people to come. The drive was like a parody of a TAC challenge; there were kangaroos jumping in front of the car, a family of goats in height order that crossed the road. It was crazy, like nine hours of high-concentration night driving.
We ended up having two buses. Me and Dick Diver and our girlfriends were in one bus, and another bus was full of the Sausages (The Burnt Sausages, one of the bands playing). They drove up a day earlier with Darren and the giant meat tray. The giant meat tray is the Burnt Sausages' prop; they all burst out of the giant meat tray at the start of their show, all wrapped in Glad Wrap. As well as their song "Raw on the Inside", the Burnt Sausages play "Ballad About Salad" and a version of Hunters and Collectors' "Throw Your Arms Around Me" called "Throw Your Bread Around Me". It's like, "We may never eat agaiiiinnnn" and when they play it, someone comes out in a bread costume and hugs all the sausages.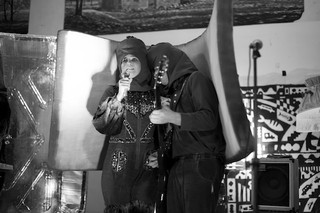 So Slagfest was in Broken Hill on Saturday, and the next day we went to Cockburn [pronounced like "Coh-burn"]. It's half an hour from Broken Hill, on the border on South Australia and New South Wales — seriously the middle of nowhere.
There was supposed to be this thing on that weekend called The Steak of Origin where they line 50 BBQs on the border and have a cook-off. The Steak of Origin was like the Burnt Sausages' mecca.
In Cockburn there was a backpacker who stopped at the pub once, got a job there and now owns it; a cowgirl from a station nearby who heard there was a gig on so she rocked up with her guitar 'cos she wanted to play a gig too; and a pub kid.
We didn't know who Pub Kid's parents were – she was, like, eight. She was wearing this hat that said "I'm a Best and Less kid!" and she goes, "G'day. You wanna see my lizard, Spike?" and she opens up her jacket, and Spike's just inside her jacket. It was like an episode of Round the Twist!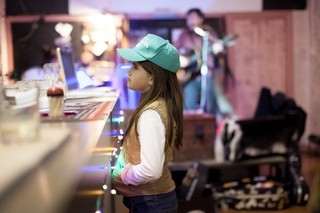 I was like, "Where'd you get Spike from?" and she goes, "A roo-shooter got 'im for me. Spike's brother died 'cos I left him out on the road with no water." I think she accidentally fried him in the desert, but she seemed pretty sad about that. She was tough as. She knew some locals and was a total pool shark at the pub.
One of the quirks of me and Darren organising something is that sometimes you don't know who will play or how it will turn out. We're both very dreamy when it comes to life skills, but as a team, we make up, like, half of one organised person. When Darren and I come together, we are, like, comfortably dreamy, but we always make it work.
The cowgirl got up and was jamming, Tania Kernaghan-style. The dude behind the bar was like, "What's your feeling about playing with a local?" So I got up and played drums on "Who'll Stop the Rain" with her. She was a legend.
Cockburn was pretty amazing. Apparently two years ago they spent $30,000 on a country music festival, even thought there was only, like, 50 people who lived in this town. They just loved music! The pub was such a cool vibe. It was what I always want in a gig: something totally weird happening in a place you don't know, and you have to rely on your wits and your knowledge of Creedence Clearwater Revival.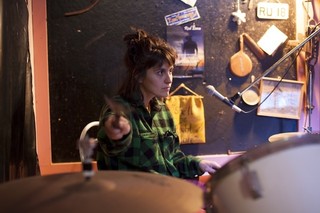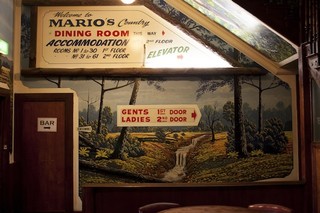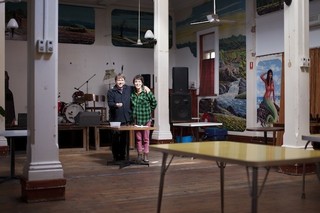 Follow Brodie on Twitter.
More reading here;
The 11 Types of Assholes Who Attend Music Festivals